BERLICUM - The reigning champion at the 2023 Jumbo Masters is called Jean Paul de Bruijn, the world-class challenger is Dick Jaspers and many other contenders are ready for playing a main role. The official Dutch three-cushion championship goes to kick-off this week at the Beneluxtheatre in Berlicum on Wednesday, including a superb foursome vying for two places in the final rounds. Four billiard mates with a Hague background face each other in a veritable group of death on the opening day at the Jumbo Masters: Jeffrey Jorissen, Jean van Erp, Barry van Beers and Glenn Hofman. The championship could not have wished for a better start. And of course, 20-time Dutch champion Dick Jaspers is again this year's top favorite for the Dutch three-cushion title, the tournament to be played from Wednesday 11 to Sunday 15 January. This is the week of truth after the qualifications in Grand Prix tournaments, as the recent past has shown that the winner of the Jumbo Masters is certainly not the best Dutchman on the world ranking. Many players, globally in Jaspers' shadow, have developed into feared rivals. The national three-cushion top is getting wider and stronger by the year.
The Jumbo Masters is also more than ever in the spotlight of the general audience. The event will not only be broadcast live on Ziggo Sport, Kozoom will also broadcast all matches live. Dick Jaspers, the orange figurehead, is hunting for important world ranking points to defend his leading position. He is most of all keen to win the national title in a final with so many strong rivals. Jean Paul de Bruijn, who just returned from the PBA, the Korean professional league, won last year's Masters in a straight fight with Jaspers. So now, the 'Zeeuw' is defending his title. Dick Jaspers is obviously the record holder: not only as the holder of 20 titles in 28 organizations, but also with a record average 2.395, played in 2010 in Nijverdal.
Jean van Erp, who won the Masters in 2015 in Kaatsheuvel and is playing in front of his own fans, feels happy to look ahead to one of the most wonderful events where he will start. ''I have drawn a tough preliminary round, with two contenders for the final rounds already going out of the Masters. For the audience, a great start to the Masters. But right, I have prepared very well, so I would like to survive the qualifiers. I always succeeded in the Masters since I was in the final against Jean Paul de Bruijn in 2007 in the Zeeland hallen in Goes.'' Jean van Erp has one of the best statistics of the Dutch top players following Dick Jaspers. He won once, was two times loser of the final and stood third on the podium ten times. The Masters has something special for the regional favorite, who usually brings many, compassionate supporters to the Beneluxtheatre.
''First of all it will be a matter of surviving that preliminary round with Jeffrey Jorissen, Glenn Hofman and Barry van Beers. All these players I have met with and many times at the billiard table. I want to be good, compete for wins, even though the time clock is not in my favor: 35 seconds, while everywhere else it is to 40 seconds. I'm a player who needs a bit more time than others, which makes me a bit more restless.''
Dick Jaspers will start the tournament with Kay de Zwart, Frans van Schaik and Raymund Swertz in the group that will play to three 10-point sets won. Jean Paul de Bruijn, the champion, plays in a striking group including his billiards pupil Joey de Kok. Dick Jaspers, Jerry Hermans, Adrie Demming and Jeffrey Jorissen are the group leaders. Sam van Etten, the young promising player from Noord-Holland, was one of the players who surprisingly dropped out to participate in the Jumbo Masters. Jean Paul de Bruijn won last year's final against Dick Jaspers 4-3 in sets.
The organizer of the Jumbo Masters is the BEN Foundation led by Harry Mathijssen.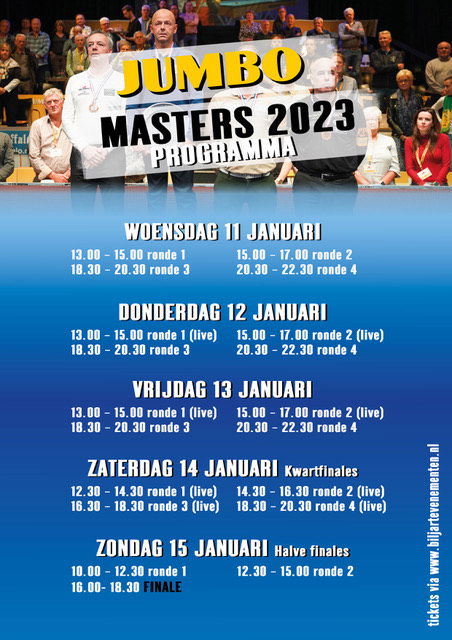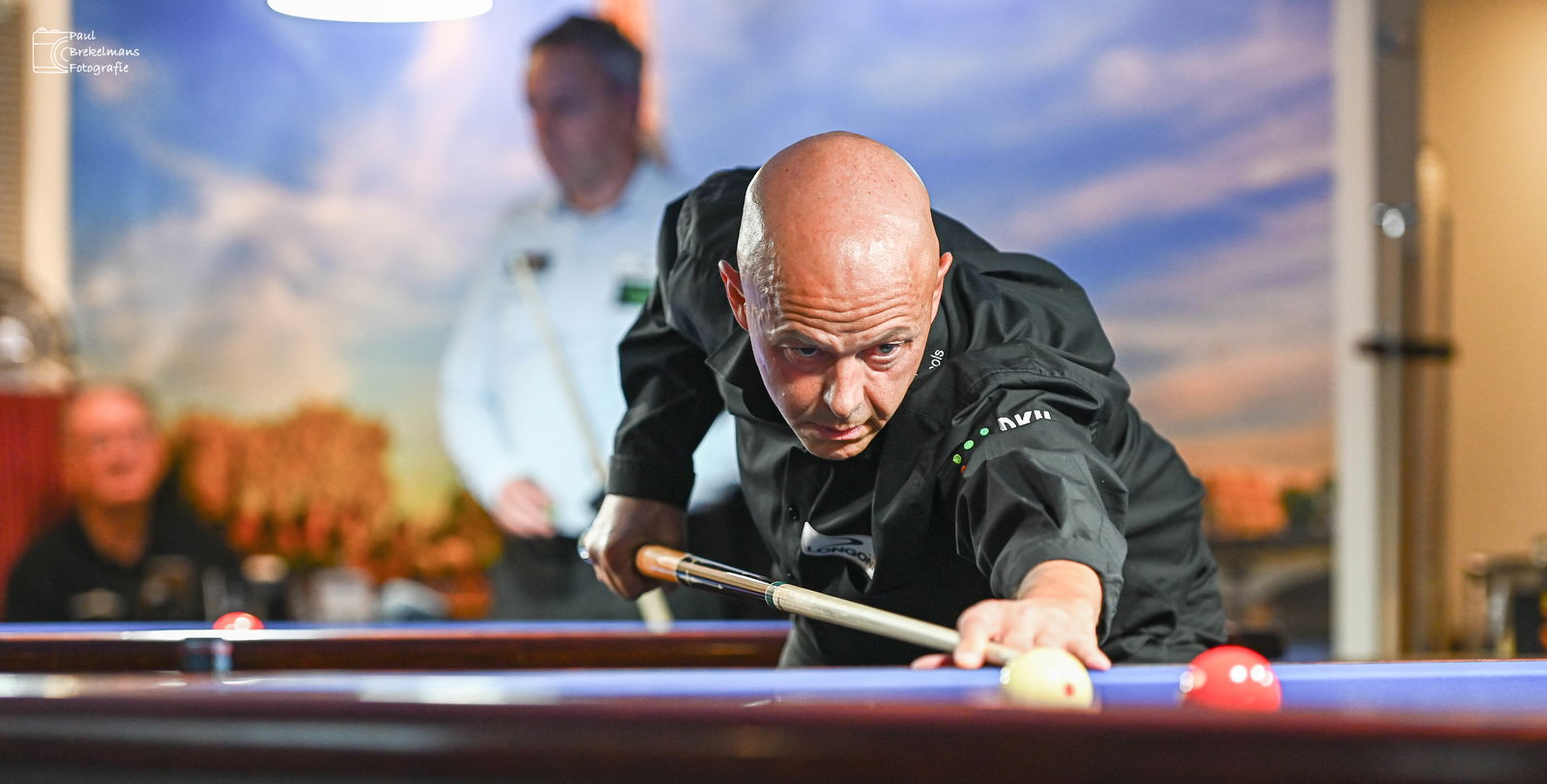 Jean Paul de Bruijn, the defending champion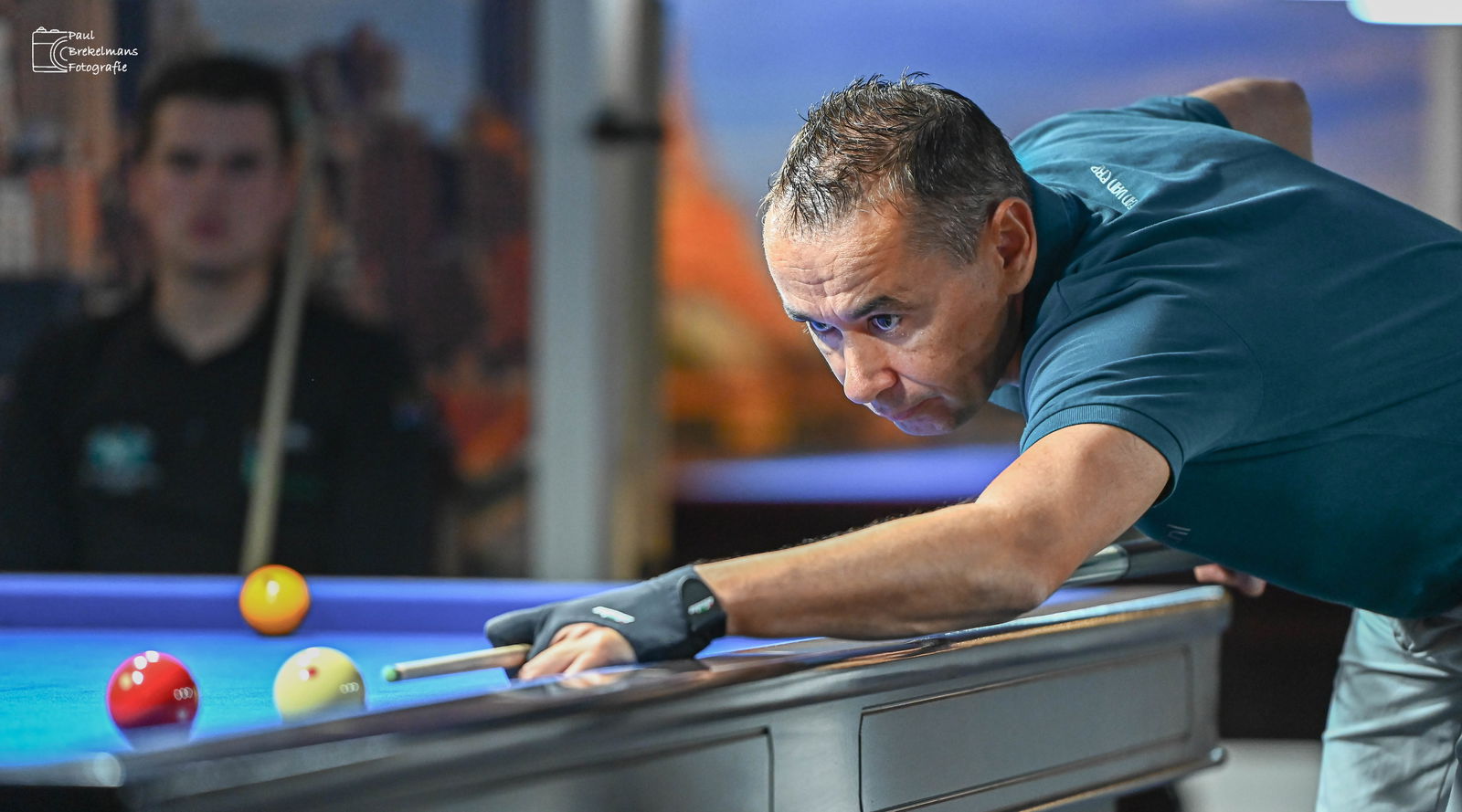 Jean van Erp, the local favorite who won the Masters one time
Pre-rounds, four groups of four players:
Group A: Dick Jaspers - Kay de Zwart - Frans van Schaik - Raymund Swertz
Group B: Jeffrey Jorissen - Barry van Beers - Jean van Erp - Glenn Hofman
Group C: Jerry Hermans - Raimond Burgman - Jack Wijnen - Therese Klompenhouwer
Group D: Adrie Demming - Jean Paul de Bruijn - Joey de Kok - Dave Christiani
Programme:
Wednesday, January 11:
13.00: Group A
15.00: Group B
18.30: Group C
20.30: Group D
Thursday 12 January :
13.00: Group D
15.00: Group A
18.30: Group B
20.30: Group C
Friday, January 13 :
13.00: Group C
15.00: Group D
18.30: Group A
20.30: Group B
Saturday, January 14 :
12.30: Quarter-finals
14.30: Quarter-finals
16.30: Quarter-finals
18: Quarter-finals
Sunday 15 January :
10.00: Semi-finals
12.30: Semi-final
16.00: Final
Kozoom will broadcast live all days.
Ziggo Sport & Select from Thursday from 12.00 to 13.00 a summary of the Wednesday sessions.
Ziggo on Thursday and Friday from 13.00 to 17.00.
Saturday from 12.30-16.30 and from 16.30-20.30
Sunday from 10.00-15.00 the semi-finals from 16.00-18.45 the final.