SHARM EL SHEIKH - The Mister Magic of the billiard arenas is finally a real winner again. Turk star player Semih Sayginer (58) won his first World Cup this Saturday late in the afternoon in Sharm El Sheikh after his last one in 2004 in Byron, Greece. Then, Sayginer beat Belgian Frédéric Caudron, now he was the better of another world star, the current number one in the world Dick Jaspers, in the final 50-37 in 27 innings. The Turkish magician celebrated his victory with a triple 'yesss, yesss, yesss' and could finally call himself the best again in the Egyptian holiday resort after victories over Dick Jaspers and earlier in the day over Törbjorn Blomdahl in the semi-final 50-22 in 16 innings. The one-time world champion, who won his only title in Valladolid, Spain, in 2003, has been away from the international stage for far too long due to the turbulent years in billiards in his home country. He won six World Cups in his career, but had to wait 17 years for his next one. The resounding success comes at a wonderful time: in the week before the World Championship that is also being played in Sharm el Sheikh.
The Turkish winner expressed his joy to all his fans and colleagues after the ceremony. ''This is such a great feeling'', Semih said, ''to finally win a tournament after so many years. I had to fight very hard after my come-back to get back on track mentally. This is a big relief, to win against Blomdahl and Jaspers on one day, against two such great world players. For me, the nerves today were much bigger than for these top players, who are used to winning. I am finally back on track again.''
He looked back on the win against Eddy Merckx, when he entered the final phase with only one point difference. ''I had a little bit of luck, but one week earlier, in Veghel, I had a little bit of bad luck when I lost to Dani Sánchez by one point. That is how it goes in top sport, it's all very close together. But it gives confidence for the World Championships, this victory. There we start again, with many contenders for the title.''
Dick Jaspers reacted: ''My start was not good, like the match before, I could come back to 34-34, but I faced really hard positions, to be honest. And if you don't play that well, it's difficult, surely with the short clock. But anyway, I look back on a good event, in the last 4 World Cups I played the final match three times, although, I lost them all.''
On the final day at the World Cup, Semih Sayginer started the rush with a sovereign victory over Torbjörn Blomdahl and faced Dick Jaspers, the Dutch, 25-time World Cup winner, in the final, who had eliminated the last Korean, Sun-won Choi. The final match had a moderate start, Sayginer took the first lead 20-10 and led 26-13 at the break. Jaspers, known for his never-give-up character, fought his way back into the match at 34-34 in 24 innings, but Sayginer, who again excelled with phenomenal points, responded immediately with 10 and took the match definitely in his hands.
The World Cup winner entered the tournament with a win over Gökhan Salman (40-25 in 15), lost his next to Sameh Sidhom (40-29 in 23) and qualified for the knock-outs with 16 players by winning the match with Jose Maria Mas. The next match on the way was one of the World Cup thrillers, in which Eddy Merckx missed four match balls, two of them miraculously, and Semih took the win 50-49. The road to success was open. Sayginer then won against Jun Tae Kim in the quarterfinals (50-37 in 32) and on the final day beating Blomdahl and Jaspers.
Dick Jaspers remained number 1 in the world ranking with 438 points ahead of Marco Zanetti with 338 and Torbjörn Blomdahl, who is tied with Dani Sánchez on 326 points. World Cup winner Semih Sayginer moved up five places to fifth with 299 points. That ranking could be turned upside down at the World Championship, where Torbjörn Blomdahl has to defend 120 points for his title.
What does the outcome of this World Cup say about the most important event that has not been played for two years? The World three cushion championship, last played in Randers, Denmark, with Torbjörn Blomdahl on 1 December 2019 as the last world champion, will put the world's top players against each other again at this venue in Sharm El Sheikh in a few days' time. Are there doubts about Dick Jaspers, Semih Sayginer or Torbjörn Blomdahl's form? The specialists of this discipline all point to the great champions. When you want to put your money on the top three for the World Championship, you only have to look at the World Cup podium. There, a total of 12 world titles were in the spotlight this Saturday night (Blomdahl 6, Jaspers 4, Sayginer 1, Choi 1). For completeness' sake, add Dani Sánchez (4 titles), who has been winning tournament after tournament for a year now, and at least a handful of outsiders to start with Marco Zanetti, Eddy Merckx and Haeng Jik Kim.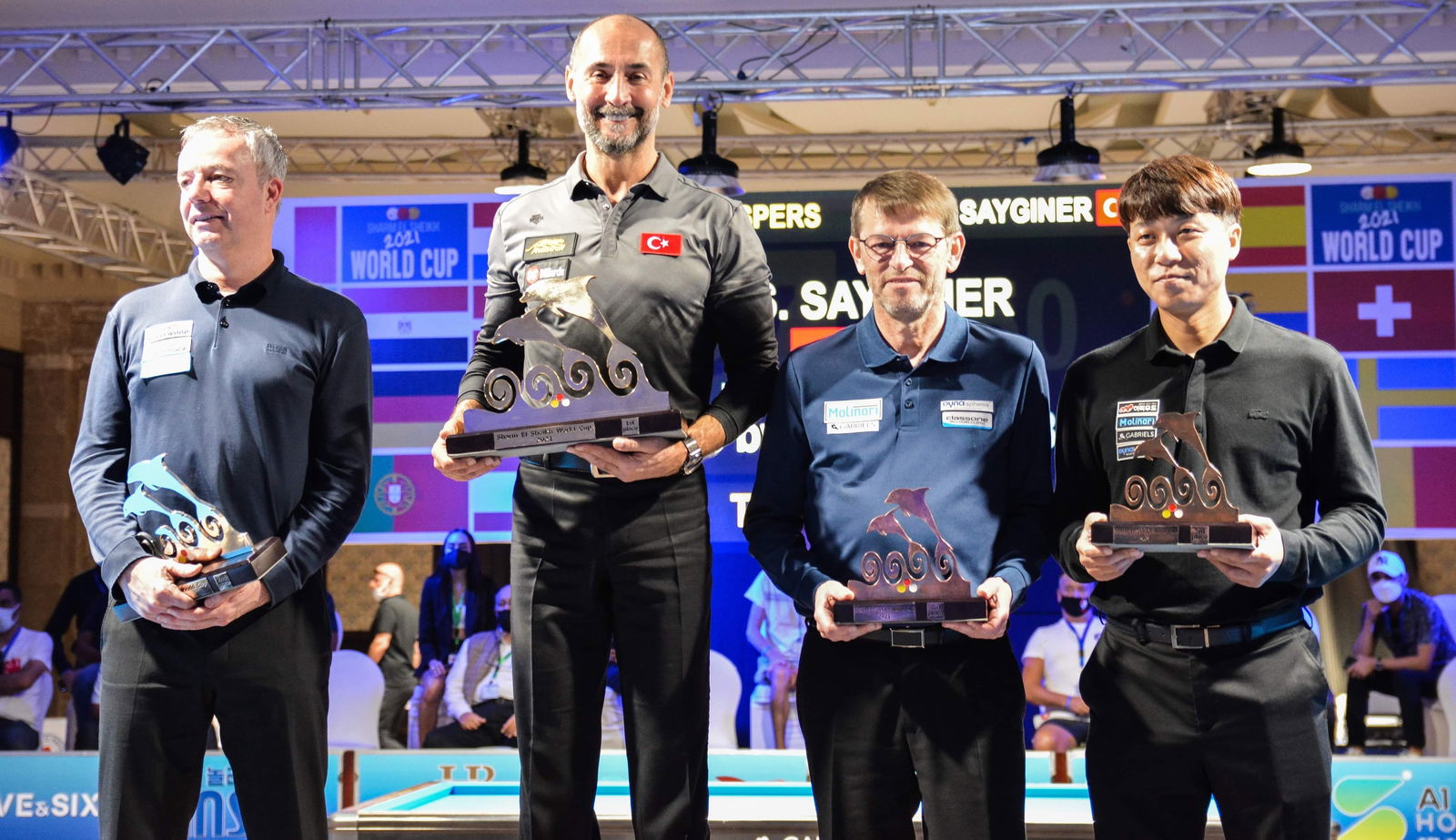 The top stage at the Sharm El Sheikh World Cup: Semih Sayginer, Dick Jaspers (left), Torbjörn Blomdahl and Sung-won Choi (right)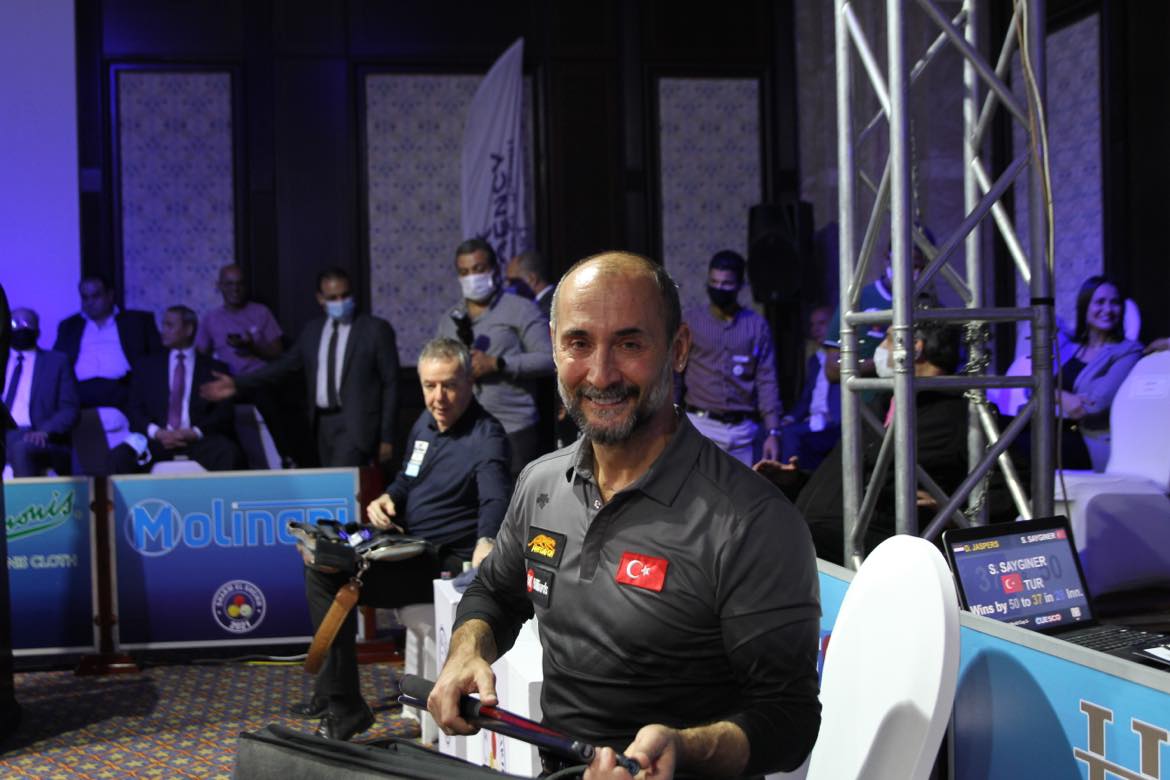 Semih Sayginer, right after his last point in the arena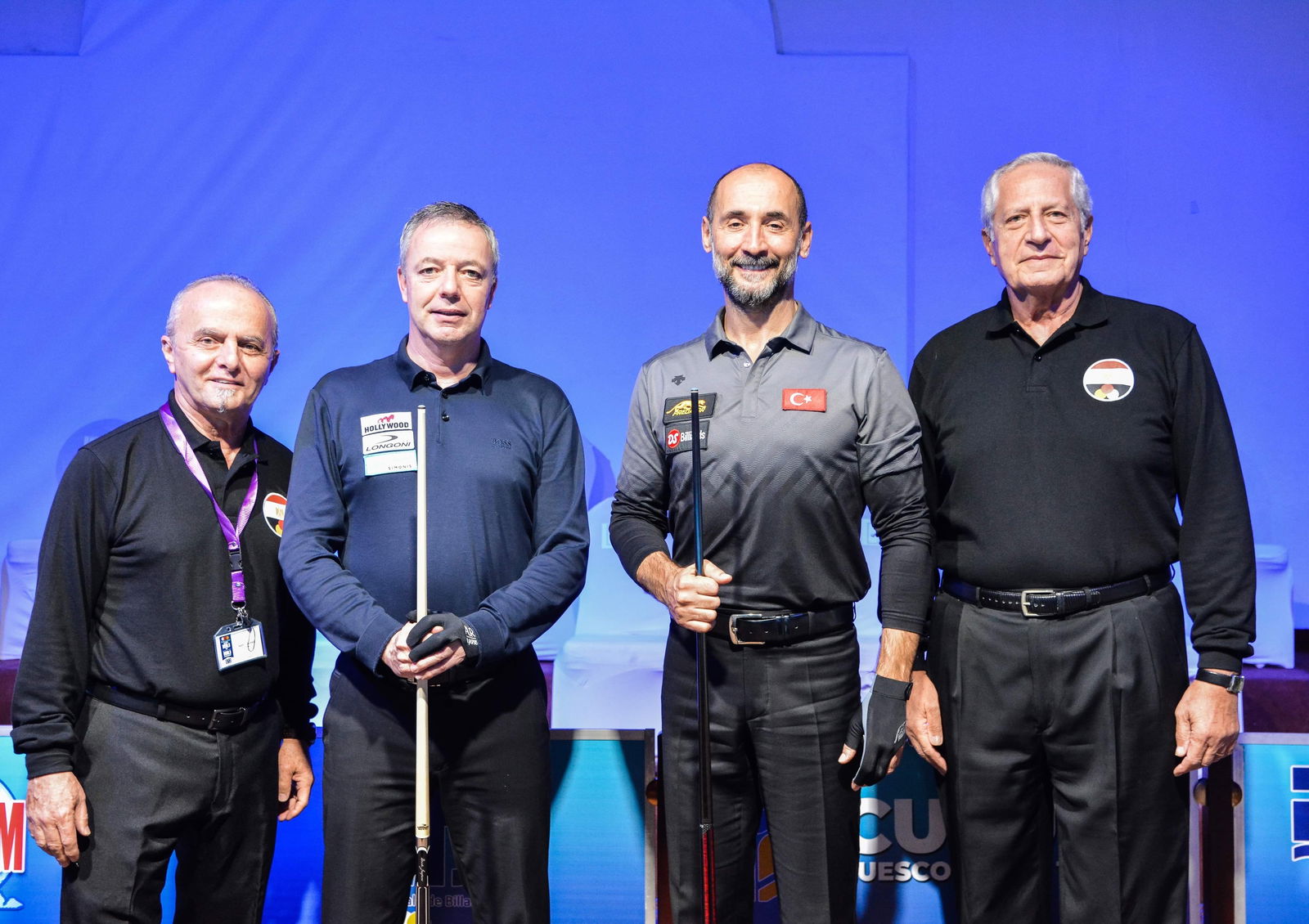 The final players and the referees Bilo Salama and Antoine ChartThe final ranking at the World Cup in Sharm El Sheikh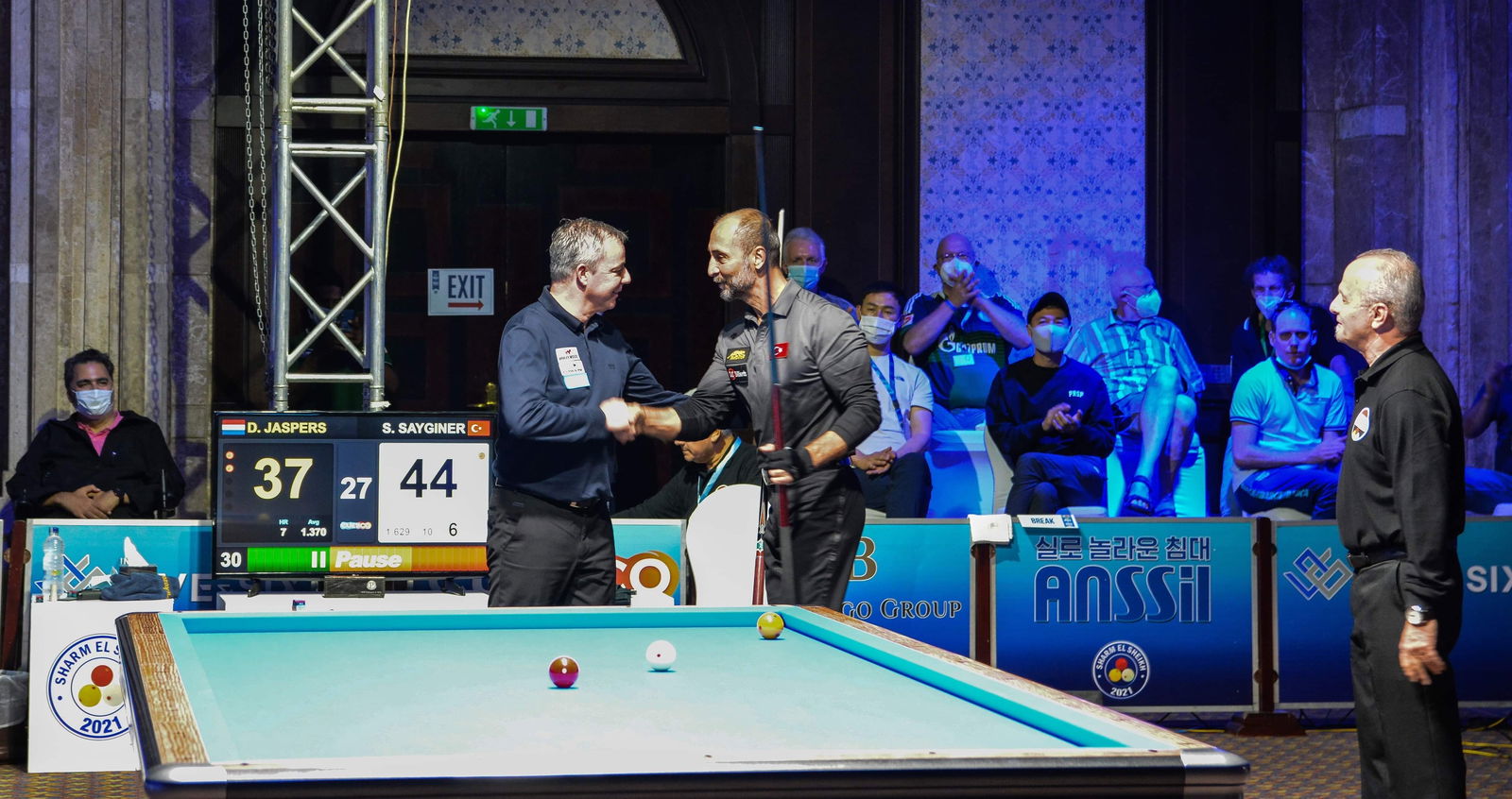 The winner and the final loser after the last point

The final ranking in Sharm El Sheikh:
1 Semih Sayginer 12-1.839-15
2 Dick Jaspers 10-1.967-12
3 Torbjörn Blomdahl 10-1.875-22
3 Sung-won Choi 8-1.753-14
5 Jun Tae Kim 8-1.864-14
6 Marco Zanetti 6-1.972-12
7 Haeng Jik Kim 6-1.833-19
8 Jung Han Heo 4-1.561-11
9 Choong Bok Lee 6-1.902-10
10 Peter Ceulemans 6-1.826-19
11 Sameh Sidhom 6-1.548-8
12 Eddy Merckx 6-1432-9
13 Jérémy Bury 4-1.761-7
14 Dion Nelin 4-1.714-17
15 Nikos Polychronopoulos 4-1.457-11.
The new world ranking:
1 Dick Jaspers (NL) 438
2 Marco Zanetti ( It) 338
3 Torbjörn Blomdahl (Zw) 326
4 Dani Sánchez (Sp) 326
5 Semih Sayginer (Tr) 299
6 Haeng-Jik Kim (Kr) 282
7 Eddy Merckx (Be) 276
8 Sameh Sidhom (Eg) 265
9 Quyet Chien Tran (Vn) 270
10 Tayfun Tasdemir (Tr) 239
11 Jung-han Heo (Kr) 227
12 Martin Horn (Dui) 221
13 Jérémy Bury (Fr) 218
14 Myung-woo Cho (Kr) 214
15 Sung-won Choi (Kr) 205
16 Duc Ahn Chien Nguyen (Vn) 201
17 Murat Naci Coklu (Tr) 196
18 Lütfi Cenet (Tr) 181
19 Dion Nelin (Den) 179
20 Jun-tae Kim (Kr) 162
21 Nikos Polychronopoulos (Gr) 161
22 Quoc Nguyen Nguyen (Vn) 150
27 Roland Forthomme (Bel) 97
30 Antonio Montes (Sp) 90
38 Peter Ceulemans (Bel) 74.
Semi-finals
The last clash of two cultures in this World Cup turned into a rarely seen explosion of high class by the number one European. On the early morning of the final day, Dick Jaspers knocked out Sung Won Choi, the only Korean world champion in history, with hard punches. After 10 innings, Choi had a 23-10 lead, the remainder of the match was a triumph for Jaspers and a torture for Choi.
''I started very badly in the match'', Jaspers confessed later. ''We both had some hard days before, I played a tough match with Zanetti and had to give all my best against Lee. And now, against Choi, it took some time before I found my focus and my rhythm. But in the end it turned into a special match, which I could finish well.''
That first start, with only misses, 1 points and 2 points for Jaspers, was totally different when he entered the second part. Sung-won Choi had a setback that he rarely suffers from. The Korean rhythm was abruptly disturbed, Choi scored one more time (!) in those ten innings. Jaspers, looking beautifully focused now, got into the flow that is so feared for him, made sruns of 12 and 8 in his last four innings, the latter was the final sprint that decided on a remarkable score: 50-24 in 21 (average 2,380/1,200).
The Korean was too stunned for a comment: ''He played fantastic, I made one wrong choice for a shot in the 10th inning, after that Jaspers was unstoppable.''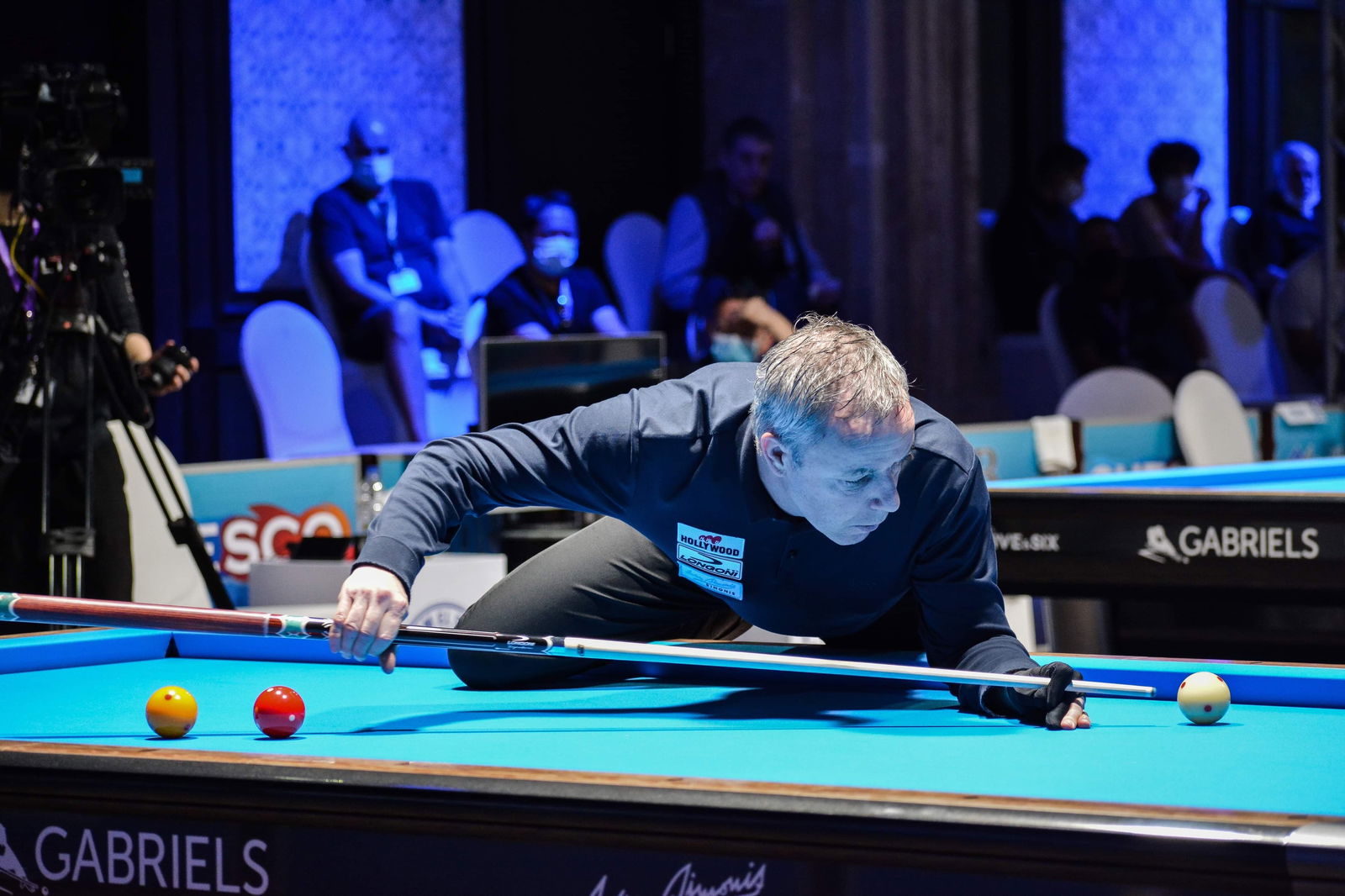 Dick Jaspers on his way to a bankshot in the semi finals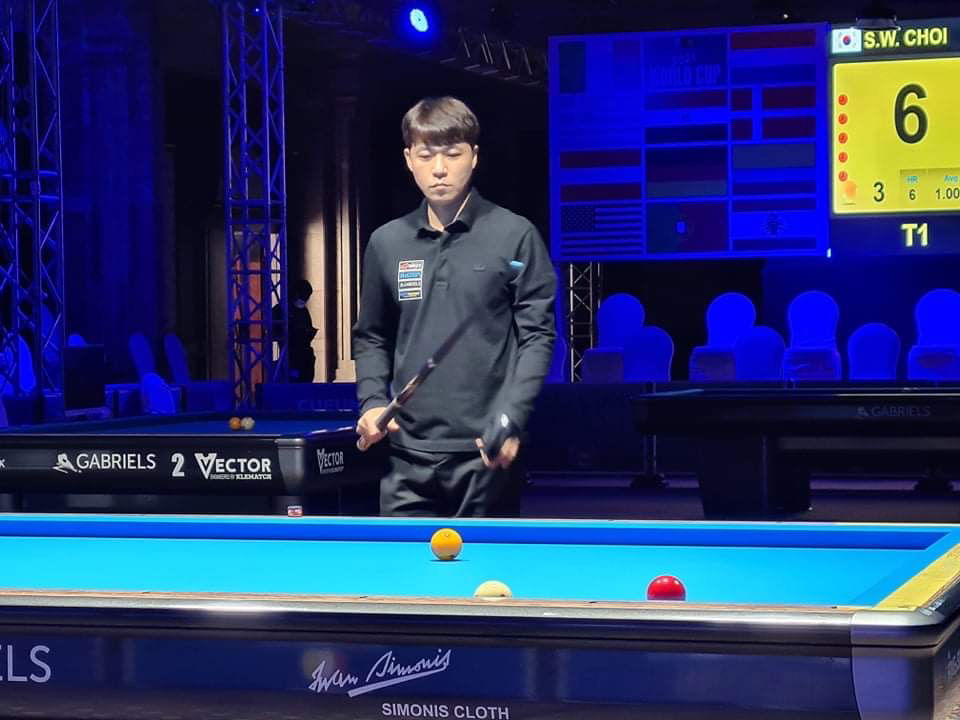 Sung-won Choi, full focus in the last part of the semi final match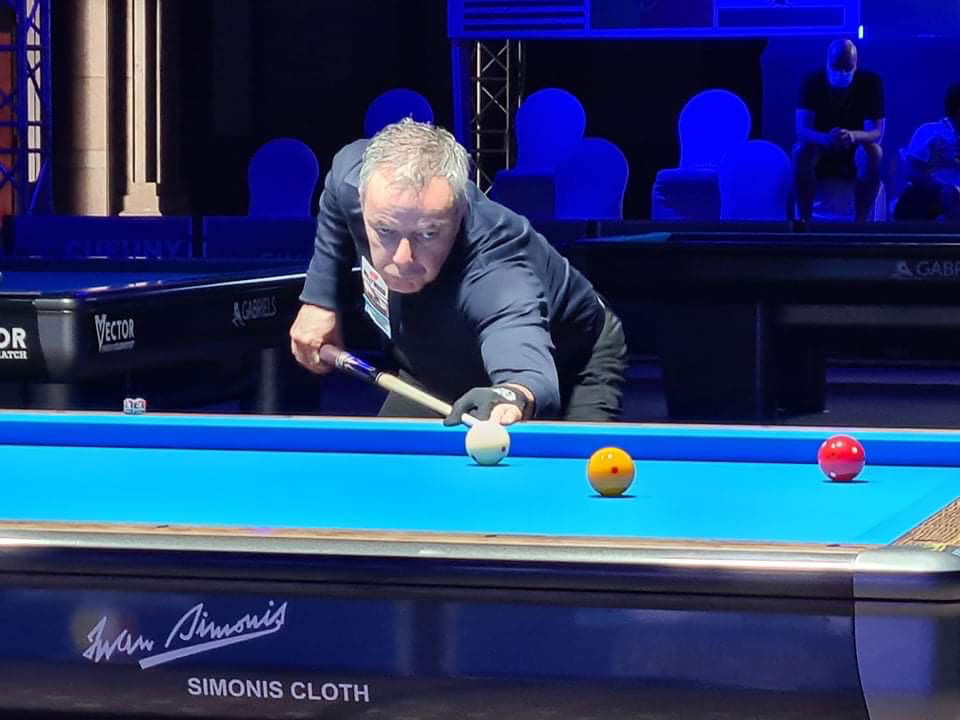 Dick Jaspers, a marvellous second part playing Choi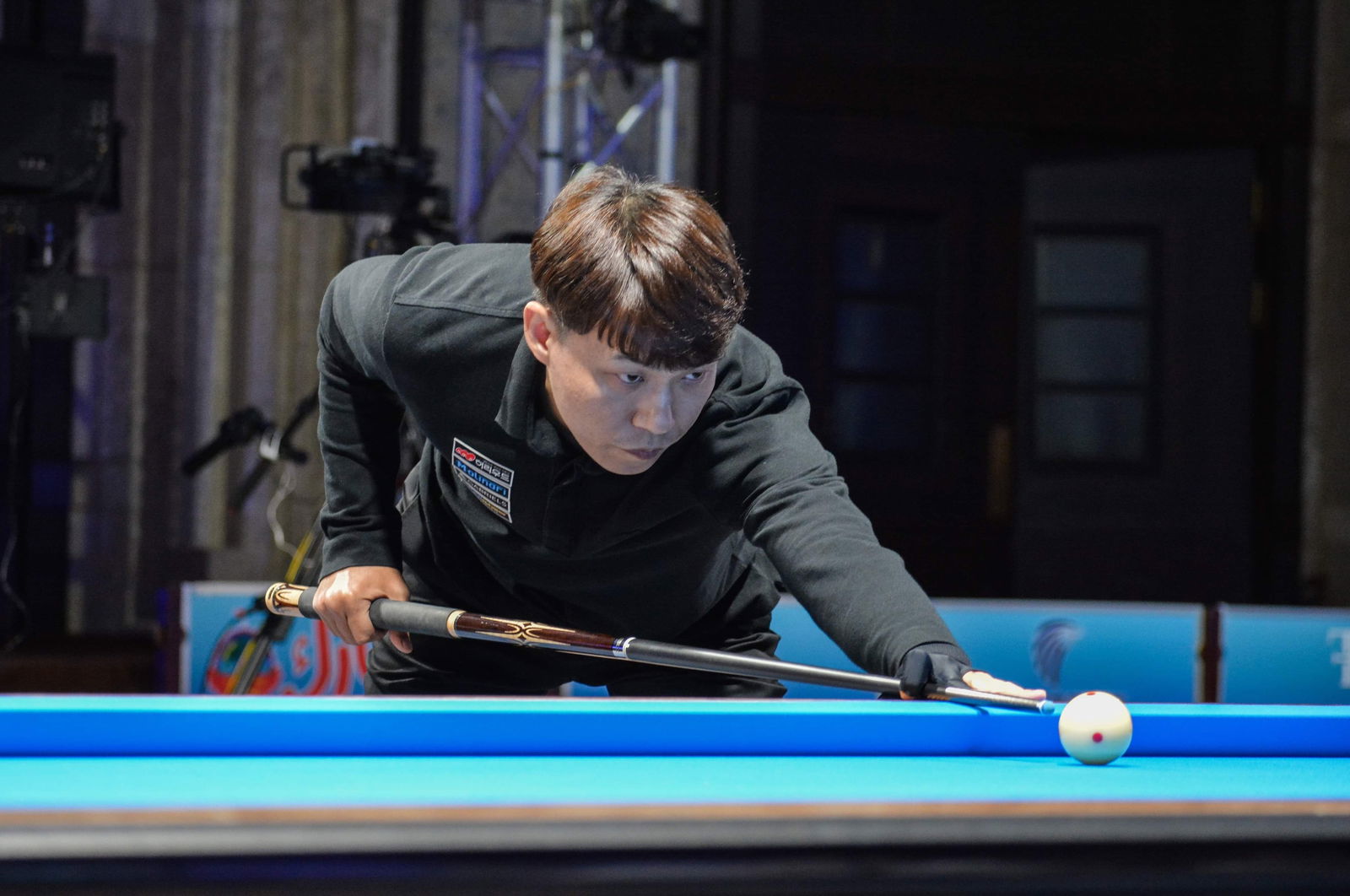 Korean Sung won Choi: only one point in the second part
The other match in the semi-finals was as one-way as Jaspers and Choi. The Turkish supremacy Semih Sayginer showed, was too much, the residence of Torbjörn Blomdahl, who could not find the perfect feeling of the previous days, was actually broken halfway. Semih's brilliant play announced itself with a 7 in the fifth inning, a 12 in the sixth and later an 8 in the ninth and a 6 for the finish in the sixteenth walk to the table. Torbjörn could do nothing better after the five in the first inning.
Semih gave the impression that he was giving an exhibition for the Egyptian audience with wonderful balls and strokes, one even more beautiful than the other. He scored a 'shot of the day' of rare beauty, went from 18-12 to 30-12, to 42-22 and couldn't really forfeit the match anymore. With the six in his last inning, helped by a very little kiss, Semih crossed the finish line at 50-22 in 16/15, averaging 3,125/1,416.The Swede showed his best form in the match against Wan Young Choi, which he won 40-10 in 10 innings and in which he was almost at the finish line in eight innings. He also shone with a closing run of 22 and grew to the best form that he can so badly use to defend his world title next week.
Torbjörn looked back on a strong, but volatile World Cup. ''I'm happy with my third place and I couldn't beat Semih, he was super strong. I accept that and I'm satisfied.'' We all have our ups and downs, as Torbjörn assured. ''Yes, even Dick Jaspers is not always stable, but mostly within the same match. He is the best, he always comes back when he is behind.''
His chances at the World Cup as the defending champion? Torbjörn: ''We never know what will happen, maybe it will go well, I'll do my best. I'm in my reserve time, like in the car, still a few litres in the tank.''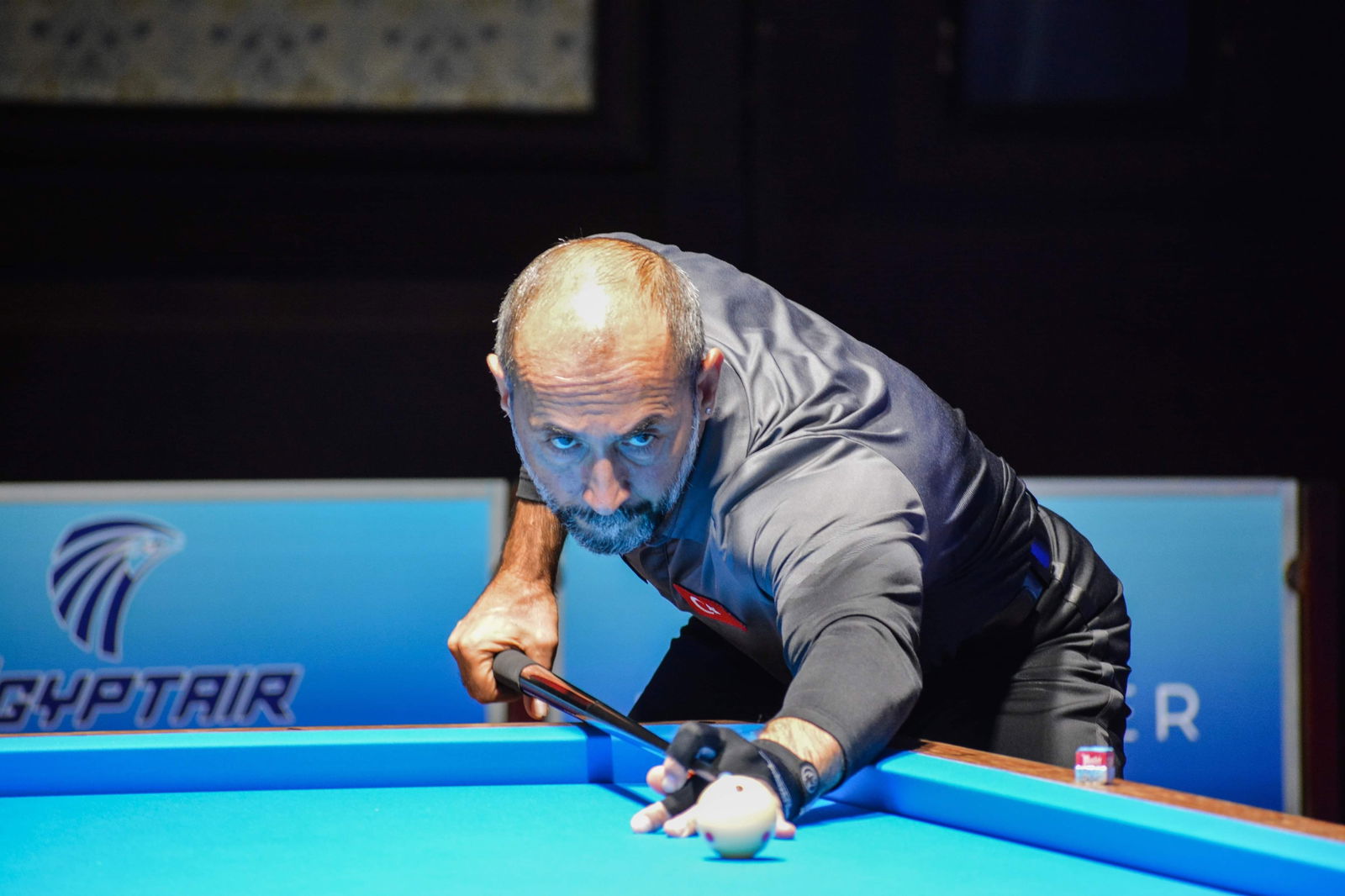 Semih Sayginer, close to his final performance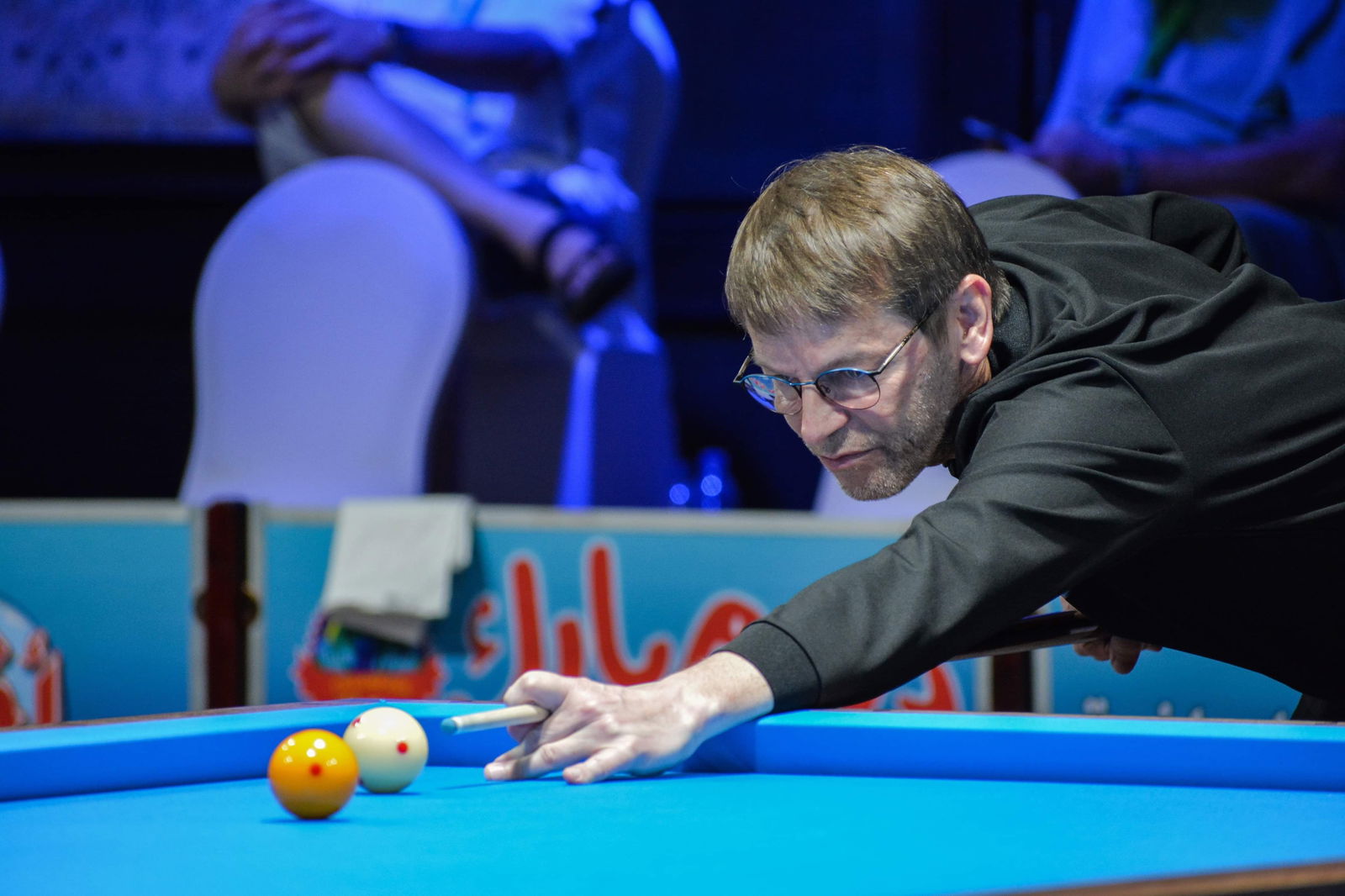 Torbjörn Blomdahl, strong World Cup, only Semih was too strong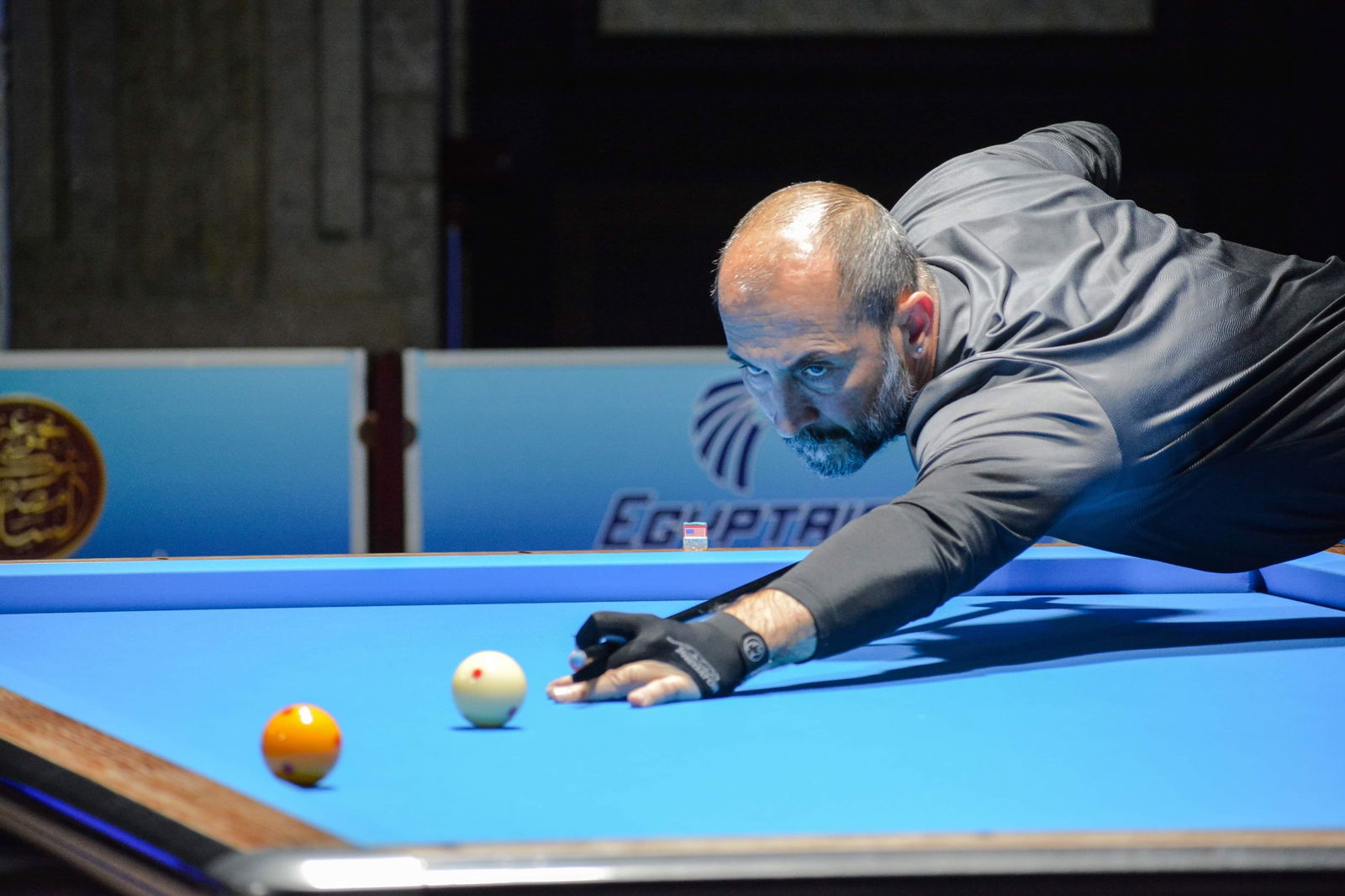 Semih Sayginer, back on track, ready for final with Dick Jaspers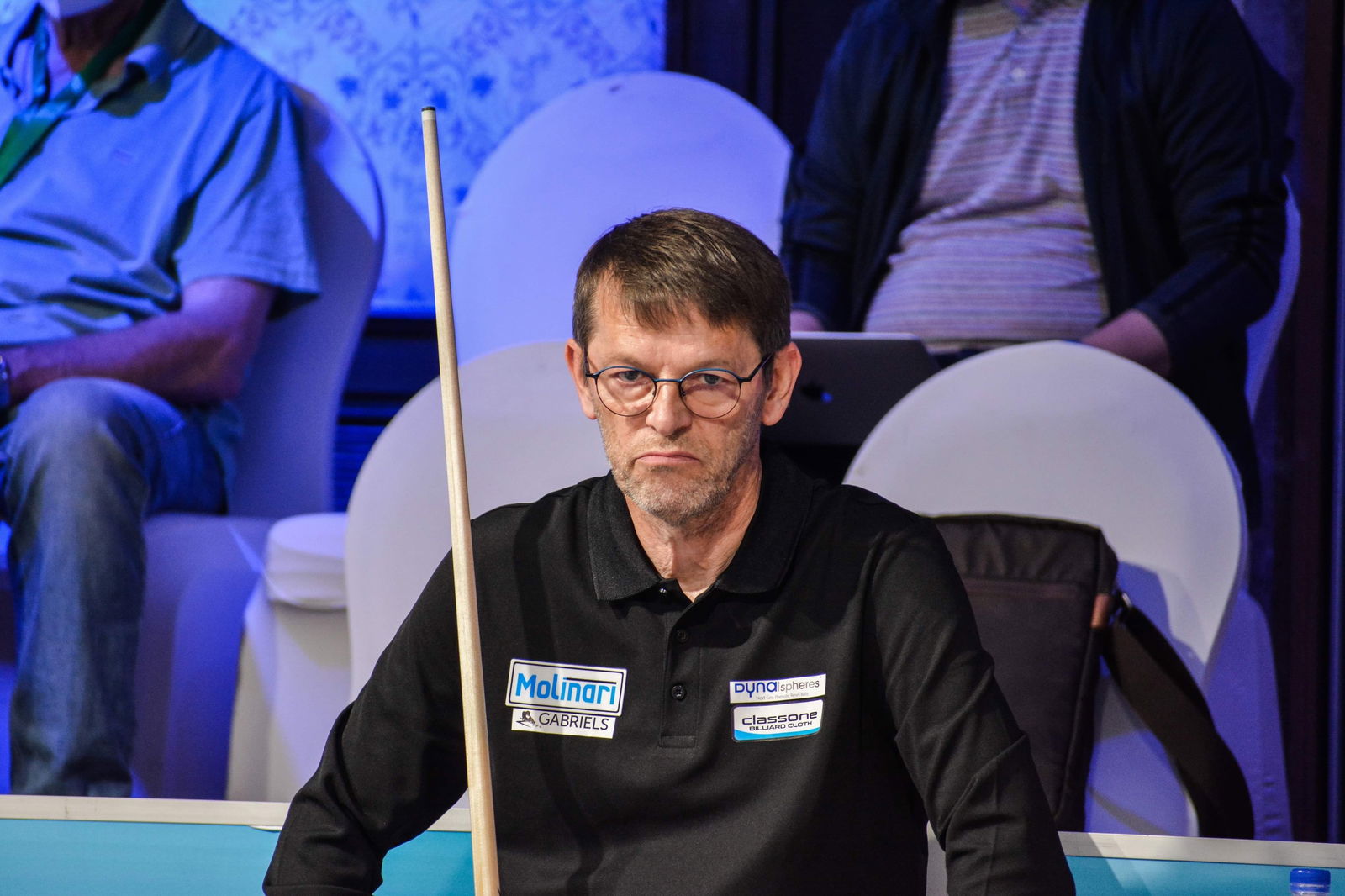 Torbjörn Blomdahl, good event, now on the way to the World championship
The overview of the tournament:
The second World Cup after Veghel and after a long period of COVID stops was looked upon as the event with many high runs. The absolute highlight came from Torbjörn Blomdahl in his match in the quarter-finals with Haeng Jik Kim, in which the Swede knocked out the opponent on 28-17 with a final run of 22, which he - unfortunately - had to stop because the match was over.
Haeng Jik Kim and Peter Ceulemans both had a run of 19, Haeng Jik in his match against Dion Nelin in the first round of the main draw, in which Nelin made a 17 as well. Peter Ceulemans in his match for the first knockout against Jung Han Heo, which was lost by the Belgian who showed such a brilliant progress, on two points and after four match points missed. And Robinson Morales made an 18.
Two Turks, Tayfun Tasdemir and Semih Sayginer, made a run of 15. Jun Tae Kim and Sung-won Choi made 14. The tournament further excelled with many high runs between 10 and 15.
The qualification rounds were won by young Austrian Nikolaus Kogelbauer (1,621), Choong Bok Lee a first time (1,578), Tolgahan Kiraz (2,000) and Choong Bok Lee a second time (2,352).
The main players who were eliminated before the start of the main draw were Roland Forthomme, Antonio Montes, Jose Juan Garcia, Michael Nilsson, Javier Teran and Jacob Haack Sörensen.
The winners of the eight groups with 32 players on the first day of the main tournament were:
Haeng Jik Kim (2,096), Peter Ceulemans (1,967), Torbjörn Blomdahl and Jun Tae Kim (both 1,935), Choong Bok Lee (1,764), Nikos Polychronopoulos (1,676), Sameh Sidhom (1,621) and Eddy Merckx (1,428).
Torbjörn Blomdahl played the best match of this round to 40 points: he beat Korean Wan Young Choi 40-10 in 10 innings. Dani Sánchez, Murat Naci Coklu, Martin Horn and Lütfi Cenet were the top-14 players who did not make it to the top-16.
The two Belgians unfortunate disappeared from the tournament in the first knock-outs: Eddy Merckx with 50-49 when he played Semih Sayginer, Peter Ceulemans 50-48 against Jung Han Heo. The last session before the final day featured four Europeans and four Koreans: Jaspers, Blomdahl, Sayginer and Choi beat Heo, Zanetti, Jun Tae Kim and Haeng Jik Kim.