SINOP - Semih Sayginer was crowned Turkish champion for the second time in three years. With this new title, the Turkish sultan shows again that he is definitely back on top. The last of four Grand Prix tournaments, in Sinop, North Turkey, was won by Tayfun Tasdemir. Sayginer and Tasdemir are the numbers one and two in the final ranking and will play for Turkey at the World championship for nation teams in Vierssen. Semih Sayginer, who won one of the four Grand Prix tournaments, scored 292 points in the final ranking. That is ten more than Tayfun Tasdemir, the number two with 282 points. Murat Naci Coklu was third, Murat Celik fourth. The four Grand Prix tournaments were won by Tayfun Tasdemir (twice), Semih Sayginer and Murat Celik. Sayginer achieved an average of 1.826 over four tournaments, Tasdemir 1.730.
Tayfun Tasdemir had a little chance to take the Turkish title, when he won the fourth tournament himself and Semih Sayginer was not in the last 8. Tasdemir was the winner, but Sayginer defeated Muharrem Peker 40-21 in 21 innings in the eighth finals. Therefore Semih was unreachable. The new champion was defeated one round later by Can Capak 40-14 in 12 innings.
In the fourth Grand Prix, which started with the 32 best players, Tasdemir defeated, among others, Emrullah Basegmez 40-10 in 18 innings, then bested Mesut Ekinci in the quarterfinals 40-31 in 25 and was the better of Can Capak 40-25 in 31 in the semi-finals. The final had a special score. Tayfun, after the match: ,,I was 23-10 behind in 5 innings, but I had a strong second half with 7, 11, 6 and 5 in six innings.'' The final score was 40-25 in 12 innings.
Tolgahan Kiraz reached the final by a victory in the semi-final against Ömer Karakurt 40-36 in 33 innings. In the quarterfinals Kiraz eliminated Murat Naci Coklu 40-30 in 28 innings.
Tayfun Tasdemir said after the Grand Prix victory that he is ready for a new year, in which he wants to be back again in the world top ranking. He is now the number 20 in the UMB ranking. ,,I had a very busy year, in which I married to my wife Neslihan. And furthermore, I had problems with my neck. I went to a doctor now to heal it. Because of the pain in my neck, I could not put power in my shots. Before the World Cup in Hurghada, I didn't touch my cue for 20 days, because of all preparations for my wedding. From now on, it will be better. I will have more time to practice. I want to return to the top as soon as possible.''
The final score of the Turkish championship:
1 Semih Sayginer 292 points, 1.826
2 Tayfun Tasdemir 282, 1.730
3 Murat Naci Coklu 198, 1.681
4 Murat Celik 168, 1.476
5 Tolgahan Kiraz 160, 1.460
6 Can Capak 150, 1,481
7 Savas Bulut 148, 1.225
8 Lütfi Cenet 140, 1.618
9 Turgay Orak 128, 1,297
10 Savas Güngör 124, 1,168
11 Adnan Yüksel 122, 1.1.336
12 Muharrem Peker 118, 1,234
13 Ömer Karakurt 112, 1.1.286
14 Murat Tüzül 106, 1.195
15 Ahmet Köseoglu 96, 1.122
16 Emrullah Basegmez 96, 1.035.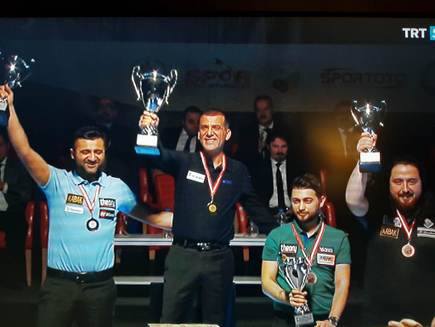 Tayfun Tasdemir took the last Grand Prix tournament and is on top of the podium with Tolgahan Kiraz, Can Capak and Ömer Karakurt
Fourth ranking tournament in Sinop:
1 Tayfun Tasdemir 1.676
2 Tolgahan Kiraz 1.543
3 Can Capak 1.573
4 Ömer Karakurt 1.3772
5 Semih Sayginer 1.775
6 Turgay Orak 1.649
7 Mesut Ekinci 1.487
8 Murat Naci Coklu 1; 450
9 Lütfi Cenet 1.423
10 Söner Bag 1.390
11 Gökhan Salman 1.386
12 Adnan Yüksel 1.231.