LIMA - With his second win in two years, Hugo Patiño has been crowned king of billiards in Lima. The American extended his title in the Grand Prix Panamericano by a victory over Robinson Morales in the final: 40-38 in 21 innings. The born Colombian was rewarded with 5.000 dollars in the tournament which was excellently organized by RAJU Productions (Ramon Rodriguez and July Pinedo).
The opening stage in the final was dominated by Hugo Patiño, who attacked with nine after a miss in his first inning. He led 16-6 on the way to the break. Morales prepared his counter, but was still behind at 22-14. The Colombian, best player on average, went full speed after the break, levelled the match in the 16th and then led by 30-28 one inning later: 30-28. The American eventually decided the hard fight leading 35-30 and was a little more lucky to reach the finish: 40-35. Robinson had to score five for the tiebreak in the equalizer, but missed after three points: 40-38 in 21 innings.
Robinson Morales, nicknamed Robin Hood, was never in danger in the semi-final against Luis Aveiga. The American ran out to a smooth win from 17-13 and 34-21 to 40-21 with a final run of six. Hugo Patiño also showed superior against Luis Martinez, led 20-10 at the break and decided the match in the 26th: 40-27.
Six Colombians, one Ecuadorian (Luis Aveiga) and an American (Hugo Patiño) were the eight finalists on the last day. The best winner in the eighth finals was Patiño in his match against Julian Torres (40-23 in 23 innings). Alexander Salazar signed for the elimination of Henry Diaz (40-34 in 27), other favourites who were outplayed were Carlos Campiño and Jose Torreblanca, the last of the Peruvians.
The quarter-finals were spectacular. Robinson Morales was 20-7 down against Jose Juan Garcia, but decided the match in his favour at 40-36 in 24. Luis Aveiga started as a rocket (19-8 in 7), but Julian Morales came close: 40-32 in 26. Huberney Cataño couldn't find his rhythm in the match against Luis Martinez (17-5 and 27-13 down), still played a draw, but in two shootouts he lost 3-2. Hugo Patiño played a tough match against Alexander Salazar, he escaped at 40-39 after 38 innings.
The Grand Prix Panamericano took place in the Circolo Sportivo Italiano with a maximum internet connection to broadcast the eight matches. The best overall average was made by Robinson Morales 1.701. The highest run was made by Alexander Salazar: 14.
The final ranking:
1 Hugo Patiño (USA) 18-1.417-11
2 Robinson Morales (Col) 16-1.701-10
3 Luis Aveiga (Ecu) 14-1.383-9
4 Luis Martinez (Col) 12-1.254-8
5 Huberney Cataño (Col) 12-1.490-9
6 Alexander Salazar (Col) 12-1.313-14
7 Jose Juan Garcia (Col) 12-1.228-9
8 Julian Morales (Col) 10-1.214-10
9 Carlos Campiño (Col) 10-1.066-7
10 Oscar Castaño (Col) 10-1.017-8.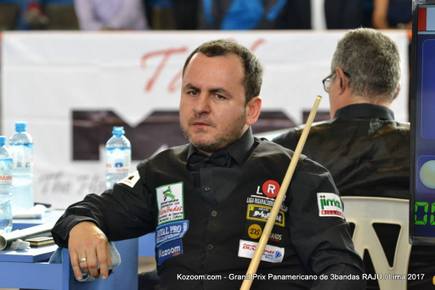 Robinson Morales, great tournament, only beaten by Patiño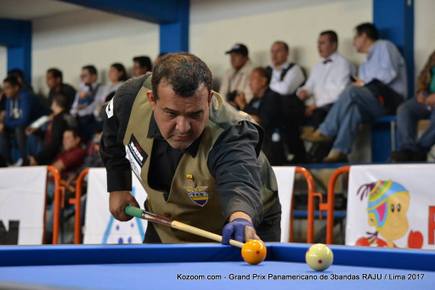 Luis Aveiga lost his chances in the semi-finals