SHARM EL SHEIK - His 11-year-old son Samuel ran into the arena to celebrate the World Cup victory with his father Marco Zanetti. The 57-year-old winner in the resort near the Red Sea smiled as he pointed at his silver-gray hair and proudly announced that he wanted to share this huge success with his partner and his son. The champion himself sang out loudly the Italian anthem on the high stage, like the sport celebrities from the land of azzurri can make it echo so intensely. Marco Zanetti, not a winner with a big palmares in the World Cups, won in Sharm El Sheikh, five years after his last. He made it with a fabulous average of 2,718 and in the final 40-29 in 14 innings against Dick Jaspers, the number one in the world. Jaspers was rewarded for his wonderful year by the overall World Cup victory 2019 in the standings over 7 World Cups.
The magic finish was close to the world record tournament average of 2,777, which is owned by Dani Sánchez. For his last four knock-out matches over 40 caroms on his way to the final victory, Zanetti only needed 13, 13, 13 and 14 innings. "I showed," he said when he was honored on stage, "just like Torbjörn Blomdahl winning the World championship, that three cushion is a sport in which old age does not play a role. After all these years, I still think it's a wonderful sport. At this age, my motivation is still getting better.'' Dick Jaspers heard the winner's interview in the arena where he just played the final. There, the Dutchman later received the trophy for the 2019 overall World Cup ranking handed by UMB President Mr. Farouk Barki.
The fully European stage further consisted of Martin Horn and Jérémy Bury. The German was defeated by Dick Jaspers in the semi-finals, the French by Marco Zanetti, his long-standing teammate in the successful Agipi team from Strassbourg. The match was disturbed by a long discussion about one carom made by Bury, which was disputed by Zanetti. The match was interrupted for fifteen minutes. The Egyptian referee Bilo Salama counted the point of the Frenchman, which was rejected by the second referee, because Bury would have passed the shot clock. The score was 35-23 at that time. Zanetti immediately protested against the decision. The point was rejected first, but then again assigned by the referee. That caused a lot of confusion in the arena and among the viewers. Zanetti finally closed the discussion and allowed his opponent to continue his run.
The exceptional tournament average Marco Zanetti played at the World Cup in Sharm El Sheikh this week, acquires even more historical value if we compare the world record averages of Dani Sánchez (2,777) and Torbjörn Blomdahl/ Dani Sánchez (2,739) with that of Zanetti: 2,718. The Italian achieved the average in a tournament with three preliminary matches and four knock-outs games. Blomdahl and Sánchez set the world record in World Cups over five matches. Based on 5 matches, with the deduction of two games in the preliminary rounds, Zanetti would have reached 2,871, which has never been played before. Zanetti finished his last four matches in the knock-outs with 3,019 on average. The World Cup in Egypt had was marked by two 40-point matches in 8 innings: by Dick Jaspers and Dinh Nai Ngo. The overall average in the main tournament was 1,657.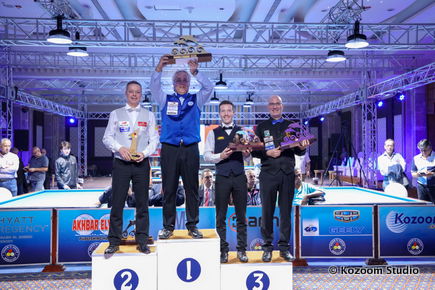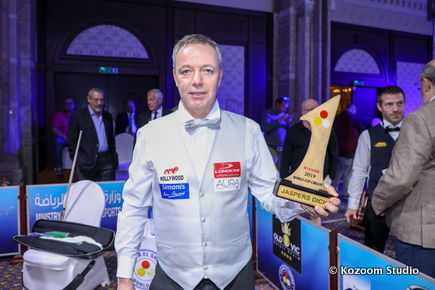 Dick Jaspers, who lost his world title to Torbjörn Blomdahl a few weeks ago, won the overall World Cup ranking over seven tournaments in the final sprint. Reaching the final match in Sharm, he passed Tayfun Tasdemir, the other big contender and previously Eddy Merckx and Lütfi Cenet. The Dutchman was one of the best players as well at the World Cup in Egypt with his brilliant run of 23.
The golden match between two leading players from the history of three cushion was decided in favor of Zantti in the final part. Both players made runs of 9, Zanetti sparkled with a 10 in the 9th, making the gap to 31-19 and ran out later from 35-24 to 40-29. In this World Cup, Zanetti was mainly feared for his high runs (15, 15, 12, 11, 10) in his previous matches. The Italian won his first World Cup almost twenty years ago, in 1990 in Palma beating Raymond Ceulemans and Richard Bitalis. Later, the Italian won twice the three cushion World championship in 2002 and 2008, he won the World Games in Cali, Colombia in 2013, many European Cup titles with the Agipi team and he became European champion three cushion in Brandenburg in 2013.
Two days before his winning race in Sharm, in an interview, Zanetti explained his progression at his age in position play and tactics: "I have created more variation in my stroke technique and my concentration has improved."
A salient detail: Torbjörn Blomdahl was inspired by his 80-year-old father Lennart at the World championship in Randers. Marco Zanetti said that his partner Martina and son Samuel had been important fans for him in the audience.
Other highlights in this World Cup included:
> The Asians quickly took a leading role in the preliminaries, although they lost their new star Duc Anh Chien Nguyen, the number two at the   World championship.
> Peter De Backer, a Red Sea tourist with a feared power at the billiard table, survived the preliminary rounds and defeated two famous Koreans    in the stepping-stone to the knock-outs.
> Juntae Kim survived twice as a lucky loser, won another round and then got eliminated by Dick Jaspers.
> Torbjörn Blomdahl, the new World champion, was beaten in the last sixteen by the junior World champion Myung-Woo Cho.
The World Cup result in Sharm El Sheikh:
1 Marco Zanetti 14-2,718-15
2 Dick Jaspers 10-2,078-23
3 Martin Horn 10-1,691-10
4 Jérémy Bury 8-1,791-12
5 Sung-Won Choi 8-2,444-18
6 Myung-Woo Cho 8-1,750-10
7 Quyet Chien Tran 8-1,590-10
8 Tayfun Tasdemir 6-1,945-10
9 Jung-Han Heo 6-1,894-11
10 Torbjörn Blomdahl 4-1,780-11
11 Eddy Merckx 4-1,762-10
12 Juntae Kim 4-1,722-12
13 Semih Sayginer 4-1,636-10
14 Peter De Backer 4-1,619-10
15 Murat Naci Coklu 3-1,777-9
16 Trung Hau Do Nguyen 3-1,544-8
17 Wan Young Choi 4-1,500-10
18 Michael Nilsson 3-1,412-10
19 HaengJik Kim 2-2,017-9
20 Bong Chul Kim 2-1,540-9.
Dick Jaspers remains the leader in the world ranking by a big margin and a total of 438 points, leading Marco Zanetti by more than hundred. Dani Sánchez, who had to cancel because of his father's death, is the number18.
The standings in de World ranking after Sharm El Sheikh:
1 Dick Jaspers 438
2 Marco Zanetti 336
3 Torbjörn Blomdahl 304
4 Eddy Merckx 282
5 HaengJik Kim 282
6 Tayfun Tasdemir 260
7 Quyet Chien Tran 260
8 Sameh Sidhom 255
9 Semih Sayginer 239
10 (geschorst) Frédéric Caudron 226

11 Jérémy Bury 224
12 Murat Naci Coklu 224
13 Myung-Woo Cho 215
14 Martin Horn 211
15 Jae-Ho Cho 206
16 Lütfi Cenet 205
17 Duc Anh Chien Nguyen 201
18 Dani Sánchez 179
19 Sung-Won Choi 175
20 Roland Forthomme 175.
The World Cup ranking over 2019 (7 events):

1 Dick Jaspers 224
2 Tayfun Tasdemir 214
3 Marco Zanetti 212

4 Eddy Merckx 206
5 HaengJik Kim 186
6 Lütfi Cenet 167
7 Martin Horn 144
8 Jérémy Bury 140
9 Myung-Woo Cho 134
10 Jae-Ho Cho 134.