MAGDEBURG - Dick Jaspers has realized a magical world record in Germany this Sunday afternoon. In a match for the team competition in the bundesliga, the Dutch billiard player scored the 40 caroms in 4 innings: an average of 10.00. The previous world record was on 6 innings. The match was played on Sunday, January 21, 2018. The last carom at the table in Magdeburg was made around two o'clock. Jaspers' opponent, the Austrian Andreas Efler, remained at zero points after four innings: 40-0. The world record is comparable to the 50 in 6 innings (8.666 average) of Eddy Merckx in 2011, also in the German league.
The phenomenal record of Jaspers was played in Magdeburg in a home match of his team. The inning scores were: 5-11-2-22. Dick Jaspers' first comment, modest as always: ,,Yes, it was a nice match, it all went well from the start. I haven't really been in trouble, but I had to solve some 5, 6 difficult positions. The finish made me very happy. I had made my last, the 22nd, but the number 23 was also very easy: a short-long-short ball, I couldn't miss it. But anyway, I had to stop, haha. Yes, it's a wonderful record, I must think of Eddy Merckx, who played 50 in 6. That is on the record list for many years now. I think my record will remain there also for a long time, but someday one player will improve on it.''
The world record match was played on a Gabriels table in Magdeburg. ,,I know the billiards here perfectly and it's a great table. Two years ago I almost improved the world record. I came to 39 in the fifth and missed the last one. Then, I finished in the sixth inning, an equalization of the world record, which I now have in my hands.''
Dick Jaspers: ,,I would like to tell, that I played the record on a Simonis 300 rapide cloth with PreciShot on the cushions. And that my main sponsors are Simonis and Aura.''
The 22-run was the fifth for Jaspers in his career, twice before he finished with 22. Jaspers' highest run is 26.
Jaspers said about his opponent, Andreas Efler, who couldn't make one point: ,,I can't say that I made it too difficult for him. Andreas had a good ball in the third inning, which he missed. And he also missed the equalizer, so he had quite a few chances.''
The historical match was played in front of around twenty spectators. Jaspers had also shown a nice match against Lütfi Cenet on Saturday in the bundesliga, which he won 40- in 17 innings.
BC Magdeburg won the home match against Erlangen 6-2 on Sunday, and remains in the top of the rankings.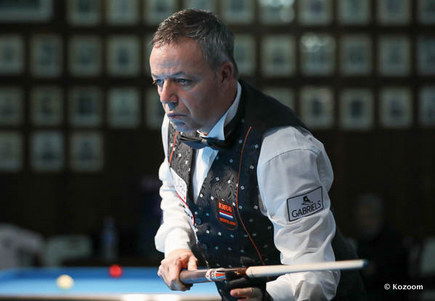 Dick Jaspers, amazing recotd in the bundesliga