BERLICUM - On the way to the early evening, playing the second day at the Jumbo Masters, the full stands were witnesses to high-class matches and lots of tension in the Brabant/Hague clash.
Two Brabant leading players, Jean van Erp and Barry van Beers, treated their own audience to high-quality billiards and won the matches over two Hague players in this pre-qualified group of death. The winners do not yet have certainty for the next round, the losers face a last chance. Jean van Erp is the proud leader of this group ahead of Glenn Hofman, Barry van Beers and Jeffrey Jorissen. There is excitement until the last day to reach the knockout with eight. On this Thursday, Frans van Schaik and Dave Christiani were the first two players to already qualify for the final rounds, later followed by Raimond Burgman. The Amsterdam player (Frans van Schaik) was the revelation so far with his victory over Dick Jaspers. He also was the better of Raymund Swertz in his second match 3-2 (10-9 in 14, 4-10 in 5, 10-3 in 6, 7-10 in 8, 10-3 in 13). That means for the final day of the preliminary rounds, that Jaspers and Swertz are fighting for the second ticket.
Dave Christiani is surely among the better performers on the first two days with his victory over Jean Paul de Bruijn in the opening sessions and a second win over Joey de Kok (3-1 with only the second set win for De Kok). And of the players following Christiani in the rankings, two are competing for the second ticket: Jean Paul de Bruijn and Joey de Kok, the two Zeeland players who know each other so well as the teacher and the student. The most striking thing on the second day was that Dick Jaspers recovered impressively from his first performance and Jean Paul de Bruijn, with slightly less bravado, kept his chances by a 3-2 victory over Adrie Demming, despite Demming's stunning start with two set wins. After those 10-3 and 10-3, the Brabant player could not sustain the race and lost the next three sets 10-6, 10-6 and 10-3.
Dick Jaspers made a victim of Kay de Zwart by dominating for three sets with set wins 10-5 (5), 10-7 (6) and 10-3 (2) an average of 2,307. But in that violence of the second qualifying day, there was that great battle between Jean van Erp and Glenn Hofman, who both were winners in the first round of play: Van Erp against Jorissen, Hofman against Van Beers.
The red-and-white Brabant fan club, high up in the stands for that match, waged a verbal battle with the green-and-yellow Hague clan in the front rows. The first blow for Brabant came from Barry van Beers, who lost the first set 10-4 in 3, then hit back twice 10-5 in 6 and 10-3 in 4, but Jorissen made it to a decisive set after a wondeerful 10-3 in 3. And finishing the match, Barry van Beers fought furiously for his last chance: a 10-3 win in 6.
By then, the full spotlight was on the thrilling battle between Jean van Erp and Glenn Hofman. The score was 10-7 for Hofman in the first, 10-8 in 6 and 10-1 in 4 for Van Erp, good for a 2-1 lead in sets. The Hague player started 7-0 in the fourth, saw his opponent come back to 9-8, but then forced a fifth set. And suddenly there were equal chances again: Jean van Erp ran to 3-0, to 5-2 and to 7-5, Hofman showed his great mental resilience and fought back. He even led 9-8, missed the match ball in an impossible position, played his next one an inch too soft and in those oppressive final minutes, Hofman offered Van Erp the chance to strike with his two winning hits: 3-2 thus with averages 1.875 for Van Erp and 1.583 for Hofman.
Jean van Erp later came to the Ziggo Sport cameras to blow off steam in his interview, showing his happiness after the victory, but realized how gruelling the match had been. ''What a high-class match, so nice to be part of it. I had to fight against a fantastic Glenn Hofman, whom I dare to call the best billiard player in the Netherlands after Dick Jaspers. And wo, I was very, very happy to beat him.''
To end the second day, Raimond Burgman ranked among the so far qualified players by his victory over Jack Wijnen 3-1: 10-3 in 4, 3-10 in 5, 10-5 in 7 and 10-4 in 9 (average 1.348). The most talked-about statement of the day came from Burgman, who said in the interview for Ziggo Sport that the end of his billiard career is approaching. With a serious smile, Burgman, who played some 34 Masters, said: ''What would be better to say farewell than after winning these Masters.'' But in all honesty, there is doubt: maybe continue for one, two more years, because I still really enjoy playing and have so many friends in this billiard world.''
Therese Klompenhouwer played considerably better than on her first day, beating Jerry Hermans 3-2. With 1.269 and comfortable set wins, the world champion remains in the race for the second ticket with Raimond Burgman. The winner of the Klompenhouwer-Wijnen match on the third day will be number two on the rankings.
The standings after two rounds in the four groups:
Group A:
1 Frans van Schaik 2-4-1,100-9
2 Dick Jaspers 2-2-1,810-6
3 Raymund Swertz 2-2-0.984-6
4 Kay de Zwart 2-0-0.965-5
Group B:
1 Jean van Erp 2-4-1,648-5
2 Glenn Hofman 2-2-1,789-7
3 Barry van Beers 2-2-1,588-7
4 Jeffrey Jorissen 2-0-1,387-6
Group C:
1 Raimond Burgman 2-4-1,536-7
2 Jack Wijnen 2-2-1,068-7
3 Therese Klompenhouwer 2-2-0.975-6
4 Jerry Hermans 2-0-0.966-6
Group D:
1 Dave Christiani 4-1.853-10
2 Joey de Kok 2-0.921-5
3 Jean Paul de Bruijn 2-1.000-4
4 Adrie Demming 0-0.800-5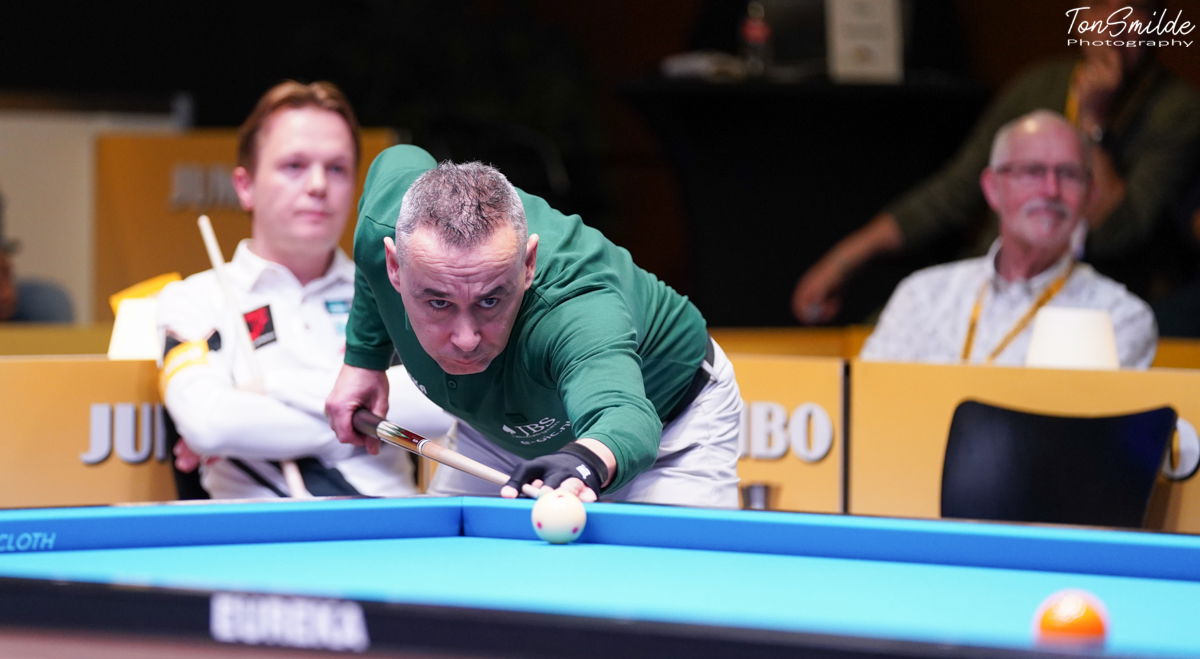 Jean van Erp in the thrilling final part of the match with Glenn Hofman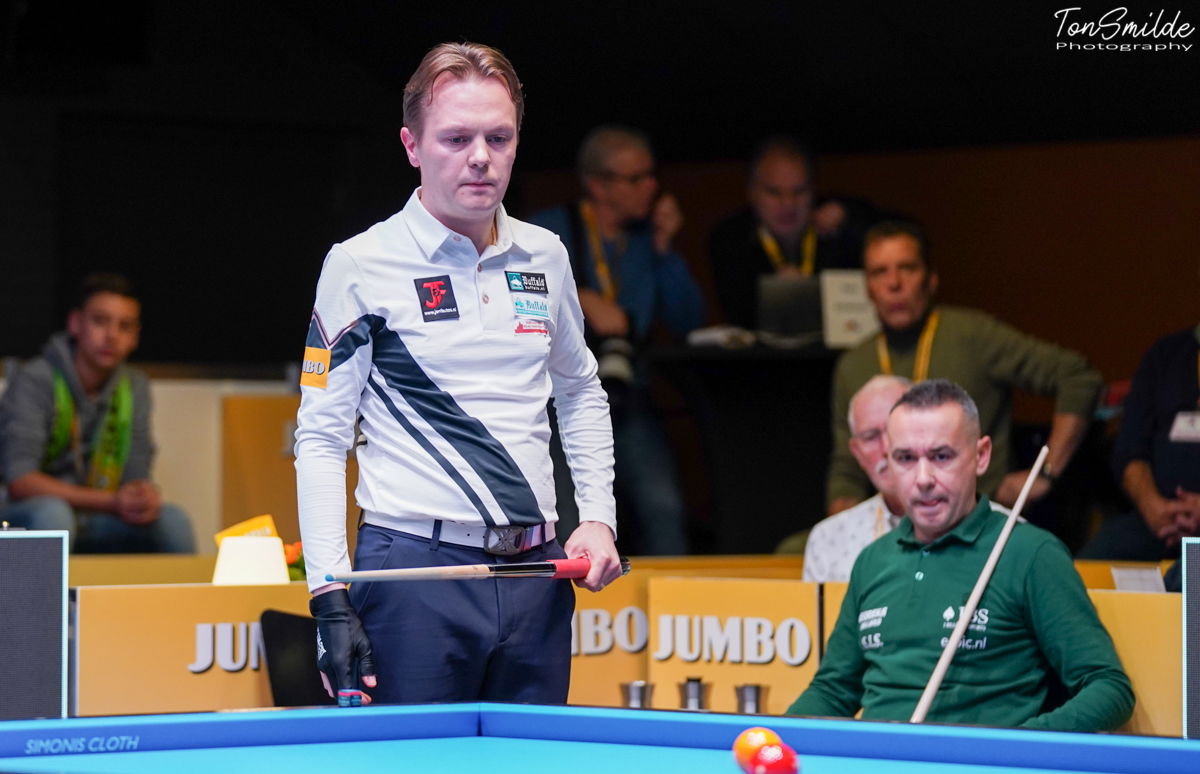 Glenn Hofman, back from being away, strong performance at the Masters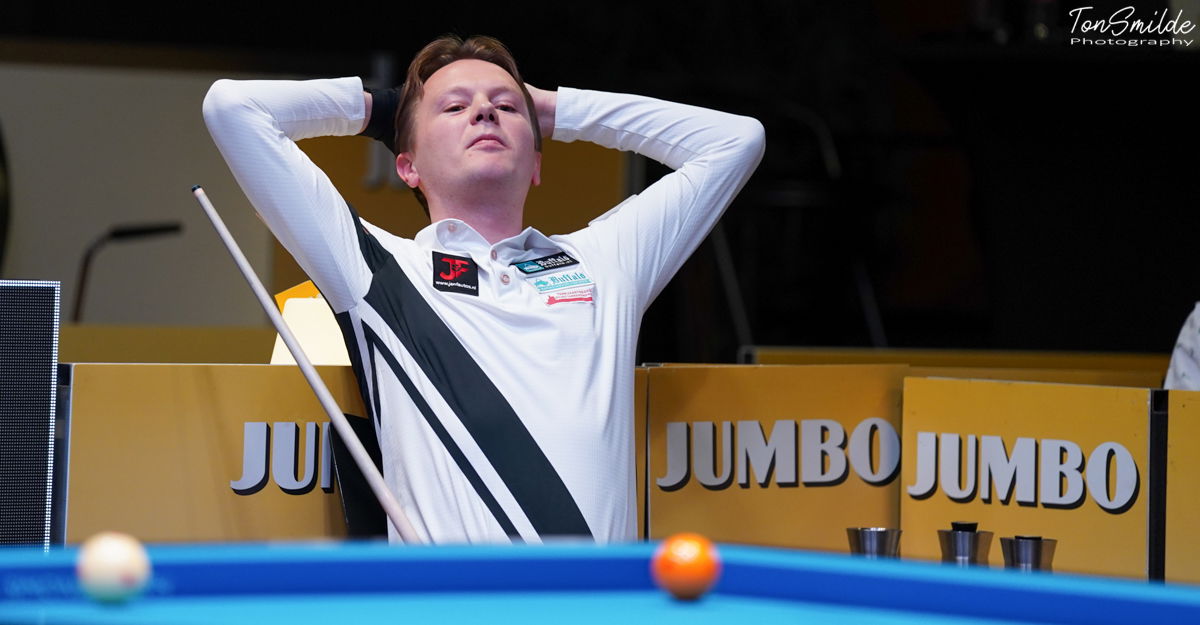 Glenn Hofman after his unlucky loss to Jean van Erp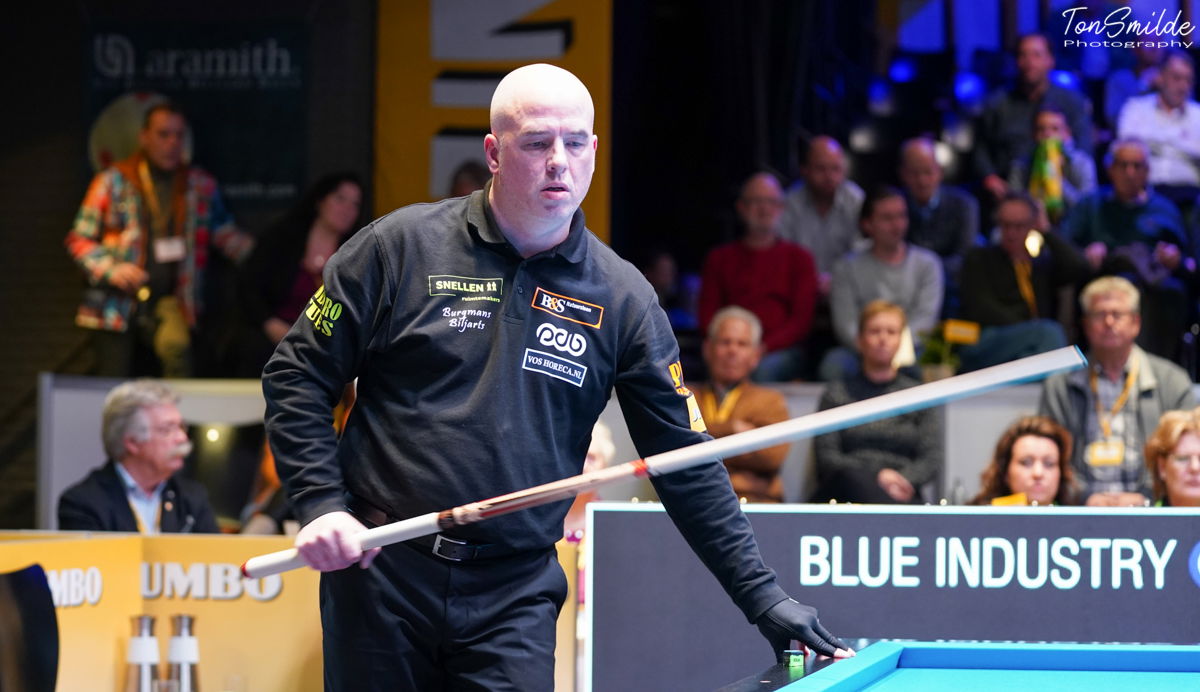 Barry van Beers, win over Jeffrey Jorissen, still in the race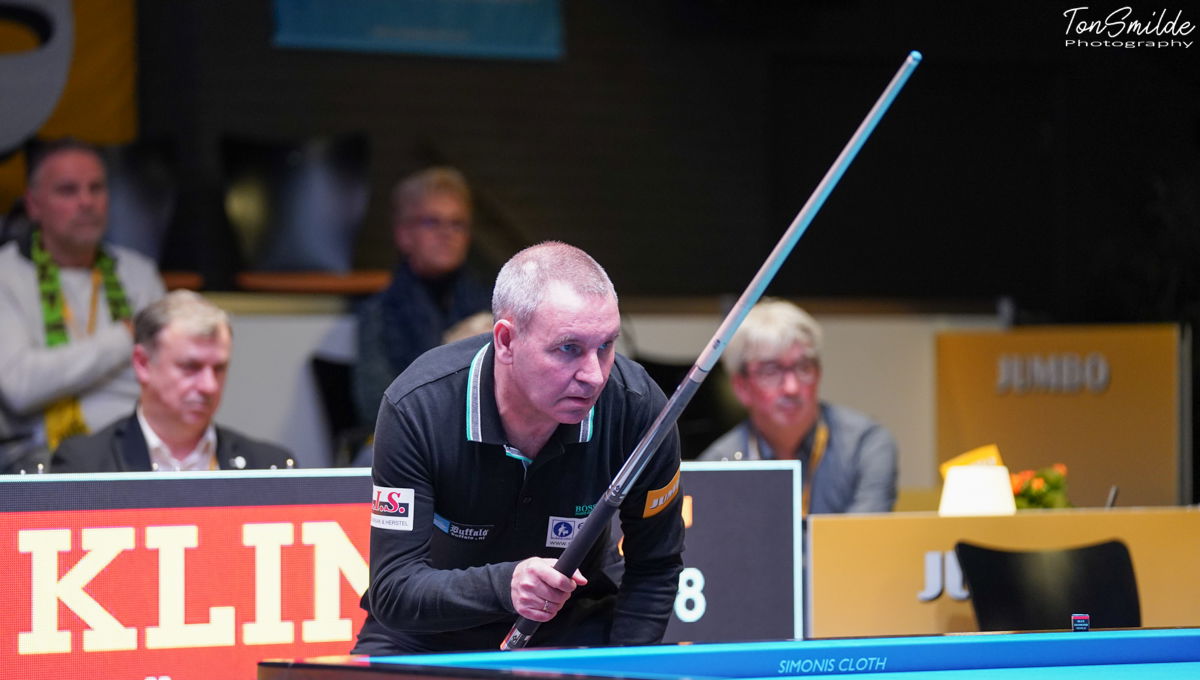 Raimond Burgman, over 30 Masters, the end is near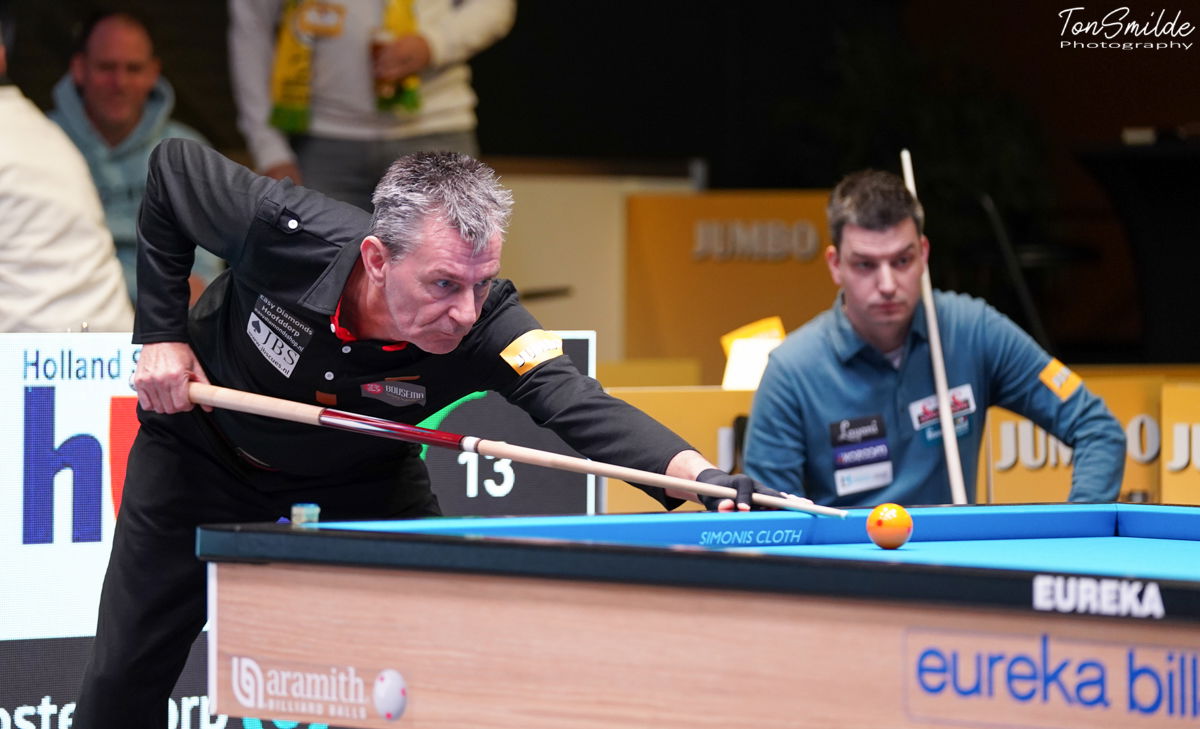 Frans van Schaik, the first to qualify after his win over Raymund Swertz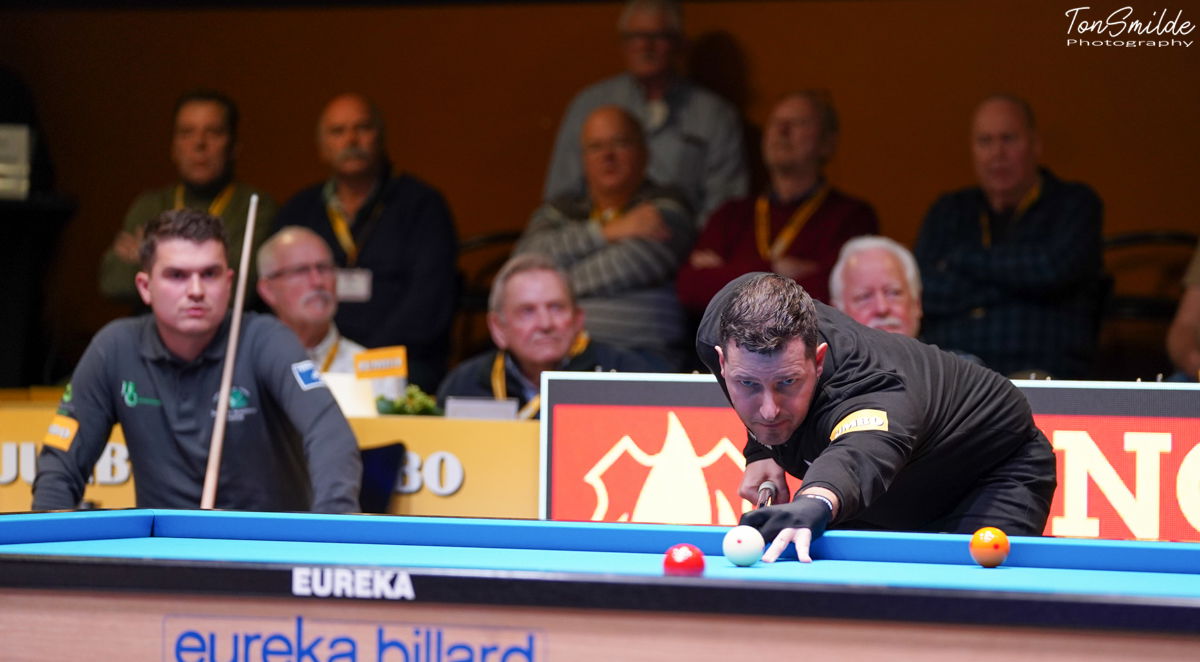 Dave Christiani, one of the star players over the first two days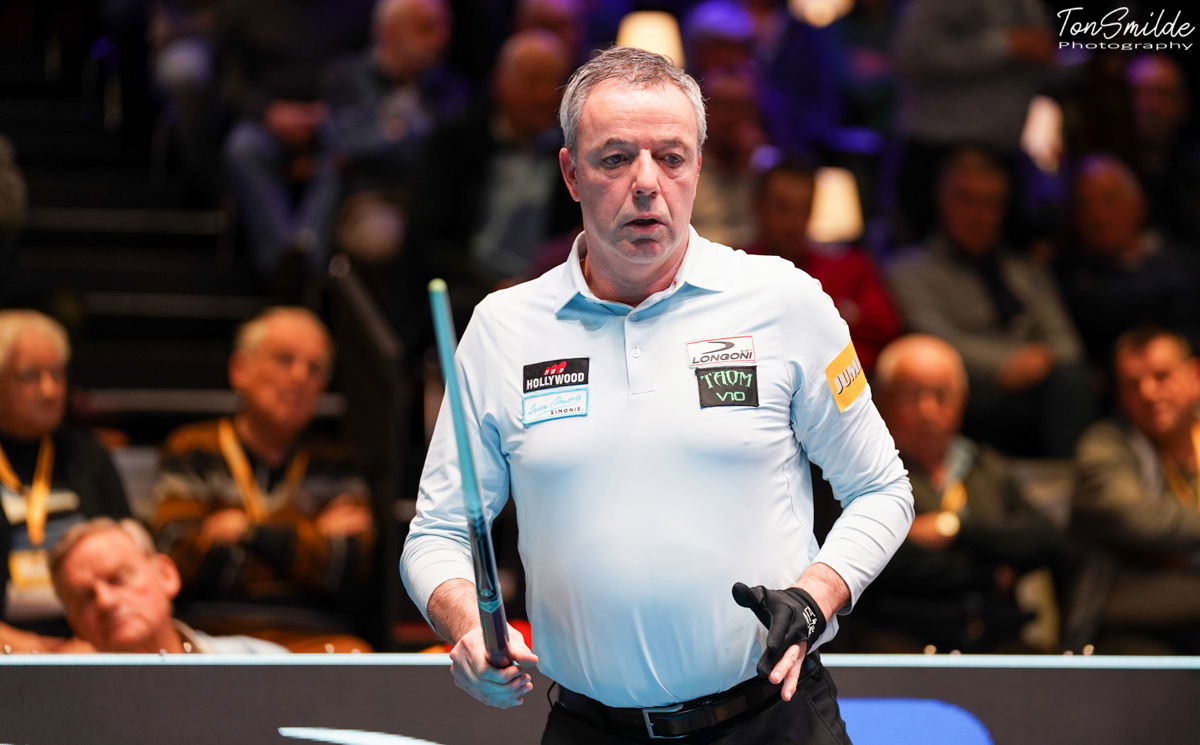 Dick Jaspers, a solid win after his loss on the first day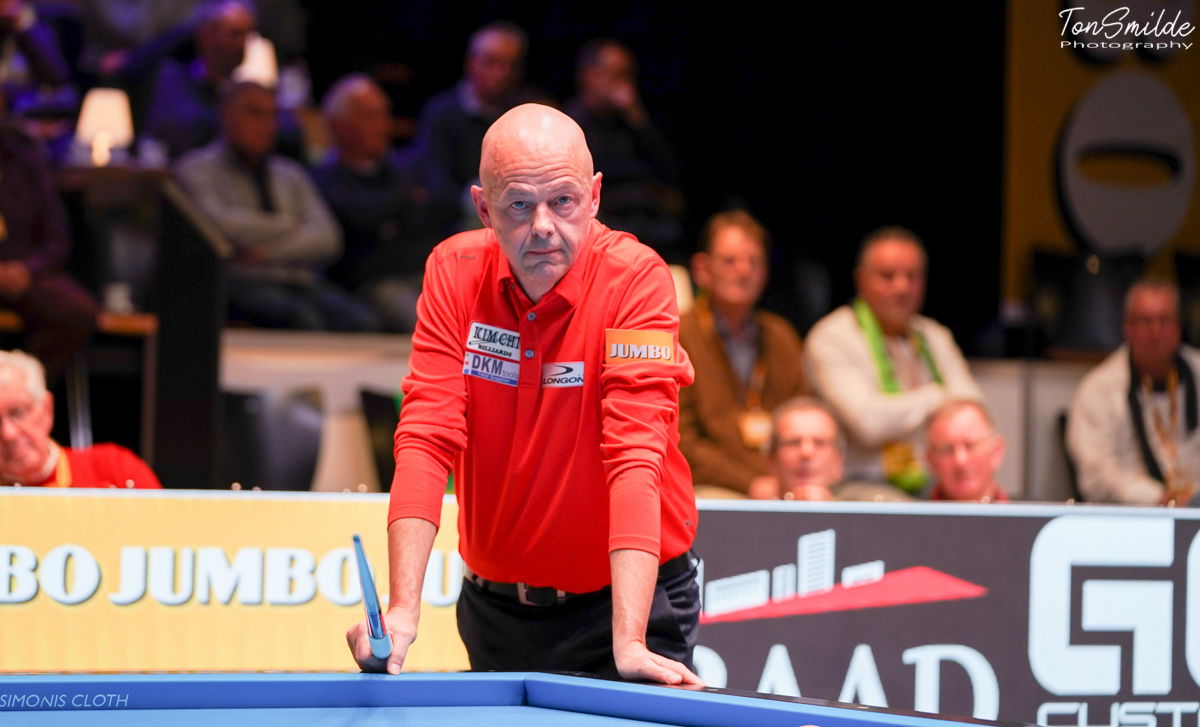 Jean Paul de Bruijn, starting with two sets los, but won the match against Adrie Demming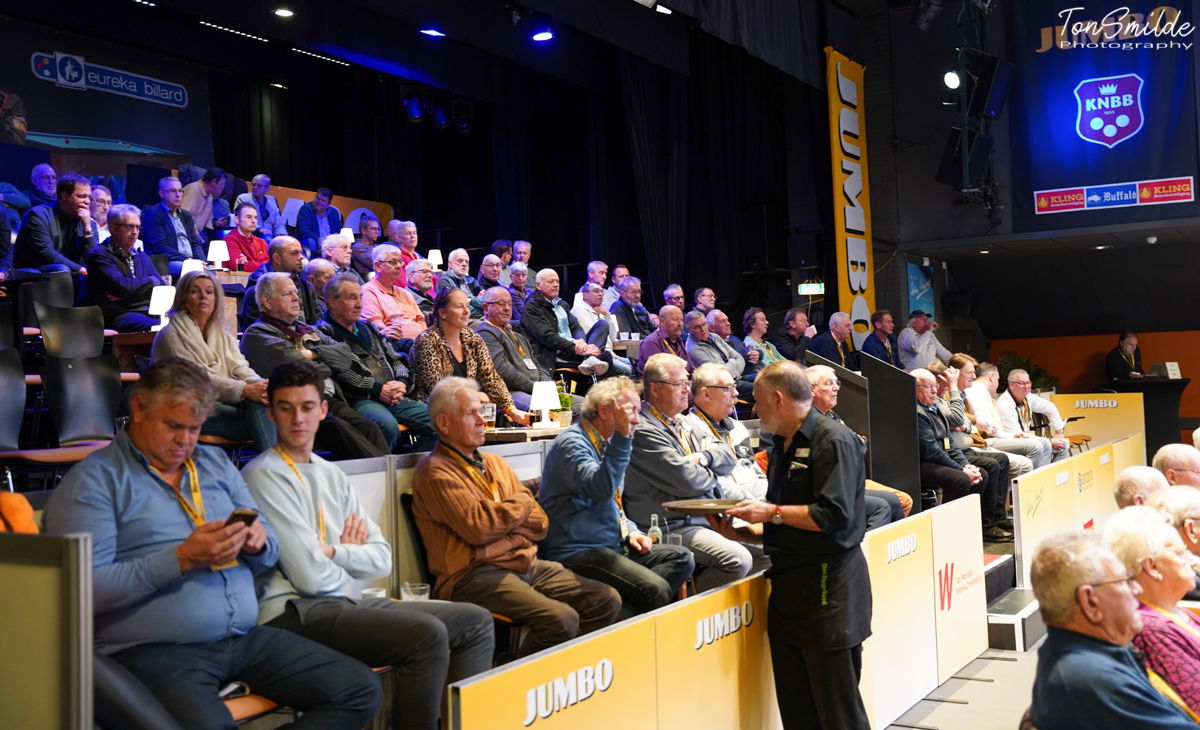 Full stands for the matches on the second day of the Jumbo Masters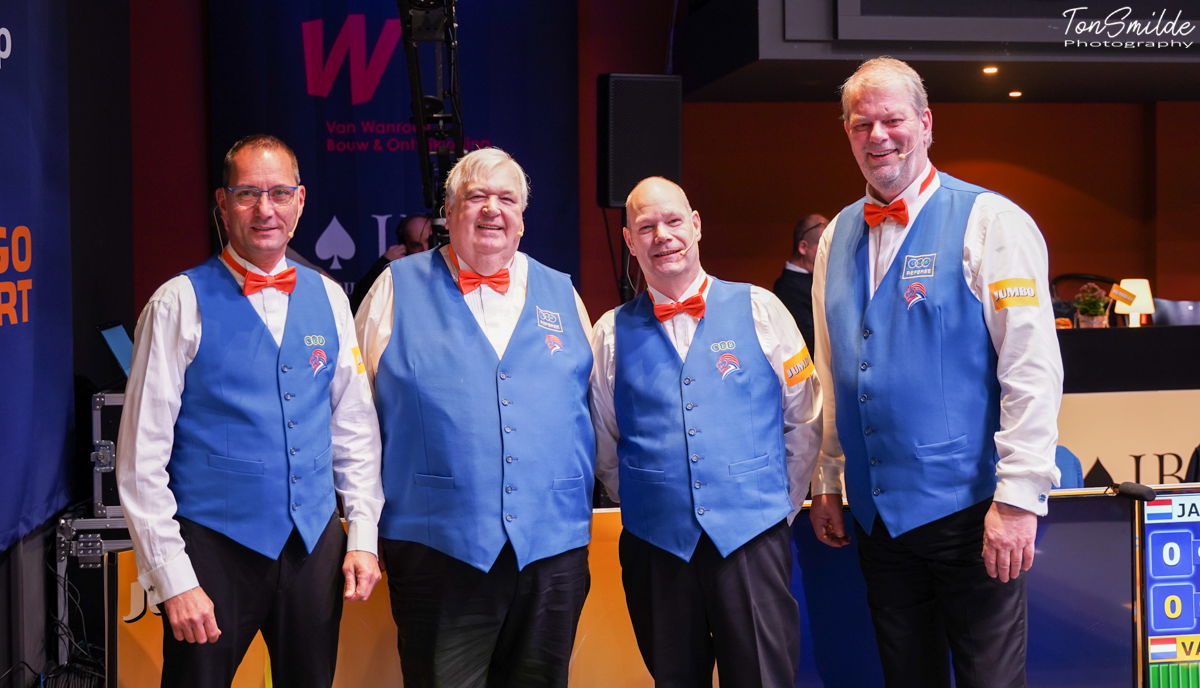 The routined referees for the Masters: Erik van Woerkom, Ad van den Brand, Wim Berendsen and Willem Hofman