SEOUL - Peter Ceulemans' lucky shot was worth its weight in gold at the end of the day in Seoul's World Cup. The tall Belgian star player with the surname of the most famous billiard player all times, dueled with TTT Nguyen, a now renowned Vietnamese, for the group win and qualification for the main draw. Peter Ceulemans went level to the finish, was not allowed to lose. Two points away from the win, his cue ball bumped against the second ball and his opponent seemed to have an outside chance to finish. Appearances were deceiving, because the ball miraculously came out of the collision and caromed onto the third ball. Ceulemans' final ball then was a big relief.
The Belgian apologized once more, grabbed to his heart and left the Vietnamese in despair. Things got even worse when it turned out that TTT could not eventually place as one of the top three runners up. He finished fourth in that ranking, just ahead of Dutchman Jeffrey Jorissen.
Wan Young Choi was the best of the day ahead of Robinson Morales, Gökhan Salman, Tolgahan Kiraz and Gerhard Kostistansky. The European winners of the groups further were Gwendal Maréchal, Ruben Legazpi, Peter Ceulemans and Manuel Rui Costa. 
The standout winner was Rui Costa, the seasoned Portuguese, who was an outsider in advance in the group with brothers Omer and Berkay Karakurt. The talented guys played each other first: Omer won by 1 carom difference against Berkay, as he played out 2 and 1 after a 5 from Berkay at 39-37. Berkay then played a draw against Rui Costa 40-40 in 33 and the Portuguese outdid himself with a win over Omer 40-37 in 30, making him the proud group winer.
Many of the big players on the World Cup circuit, contenders for the main draw went down unexpectedly within sight of the real tournament in the Seoul World Cup. That included TTT Nguyen, Huberney Cataño, Hugo Patino, Van Ly Dao and especially Nikos Polychronopoulos and Roland Forthomme.
The careers of erratic billiard players like Polychronopoulos and Forthomme, often top scorers with high runs, have occasional high peaks but sometimes unexpected lows. The ways of the Greek and the Belgian are often unfathomable, as they demonstrated this Thursday at the World Cup in Seoul. At the start of Forthomme's match against Austrian Kahofer, he could hardly miss. The co-world record holder highest run shone with a great 18 in the second inning, but just as suddenly suffered a huge setback with 13 times 0 in his last 16 innings. It was the start of a bad day: Roland Forthomme was trounced in his second match by Korean Park (40-22 in 34 ) and disappeared colourless from the World Cup with 1.033.
The same happened to Nikos Polychronopoulos, the man of the magisterial run of 25 in the World Cup in Veghel a fortnight ago. The whirling Greek was defeated in the Seoul World Cup first by Pierre Soumagne 40-33 in 25 and then also by Korean Wan Young Choi 40-30: an almost hopeless 0 points out of 2 and third and last in his group with 1,369.
Young up-and-coming strong Hong Chiem Thai seized his chance after a draw against Turgay Orak. The frail Asian then beat Riad Nady 40-30 in one of the best games of the day: 40-30 in 19. The best game was for Wan Young Choi, who beat Pierre Soumagne 40-32 in 18.
Two Dutchmen, Jeffrey Jorissen and Sam van Etten, also failed to make it through the round. Jorissen disappeared from the scene with 2 points and a very nice 1,551, after he first drew against Van Ly Dao in 24 innings, but lost to Gwendal Maréchal 40-36 in 25. Sam van Etten squandered his chances in a mediocre match against Gökhan Salman, which he lost 40-15 in 25 innings.
The three runners-up going into the main tournament were Riad Nadi (2-1,750-13), Pierre Soumagne (2-1,674-10) and Jose Juan Garcia (2-1,638-9).
De ranglijst in de laatste kwalificatie:
Wan Young Choi 4-2.051-9
Robinson Morales 4-2.000-8
Gökhan Salman 4-1.600-6
Tolgahan Kiraz 4-1.568-6
Gerhard Kostistansky 4-1.509-13
Gwendal Maréchal 4-1.481-8
Ruben Legazpi 4-1.481-7
Su Yeong Park 4-1.311-5
Myeong Jong Cha 4-1.230-8
Hong Chiem Thai 3-1.777-7
Peter Ceulemans 3-1.538-8
Rui Costa 3-1.269.
The group formats for Friday
Poule A: Marco Zanetti, Jose Juan Garcia, Robinson Morales, Erick Tellez
Poule B: Myung Woo Cho, Pierre Soumagne, WanYoung Choi, Hyeong Kon Kim
Poule C: Torbjörn Blomdahl, Martin Horn, Ye Sung Jeong, Riad Nady
Poule D: Dick Jaspers, Manuel Rui Costa, Jung Han Heo, Gökhan Salman
Poule E: Quyet Chien Tran, Peter Ceulemans, Jun Tae Kim, Tolgahan Kiraz
Poule F: Sameh Sidhom, Hong Chiem Thai, Jérémy Bury, Gerhard Kostistanski
Poule G: Eddy Merckx, Phuong Vinh Bao, Gwendal Maréchal, Myeong Jong Cha
Poule H: Haeng Jik Kim, Tayfun Tasdemir, Ruben Legazpi, Su Yeong Park.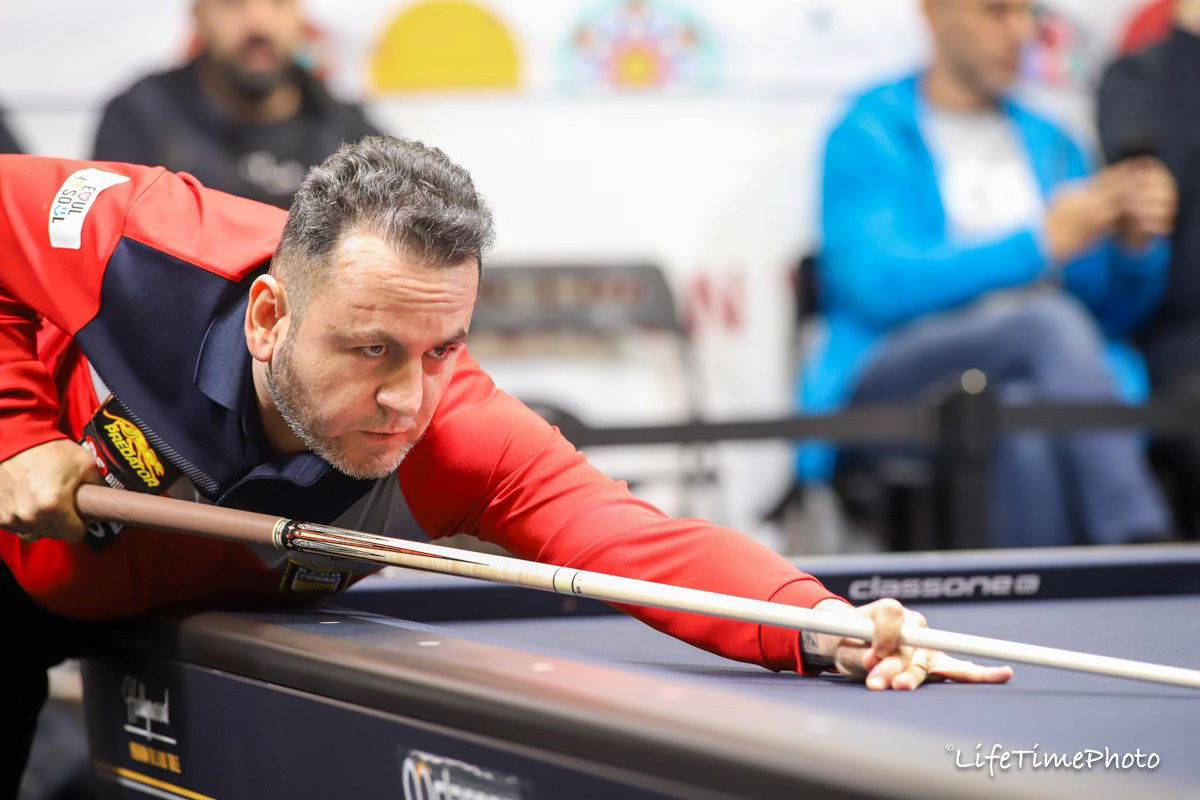 Robinson Morales, the number 2 with 2.000 on average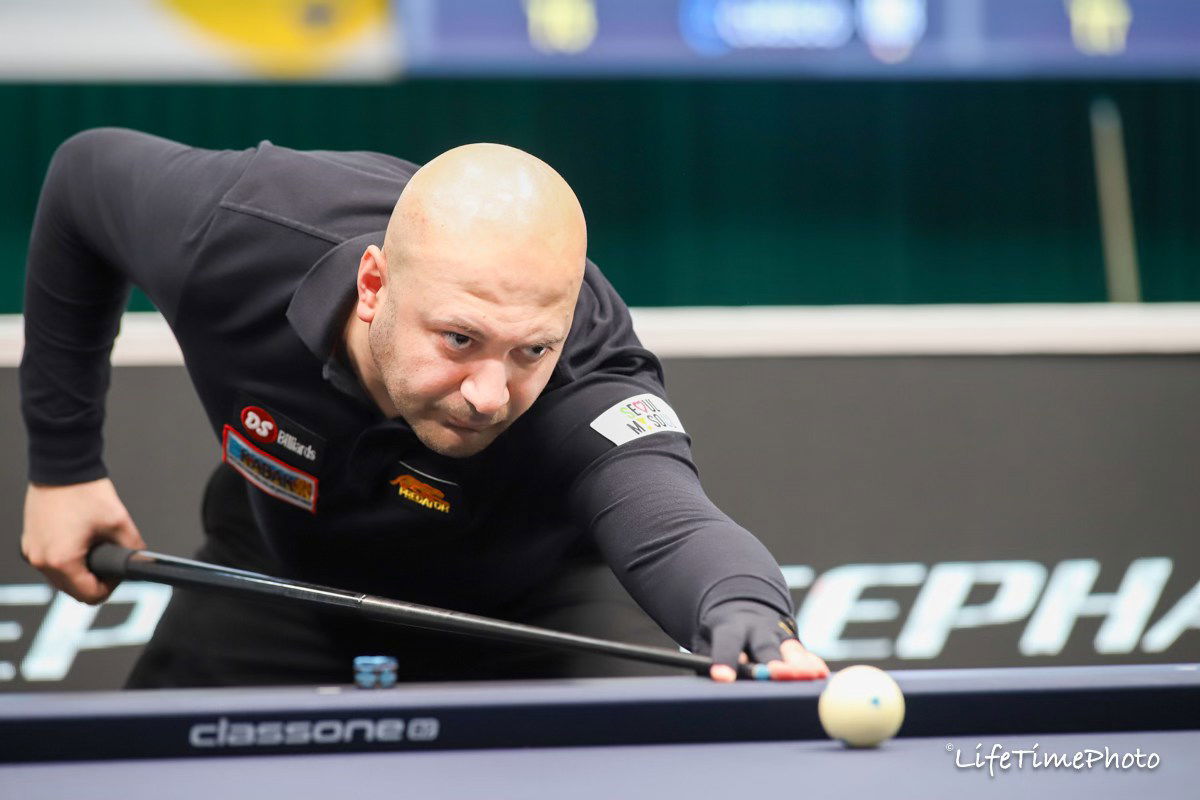 Gökhan Salman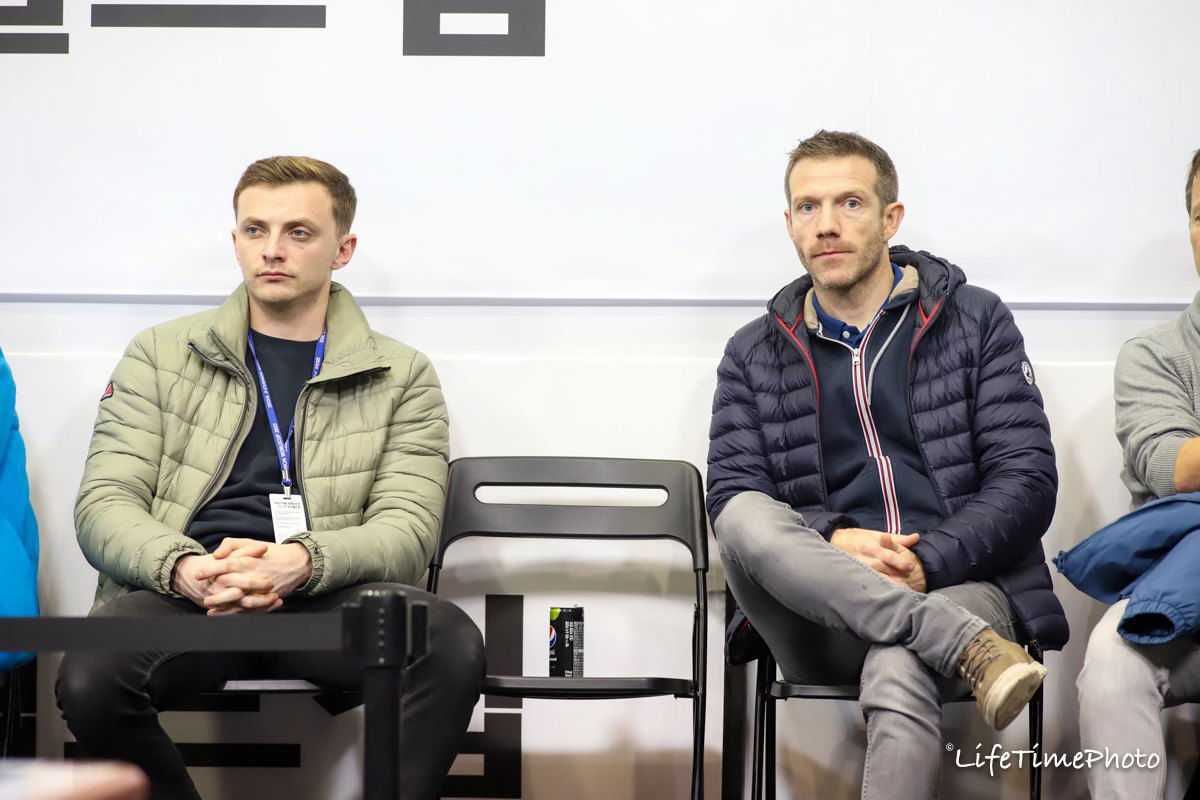 Two French, moving up to the main draw: Gwendal Maréchal and Jérémy Bury. And also Pierre Soumagne will join them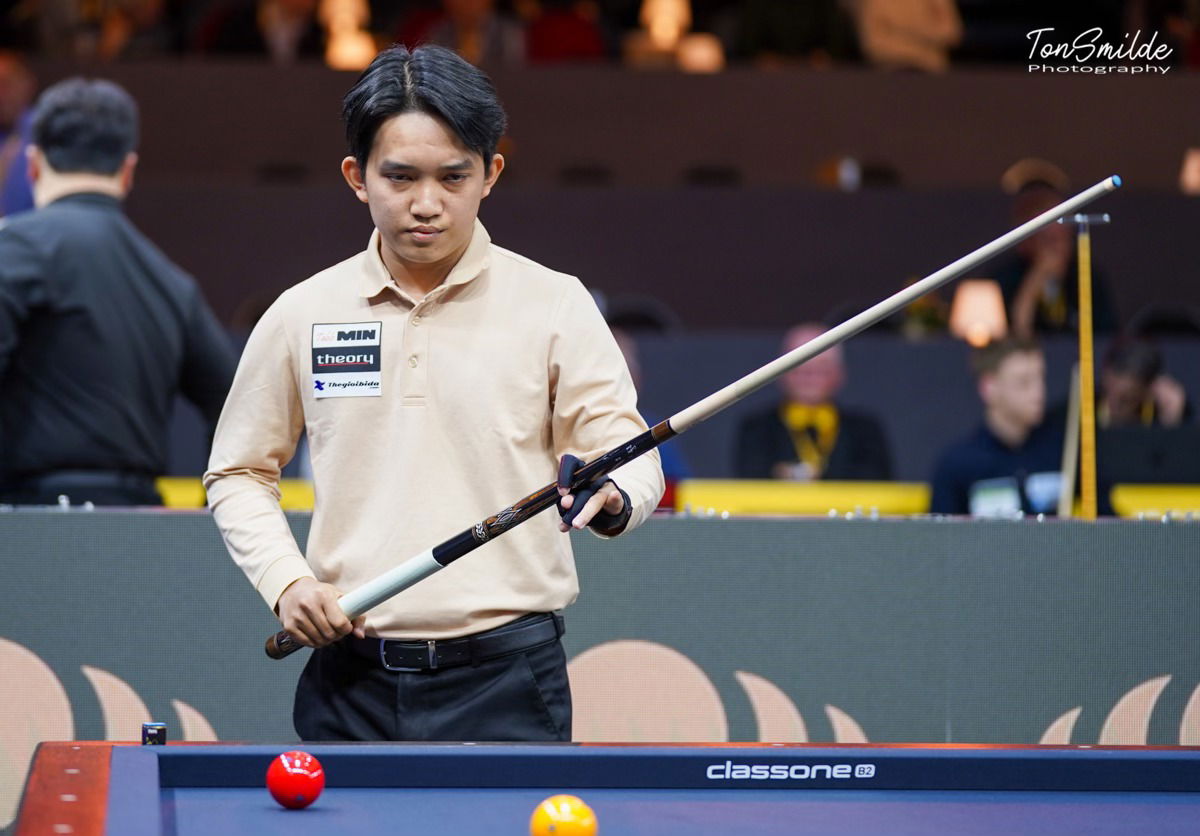 Young Vietnamese Thai