SEOUL - The balance is back in the World Cup in Seoul where two Europeans will face two Korean opponents tomorrow, Sunday. Just a fortnight ago, the World Cup in Veghel in the Netherlands still featured an all-European podium. This year's penultimate World Cup, on Asian soil, brings two young homegrown players, two friends even, into the Seoul arena with two seasoned European champions. Myung Woo Cho (25) and Ye Sung Jeong (21) meet, with the other finalist coming from the encounter between Marco Zanetti (61) and Eddy Merckx (55). Whatever happens on Sunday, Myung Woo Cho remains the leader of the world rankings. Three of those four players are in the world's top six for now, Korean outright outsider Ye Sung Jeong is the sensation of this tournament. He eliminated Torbjörn Blomdahl, one round later Dick Jaspers and late Saturday German Martin Horn.
The sparkling, new star of the delightfully disarming Yeong shone in his full splendor in the amazing match against Martin Horn. The game started off spectacularly. Martin Horn opened with 9, Yeong replied with 6, Horn continued with 6 and Yeong relentlessly with 13: 18-15 for Yeong in two innings. Not much later, Yeong put in another attack with 5 and 4 (31-22) and finally he decided the fight with 13 and 1 for a final score of 50-31 in 15 (averages 3.333 and 2.066).
That is already more or less reminiscent of Vietnamese Phuong Vinh Bao's suddenly rising star on September 10 at the World Championships in Ankara. The young Asian surprised first Myung Woo Cho in the semi-final and finally Quyet Chien Tran in the final and grabbed the world three-cushion title in front of all the world's top players.
Ye Sung Jeong, the timid young man from Suwon, who calls his slightly older friend Myung Woo Cho 'my best brother', of course still has a very tough Sunday ahead of him in which he must first try to beat that same Myung Woo Cho in a brotherly battle. And the winner of that Korean match still has to get past Marco Zanetti and Eddy Merckx.
The battle in the quarter-finals opened with another demonstration by Myung Woo Cho, based on Saturday's matches the undisputed favorite for final victory. The world number one beat Myeong Jong Cha 50-13 in 15/14 (3.333). Ye Sung Jeong won his match against Horn 50-31 in that session. South Europeans Marco Zanetti and Ruben Legazpi fought out a wonderful fight, in which Legazpi went on the attack with 17 in the 16th innings after a weak start and Zanetti countered with 18 in the 19th inning. Three innings later, the Italian finished with 50-36 in 28. Eddy Merckx and Haeng Jik Kim both scored two sixes in the first eight innings, Merckx then also twice 7 in the 13th and 14th innings. With that, the gap was made (36-28) for a later, winning score, as Kim registered nine time a nil in 10 innings: 50-30 in 23.
Before that, in the run-up to those quarter-finals on Saturday, it was first between the best 16 of this World Cup. Myung Woo Cho crowned the penultimate day of play with the best match win: he ruthlessly beat Portuguese veteran Rui Costa 50-12 in 17 innings.
Two games in that round took a thriller-like course. Dick Jaspers had a slightly better start than Ye Sung Jeong (14-8 in 10, 31-25 in 20), but from that moment on, the young Korean threw off all timidity and thundered towards the finish together with Jaspers. The Dutchman got the finish in sight with a run of six in the 35th inning, but missed three match balls on 49, after which Jeong played out with 3 in the 36th (50-49, averages 1.351 and 1.324).
Belgian Eddy Merckx turned those roles in his favor in his match against Jun Tae Kim. There, the Korean started with 8 and ran out further with 6 and 7 to 20-11 in 8, after which Merckx hit back with 8 (20-19). The battle rippled on to 39-37, Kim scored a 3 and 7 for 49-46, Merckx got three more chances and grabbed the win 50-49 in 30 (averages 1.666/1.633).
Other winners in that round with 16:
Marco Zanetti with 50-37 in 29 against Peter Ceulemans
Ruben Legazpi with 50-39 in 23 against Hong Chiem Thai
Haeng Jik Kim with 50-35 in 24 against Wan Young Choi
Myeong Jung Cha with 50-27 in 28 against Robinson Morales
Martin Horn with 50-32 in 29 against Sameh Sidhom.
Semifinals on Sunday (Korean time, 8 hours ahead of Western Europe):
14.00: Myung Woo Cho-Ye Sung Jeong
16.30: Marco Zanetti-Eddy Merckx
Final at 20.00.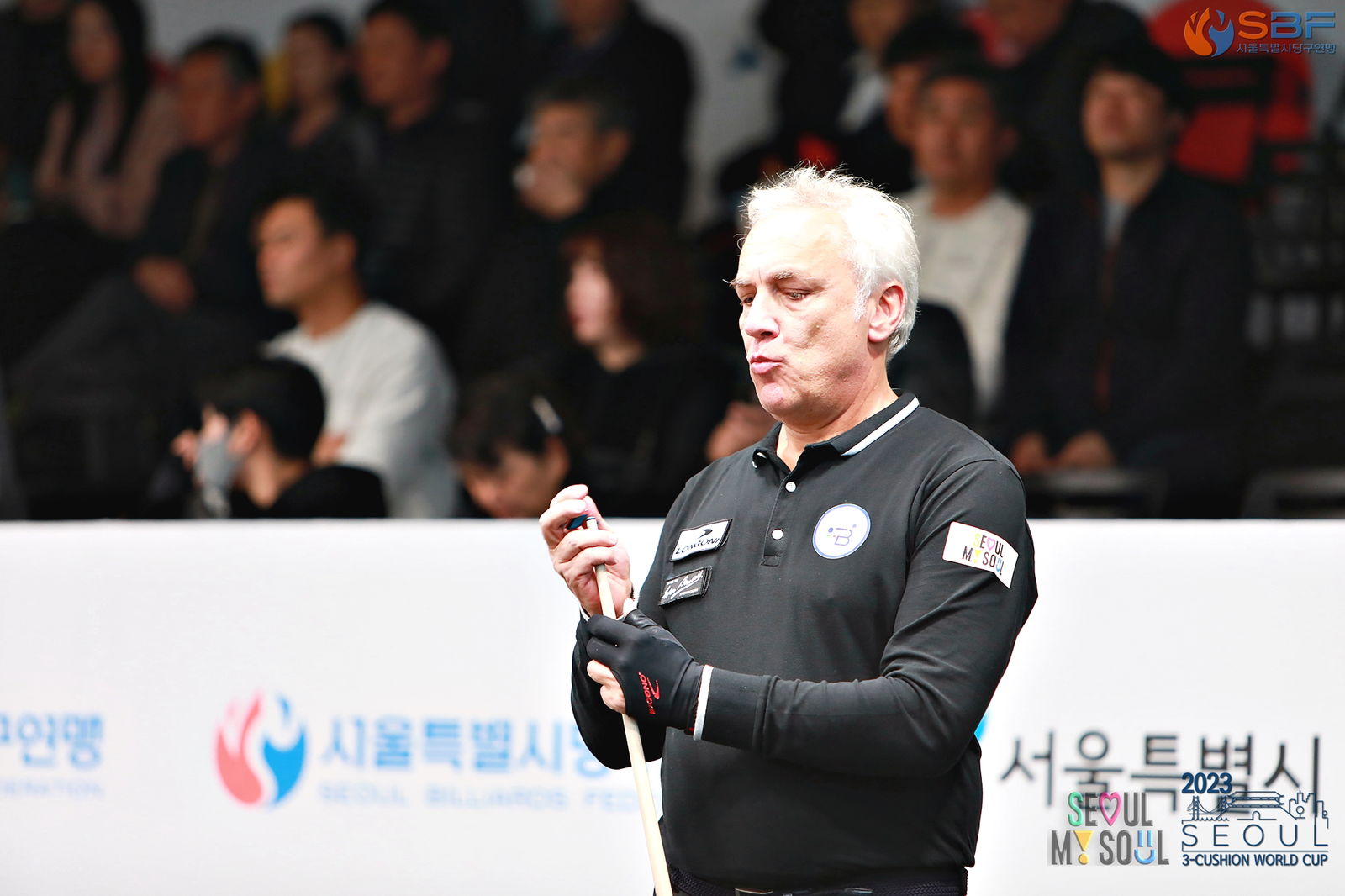 Marco Zanetti faces Eddy Merckx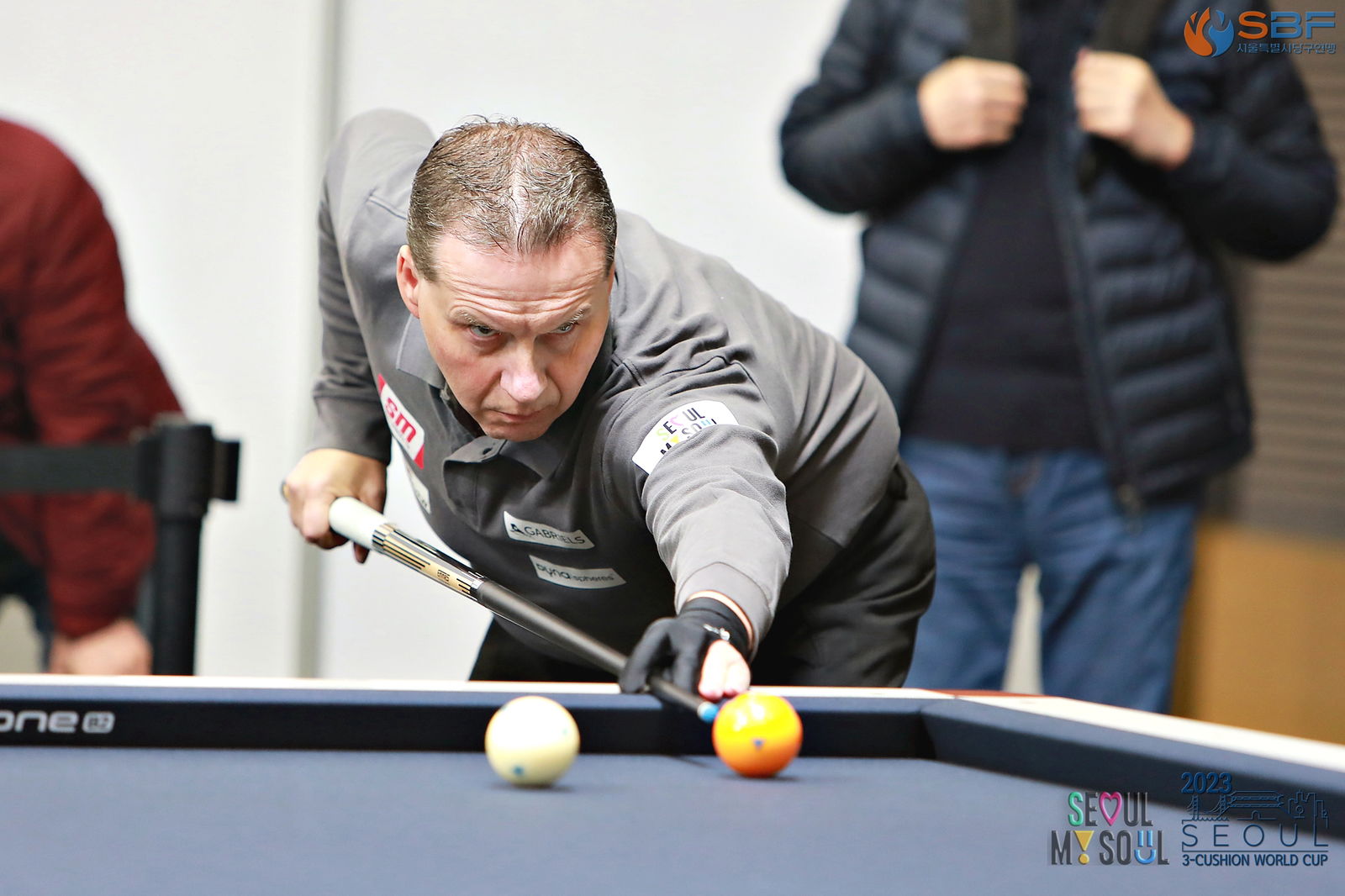 Eddy Merckx, powerful on his way to the final day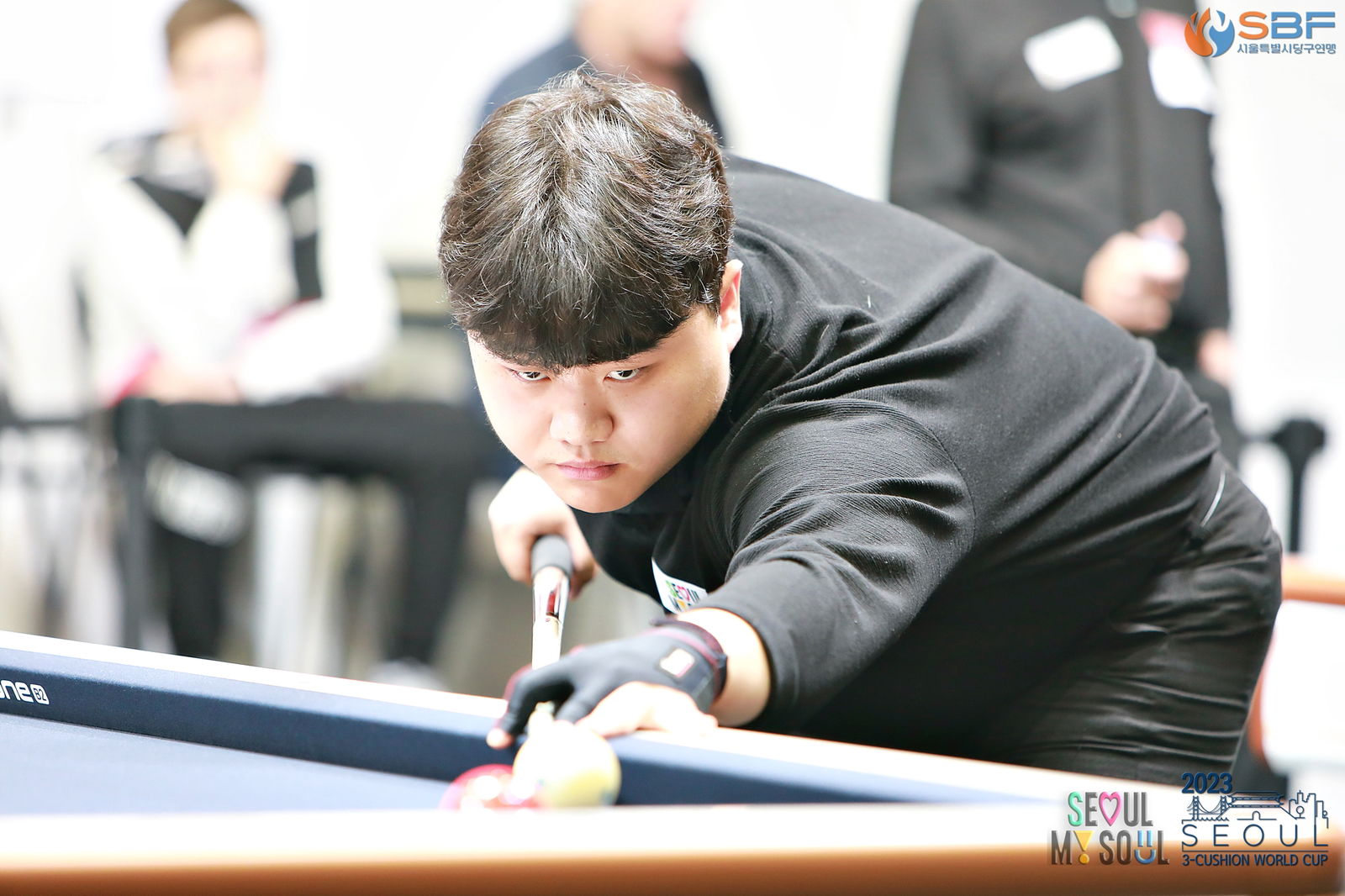 Ye Sung Jeong, the new rising star