SEOUL - He is a good friend of Myung Woo Cho, the Korean prodigy, is only 21 and endlessly far away in the world rankings: number 101. The new Korean promise, completely unknown until now, is called Ye Sung Jeong. He surprised the billiard world in this Friday's Seoul World Cup by eliminating Torbjörn Blomdahl, the multiple world champion. The Korean was overjoyed: ''Very, very, very happy to win against this legend.'' Ye Sung Jeong advances to the knock-outs with 16 players at this World Cup, Torbjörn Blomdahl, the world number three, is eliminated.
And so everyone on the World Cup circuit wanted to know who this new Korean star is. He explains himself: ''I live in Suwon, I have play billiards since I was 14 years old, I am my parents' only child, I train 8-9 hours a day in a club called the 'Gunpo Optimus' and I got a wildcard to the World Cup in Seoul because I finished winner in a selection tournament.'' Ye Sung Jeong has played five World Cups so far and was eliminated from the best 32 a fortnight ago in Veghel by losing in his group of four against Zanetti, Thai and Sam van Etten. Tomorrow, Friday, Jeong will play Dick Jaspers (!) in the remainder of his World Cup. He lost to Jaspers last year in Sharm El Sheikh 40-38.
Torbjörn Blomdahl was not the only world player to be eliminated on the first day of the main tournament. Quyet Chien Tran (world No 5), Phuong Vinh Bao (the world champion), Tayfun Tasdemir (No 8), Jérémy Bury (No 13), Jung Han Heo (No 14) and Nikos Polychronopoulos (No 15) will not return to this world stage with the best 16 players tomorrow. That is a striking trend that already started in Veghel, where Marco Zanetti, Quyet Chien Tran, Phuong Vinh Bao and Tayfun Tasdemir failed to make it to the round with the best 16.
The most notable names, apart from Jeong, in the next round with knockouts to 50 caroms are Manuel Rui Costa (eliminated Jung Han Heo), Peter Ceulemans (winner against Tran and Kiraz), Hong Chiem Thai (confirming his still short reputation) and Ruben Legazpi (winner against Tasdemir). Another striking fact: three Frenchmen still in contention did not make it to the knockouts. Jérémy Bury, Gwendal Maréchal and Pierre Soumagne were eliminated.
The matches with the best 16 for Saturday (rounds at 11.30 and 14.00 Korean time, 8 hours difference with Western Europe):
11.30:
Myung Woo Cho-Rui Costa
Myeong Jong Cha-Robinson Morales
Dick Jaspers-Ye Sung Jeong
Martin Horn-Sameh Sidhom
14.00:
Marco Zanetti-Peter Ceulemans
Hong Chiem Thai-Ruben Legazpi
Haeng Jik Kim-Wan Young Choi
Jun Tae Kim-Eddy Merckx
The reports of the eight groups in the round with 32 finalists:
Group A:
World No 2 Marco Zanetti's start was not yet impressive with a win over JJ Garc ia (40-22 in 31), the maestro's follow-up leaves nothing to be desired. Robinson Morales in an excellent number two to go with him. The mutual encounter ends in a win for Zanetti 40-31 in 17 (run 12 by Morales). The group with three South and Central Americans presents a clear picture. Erick Tellez (Costa Rica) wins his one match against JJ Garcia 40-27 in 26 as the Colombian cannot really show his best form.
Standings Group A:
1 Marco Zanetti 6-1,935-9
2 Robinson Morales 4-1,881-12
3 Erick Tellez 2-1.491-8
4 Jose Juan Garcia 0-0.942-4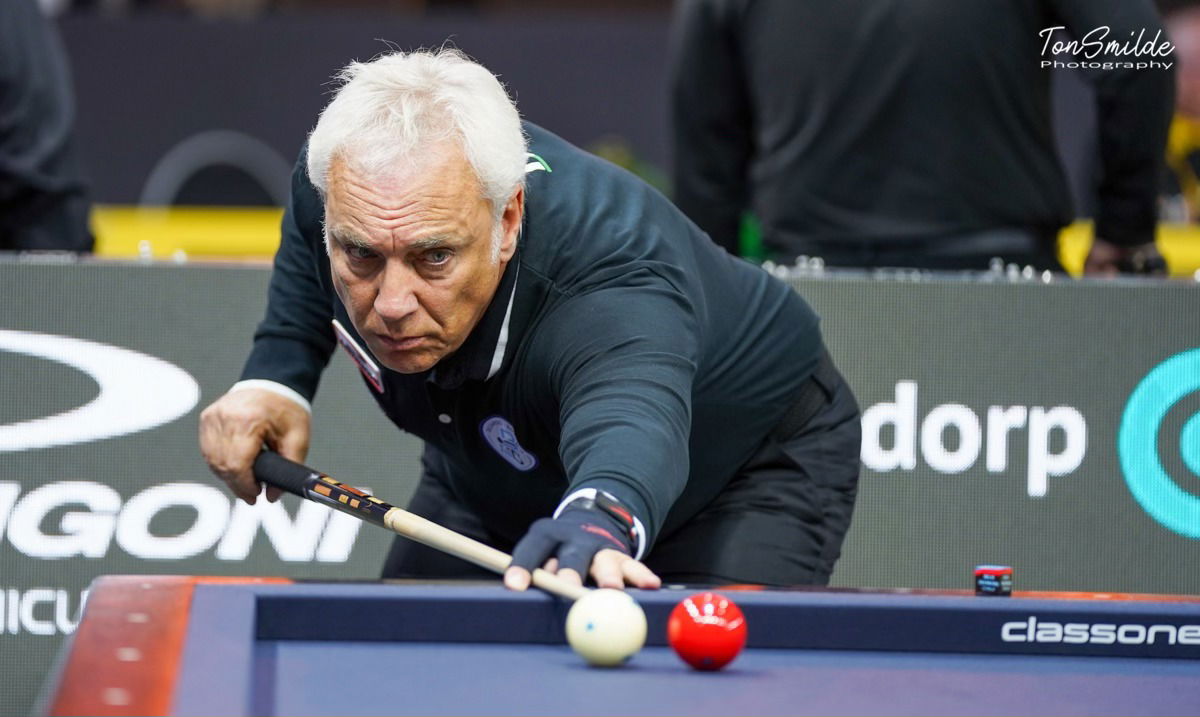 Group B:
Myung Woo Cho's mastery is evident after the 40-38 against Pierre Soumagne, who can stay closest to the Korean. After that, Cho beat two other Koreans at a fast pace and with high averages: Wan Young Choi with 40-33 in 16, Hyung Kon Kim with 40-20 in 15. It puts the group winner at 2,264, a top performance this day with 32 players. Wan Young Choi and Pierre Soumagne put up a fine fight for second position. The Frenchman, playing a promising tournament, starts with 5, but continues with 5 zeros. Soumagne does lead 20-17 after 15 innings, catches up and runs out to 36-27, but is beaten 40-38 in 27 after a 7 and in the last innings 3 and 1 by Choi.
Standings in Group B:
1 Myung Woo Cho 6-2.24-9
2 Wan Young Choi 4-1.765-9
3 Pierre Soumagne 2-1.526-8
4 Hyung Kon Kim 0-1.317-7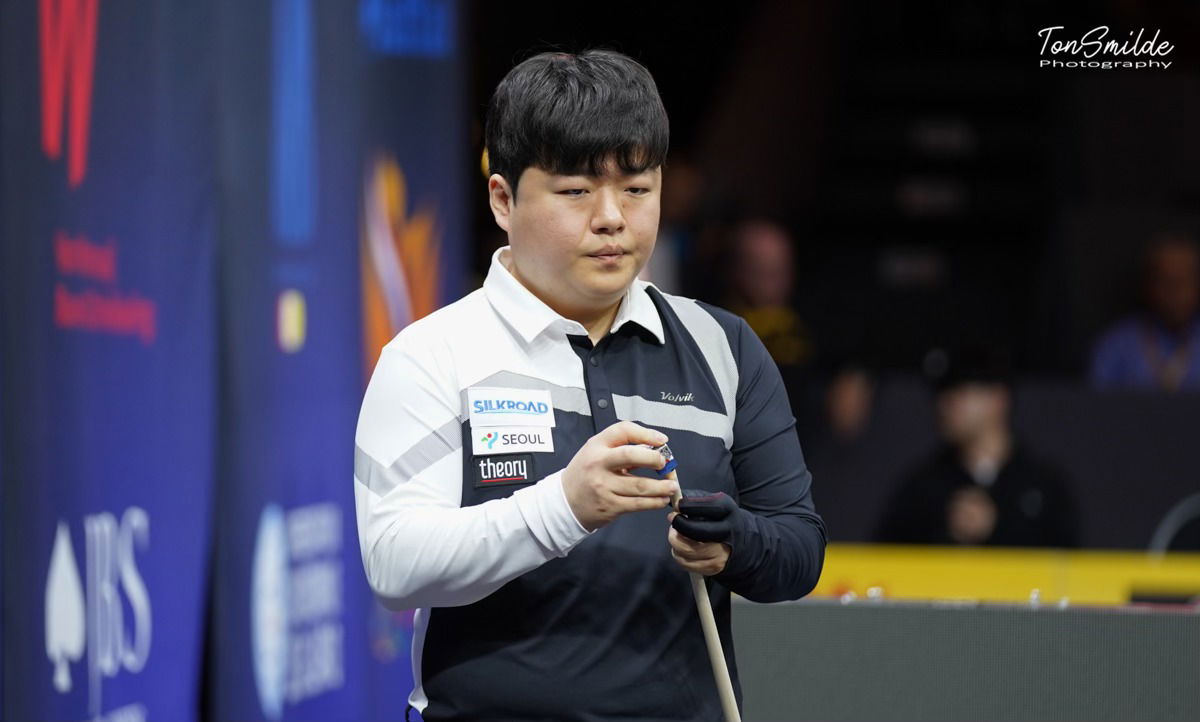 Group C:
Sensation is saved until the very last. Martin Horn looks on (along with Dick Jaspers) to the showdown of the group after the German himself reached the maximum score with a win over Jeong (40-38 in 21), against Blomdahl in a thriller (40-39 in 19), in which Horn finishes with 8 and Blomdahl falls one carom short with his equalizer of 3. The Swede is preparing for a blazing final shot against Ye Sung Jeong for second place in the group. The Korean newcomer to the firmament, however, has nerves of steel and decides the match 40-38 in 27. Once again, Blomdahl falls just short of a draw in the final inning.
Standings in Group C:
1 Martin Horn 6-1,875-11
2 Ye Sung Jeong 4-1,638-11
3 Torbjörn Blomdahl 2-1.720-10
4 Riad Nady 0-1,071-9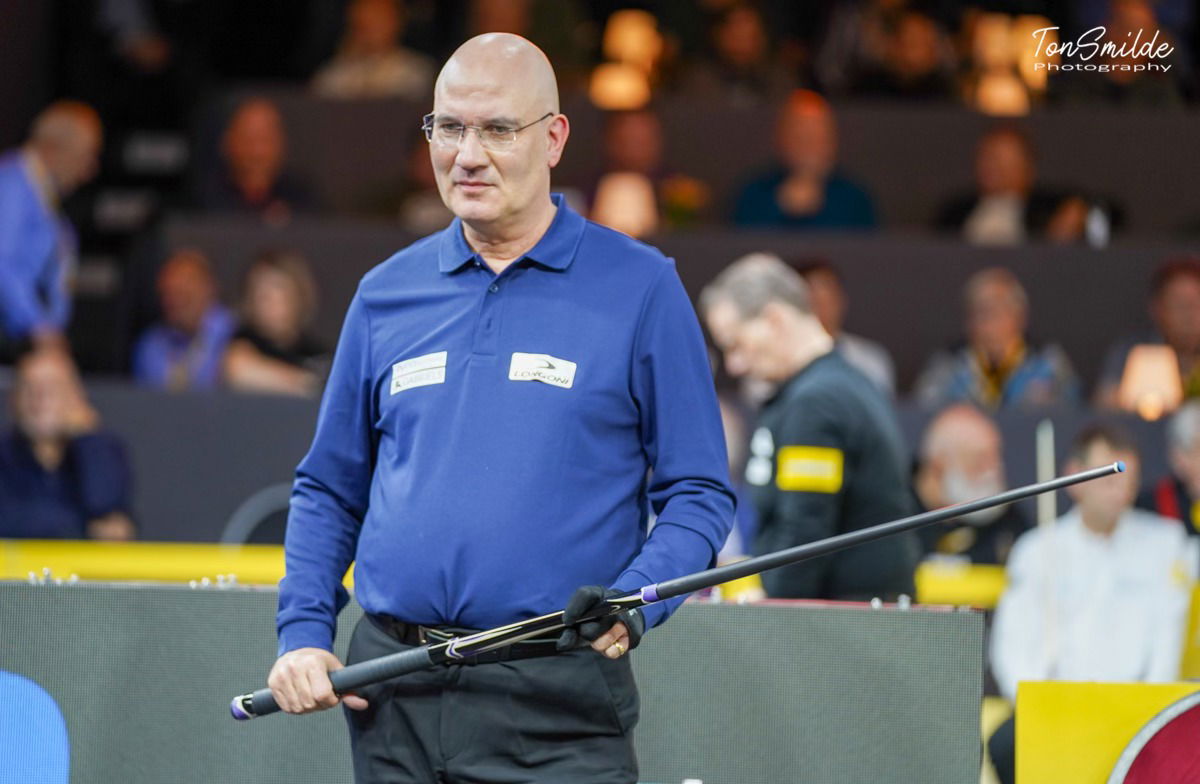 Group D:
Dick Jaspers starts with a win over Manuel Rui Costa, the colourful Portuguese, who has nice outliers at times. And when Jung Han Heo wins against Gökhan Salman 40-34, the group winners seem known. However, things turn out the other way. Rui Costa wins first against Salman 40-34 and, to many people's surprise, overpowers top Korean player Jung Han Heo in the final group match. Rui Costa triumphs 40-23 in 20 and accompanies Jaspers to the knockouts. A great success for Rui Costa.
The standings in Group D:
1 Dick Jaspers 6-1.739-9
2 Rui Costa 4-1,405-7
3 Jung Han Heo 2-1,302-10
4 Gökhan Salman 0-1,129-6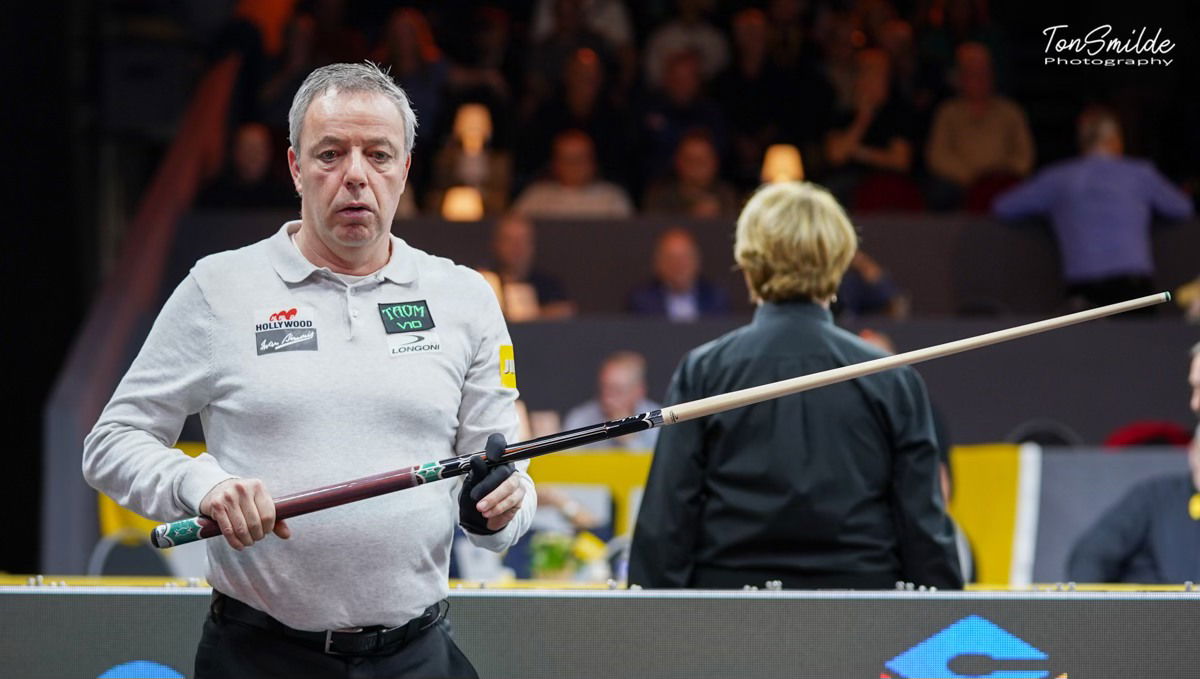 Group E:
Jun Tae Kim is the unapproachable leader in this group, in which Peter Ceulemans is an outstanding runner-up. The Belgian's last match for qualification against Tolgahan Kiraz is a walk-over. Peter Ceulemans can afford to miss three bankshots before his match ball, as he has a street-length lead: 40-25 in 21 innings. The big surprise is the elimination of Quyet Chien Tran, who finishes without points. Jun Tae Kim wins over Kiraz (40-33), Ceulemans (40-26) and Tran (40-25) ion 16, 22 and 21 innings, good for 2.033 average. 
The standings in Group E:
1 Jun Tae Kim 6-2,033-11
2 Peter Ceulemans 4-1,558-8
3 Tolgahan Kiraz 2-1,428-8
4 Quyet Chien Tran 0-1,312-8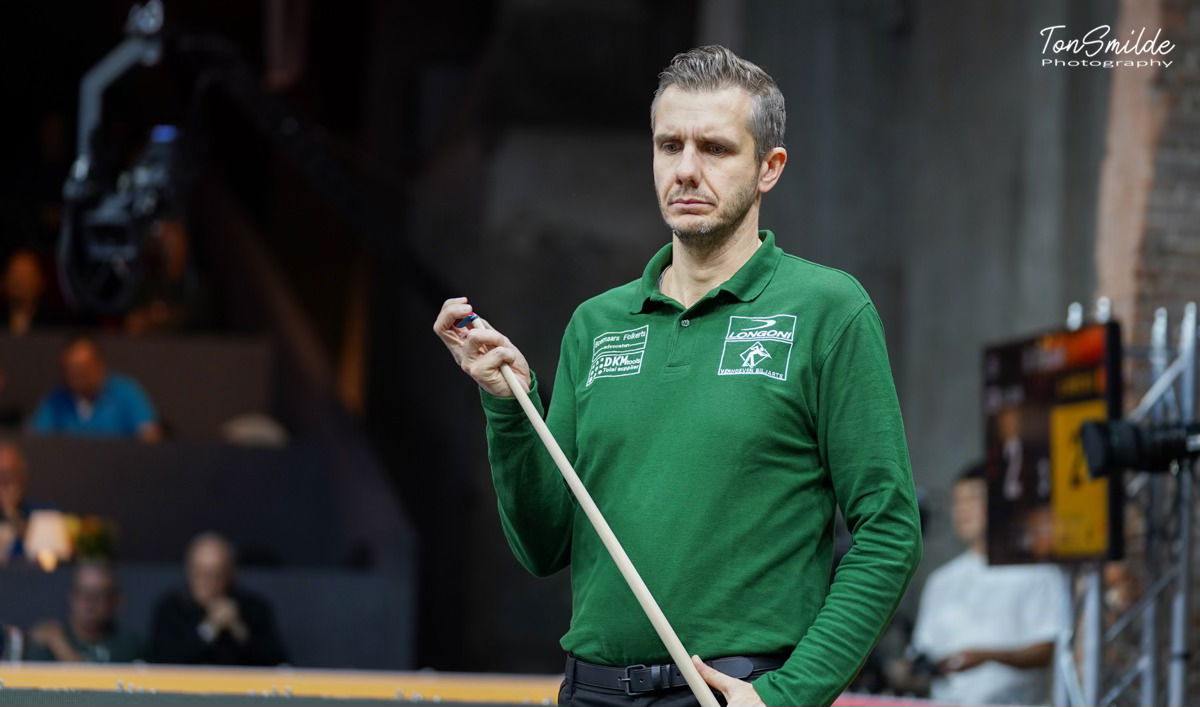 Group F:
Young Vietnamese Hong Chiem Thai, already the revelation of Veghel, is in safe harbour when Sameh Sidhom also claims his qualification. The Egyptian does so against Jérémy Bury mainly through a run of 15 at halfway, which gives him the lead that is later decisive for 40-28 in 20. Hong Chiem Thai, with the appearance of a choirboy, is competing again with the greats. Jérémy Bury is the third of three Frenchmen to disappear from the tournament on this day.
The standings in Group F:
1 Hong Chiem Thai 5-1,904-9
2 Sameh Sidhom 4-1,591-15
3 Jérémy Bury 3-1,500-7
4 Gerhard Kostistansky 0-1,236-11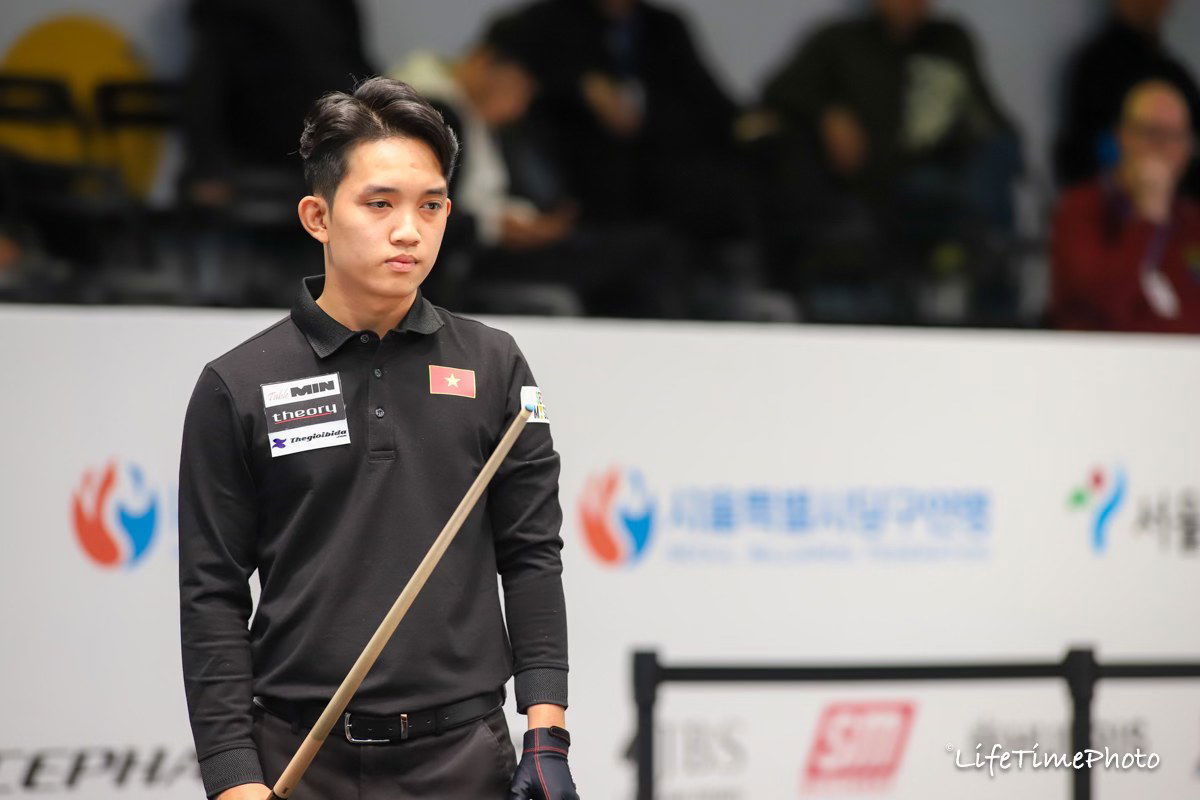 Group G:
With qualification already in the pocket, Eddy Merckx ends the group phase with a loss against Gwendal Maréchal. The Frenchman, however, cannot force his qualification with it. Myeong Jong Cha, the Korean, beats world champion Phuong Vinh Bao in his last match, who finishes last with 2 match points. Cha grabs the group win despite the hopeless loss in his first match against Merckx (40-17 in 17).
Standings in Group G:
1 Myeong Jong Cha 4-1,590-8
2 Eddy Merckx 4-1,527-9
3 Gwendal Maréchal 2-1,294-7
4 Phuong Vinh Bao 2-1,257-8
Group H:
In the final round, Haeng Jik Kim tips over Ruben Legazpi, who is already sure of qualification, but is beaten in his last match by Su Yong Park, already eliminated. The Spaniard thus remains on 4 match points. Haeng Jik Kim has yet to decide with Tayfun Tasdemir who will go with Legazpi. The Korean wins the fight 40-37 in 25 innings, thanks partly to a run of 11. Tasdemir does not succeed in his mission, as he could not compete with the best in Veghel either.
Standings in Group H:
1 Haeng Jik Kim 4-1,947-11
2 Ruben Legazpi 4-1,647-9
3 Tayfun Tasdemir 2-1,541-8
4 Su Yeong Park 2-1,491-8.