SEOUL - The reputation rushes ahead of him when Belgian player Eddy Merckx (55) appears in a World Cup final. The same again on this Sunday in the South Korean capital Seoul, where Merckx faced young, 25-year-old Korean Myung Woo Cho, currently the world's best player in the rankings, in the final. But in the belly of the beast, in this crazy billiard country, Eddy Merckx was again afraid of no one. He won the fight 50-43 in 22/21 innings. ''I feel very happy that I overcame all the strong Koreans and Vietnamese here,'' Merckx said in his winner's speech on the podium, accompanied by Myung Woo Cho, Marco Zanetti and Ye Sung Jeong. Rarely were emotions so over him after a match and showed Merckx his joy like this. The Belgian killer triumphed in the clash between two generations, in the billiard country where he achieves his main successes. There, he defeated Myung Woo Cho, the Korean phenomenon, on Sunday. And there he climbed onto the highest podium with two Koreans (Cho and Jeong) and Italian Marco Zanetti.
For Eddy Merckx, it was his 14th victory in a World Cup in 15 finals. That is an impressive score, like no other top player can boast. The Belgian is a true, feared and renowned player of finals, who can handle tension and pressure like no other. He won his first World Cup in Hooglede in 1997 and now, 26 years later, his 15th in Seoul. Myung Woo Cho, 30 years younger, played three finals and won one, last year in Sharm El Sheikh in the final against Dani Sánchez.
Merckx is at his best when playing World Cups far from home. In the 14 final matches he won, it was four times in South Korea, three times in Egypt and twice in Vietnam and, for example, only once in Belgium and once in the Netherlands. Not one top player secured more World Cups in Korea than Merckx: only Sánchez and Jaspers won three in the long history.
The Belgian had a furious start in the final and dealt a first sensitive blow with 15-2 in 4 and 20-4 in 5 innings. Myung Woo Cho mounted his first counter attack with 7 in the 7th inning (20-11). The Korean came back briefly to 22-16, before Merckx was the first to reach the break at 27-16 in 8. He constantly kept a ten-point margin and reached 42-30 in 16 innings. The final phase entered with two missed caroms by Merckx, when he played a little too slowly in the rising tension. That was followed by a fluke by the Korean with a friendly bow at a score 42-35. The margin narrowed slightly towards the end (44-38), but Merckx set up the final climb with 4 (48-38). Little Cho threatened once more with five (48-43), then Merckx ended it gloriously with a long point: 50-43 in 22/21.
Reports of semi-finals:
One young Korean, just winner of the first match in the semi-finals, bowed almost paternally over the other, the deeply disappointed even slightly younger Korean. Myung Woo Cho (25) played strongly, as he has been doing all this World Cup, Ye Sung Jeong (21), the revelation, struggled with himself, up with nerves, could not make high runs and played a lousy, unrecognizable match (50-23 in 24 innings, 2.083 to 0.958). It was touching to see after the match how the two friends handled it. The winner, already a major on the circuit, cheered modestly; the loser, the up-and-coming man, hid his face behind his hands, deeply and profoundly disappointed about his first bad match of the tournament.
Myung Woo Cho saw his friend's sadness, sought him out and grabbed his face with two hands to comfort him, like a father with his son. The tears were visible, the sadness almost endearing. It had hit so hard for the youngster, so eager to follow in his opponent's footsteps. And especially here, in front of his own audience, including Torbjörn Blomdahl and Dick Jaspers as attentive viewers.
It had become a one-way match. Cho, who quickly attacked with 9 in the 4th inning to 15-4. And Jeong sucker-punched further, then with 6 zeros and 3 times 1 in 9 innings when the match was actually already decided at 33-10 in 13. Myung Woo Cho took a few more innings, Jeong finished with 4 zeros and Cho with a final run of 9. The first finalist was known.
Eddy Merckx and Marco Zanetti then started in the second semi-final with a first highlight in the third inning, when Zanetti went 9 to 13 and Merckx 7 to 10. The rest went in balance for a long time with a 4 and 5 for Zanetti and a 9 for Merckx for 23-22 in 8 innings. So it kept going up and down for a while, until Merckx picked his moment to strike. The Belgian was already ahead 32-27 and made the decisive run in the 14th turn with 13. As if he sensed the game was over, Zanetti tapped his opponent admiringly on the shoulders. Three innings later, Merckx stood up as the second finalist: 50-30 in 17 innings (2.941 for Merckx, 1.764 for Zanetti). Marco Zanetti was waved off after a strong World Cup again and remains number two in the world rankings.
The World Cup in Seoul, organizationally, did not make the best impression. Many players left a bad taste for the accommodation and care, especially with the World Cup in Veghel as a recent example of a great event and that of Sharm El Sheikh as a wonderful event for players and spectators coming up. Common cry in Seoul: surely this wonderful billiard country should be able to offer better accommodation to the world's top players. The UMB (Farouk Barki) has heard those gloomy noises and is watching over the quality of the World Cups for the future. 
The sporting aspect has not suffered thanks to the friendly Korean people, the excellent quality of equipment and referees and the ever-growing level of players. Best examples: Myung Woo Cho played 2.678 on average over three games in the knockouts before the final. Marco Zanetti and Ruben Legazpi played a match in which the Italian made a run of 18 and the Spaniard a run of 17 (50-36 in 22 for Zanetti). Ye Sung Jeong, the new star, beat Martin Horn with two runs of 13 (50-31 in 15).
From the preliminary rounds, Ja In Kang was a first strong winner with 1,935 ahead of TTT Nguyen and Van Ly Dao and Ryuuji Umeda and Burak Hashas were the first big names to be eliminated. Wan Young Choi led the final qualifying session with 2,051 ahead of Robinson Morales with 2,000, where the finish was ahead of Nikos Polychronopoulos, Roland Forthomme, Huberney Cataño and Ja In Kang.
Myung Woo Cho started his expedition in the main draw with 2,264 over three games. Jun Tae Kim started with 2,033, Sameh Sidhom in that first round with 32 with a run of 15. Torbjörn Blomdahl, Quyet Chien Tran, Phuong Vinh Bao, Tayfun Tasdemir, Jérémy Bury and Jung Han Heo disappeared from the tournament right away and missed the knock-out stage that started with the best 16.
There, Myung Woo Cho excelled with 50 in 17 against Rui Costa and Eddy Merckx and Ye Sung Jeong won on one carom from Jun Tae Kim and Dick Jaspers. In the quarter-finals, Myung Woo Cho beat Myeong Jong Cha 50-13 in 15/14, Ye Sung Jeong won against Martin Horn 50-31 in 15, Marco Zanetti against Ruben Legazpi 50-36 in 22 and Eddy Merckx against Haeng Jik Kim 50-30 in 23/22.
The next World Cup is in Sharm El Sheikh, Egypt, from 3 to 9 December.
The final standings in Seoul World Cup:
Eddy Merckx 12-1.896-13
Myung Woo Cho 12-2.426-10
Marco Zanetti 10-1.923-18
Ye Sung Jeong 8-1.639-13
Martin Horn 8-1.861-11
Haeng Jik Kim 6-1.854-11
Ruben Legazpi 6-1.752-17
Myeong Jong Cha 6-1.543-8
Jun Tae Kim 6-1.898-11
Dick Jaspers 6-1.609-9
Hong Chiem Thai 5-1.870-9
Wan Young Choi 4-1.681-9
Robinson Morales 4-1.604-12
Peter Ceulemans 4-1.489-8
Sameh Sidhom 4-1.450-15
Manuel Rui Costa 4-1.274-8.
The new world ranking after Seoul World Cup
Myung Woo Cho 407
Marco Zanetti 339
Dick Jaspers 330
Torbjörn Blomdahl 328
Quyet Chien Tran 321
Eddy Merckx 319
Sameh Sidhom 282
Haeng Jik Kim 266
Phuong Vinh Bao 259
Tayfun Tasdemir 251
Martin Horn 234
Jun Tae Kim 215
Jung Han Heo 198
Jérémy Bury 188
Myeong Jung Cha 167
Nikos Polychronopoulos 163
Berkay Karakurt 160
Hong Chiem Thai 136
Pedro Piedrabuena 131
Mashhour Abu Tayeh 119
Peter Ceulemans 117
Ruben Legazpi 116.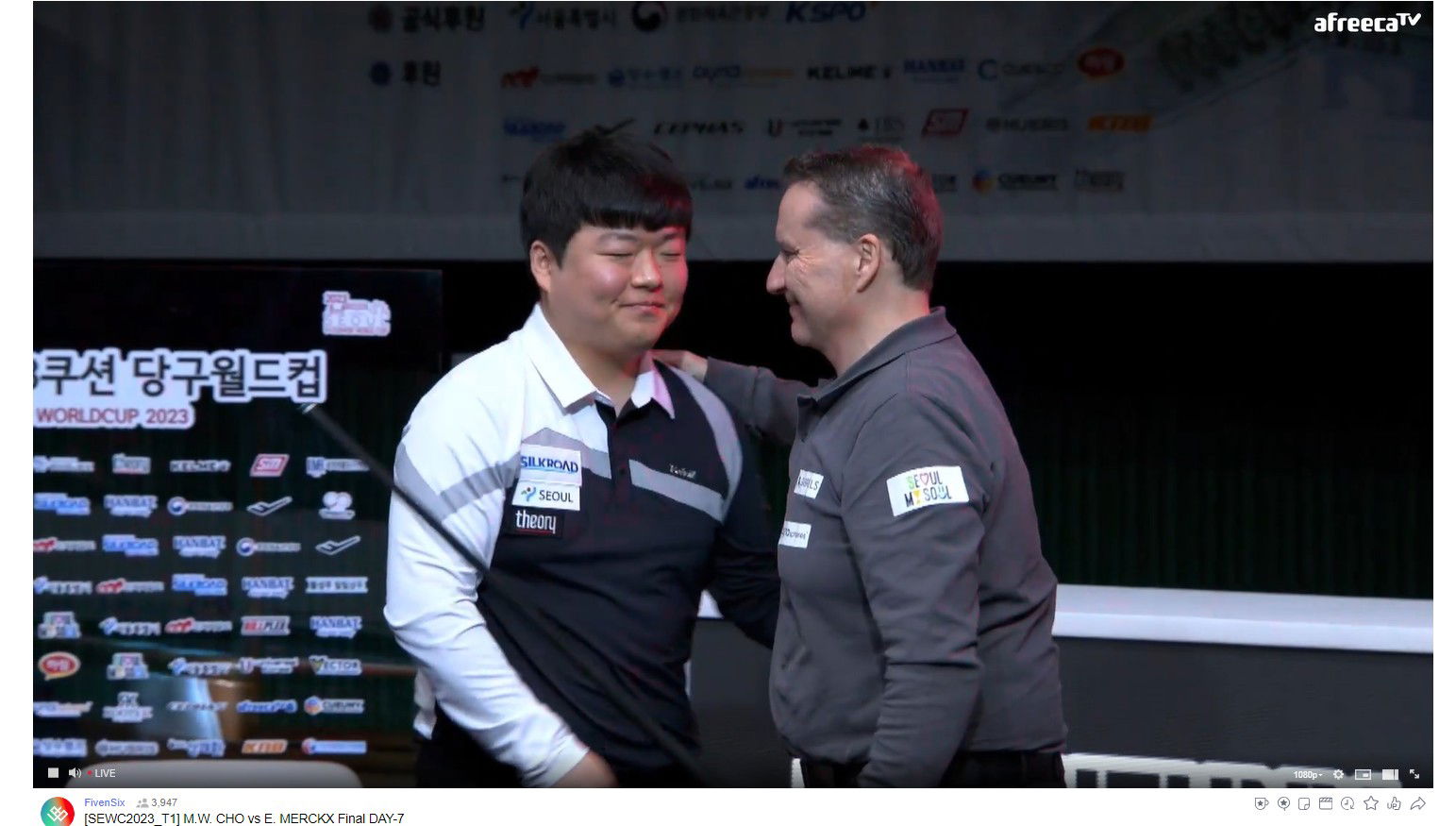 Eddy Merckx (right) and Myung Woo Cho after the final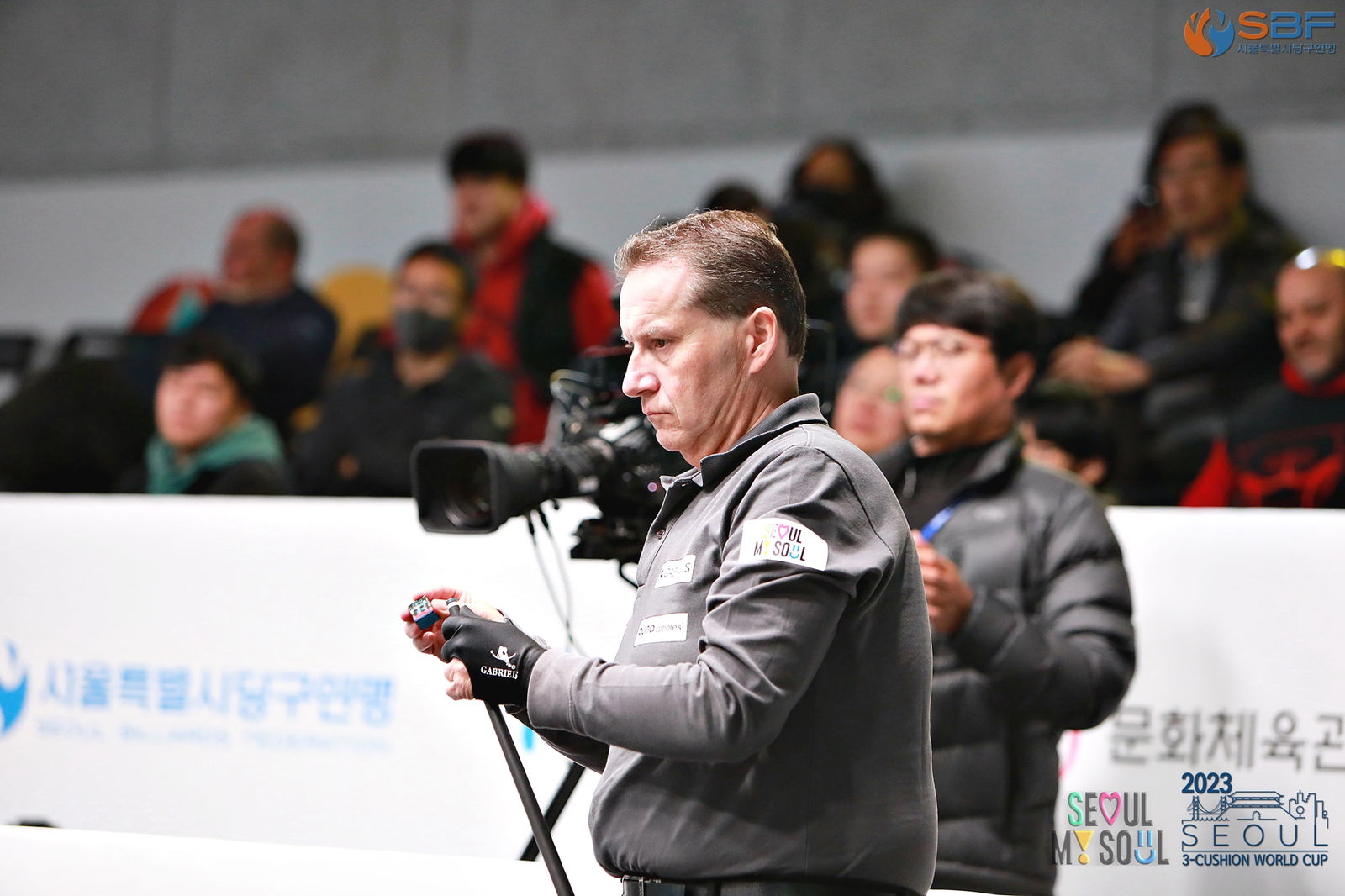 Eddy Merckx on his way to final win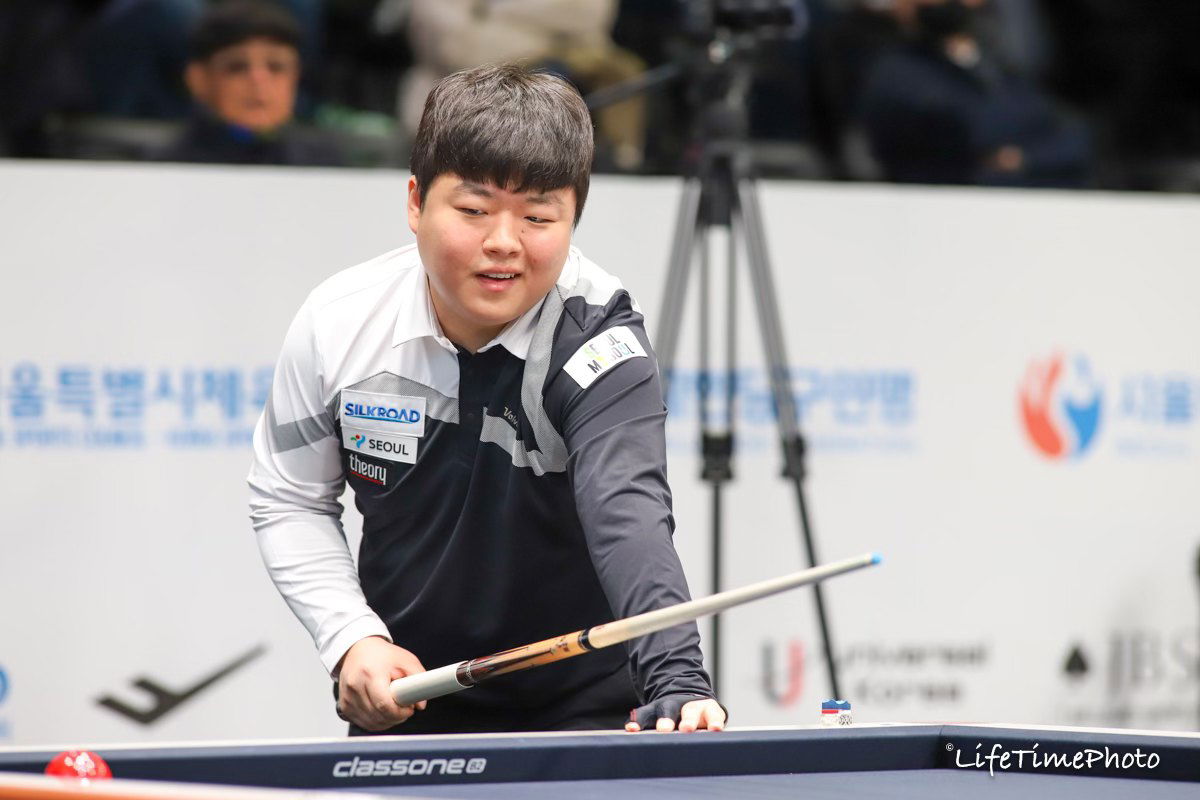 Myung Woo Cho, superior until the final where he was beaten by Eddy Merckx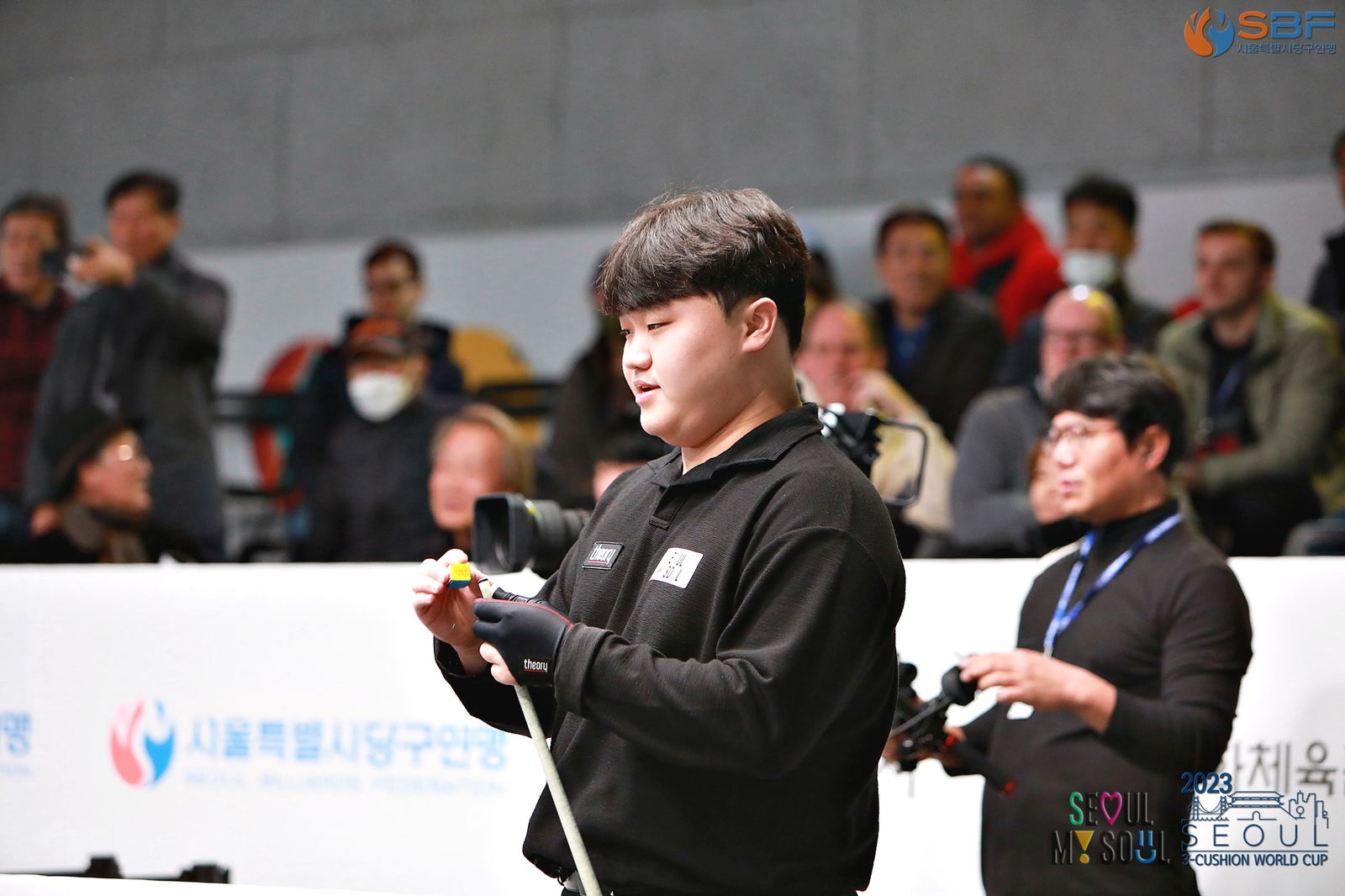 Ye Sung Jeong, the revelation of this World Cup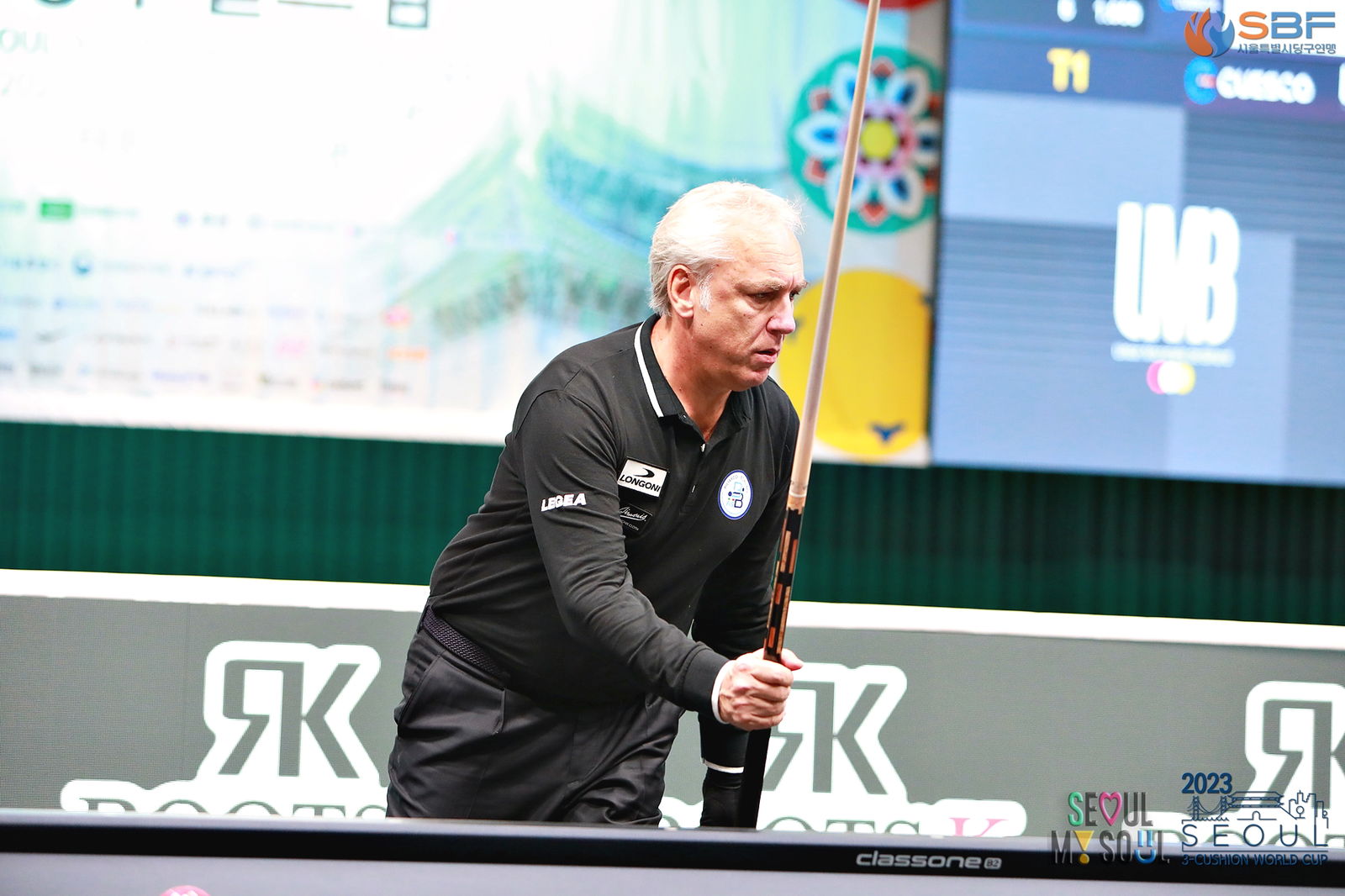 Marco Zanetti, great World Cup again, the number 2 on the world rankings