SEOUL - On the day before the final qualifiers in the Seoul World Cup, Ja In Kang was the best of 16 group winners in his homeland with four other Koreans in his wake. Two Vietnamese accompanied Kang in the top three: TTT Nguyen and Van Ly Dao, three Asians who surely are contenders for a place among the best 32 in the main tournament. Dutchman Jeffrey Jorissen and Spaniard Raul Cuenca, who has been in the tournament from the start, will go into the next round as best reserves. Two champions were among the players eliminated: Japanese Ryuuji Umeda and young Turk Burak Hashas. Of the 16 group winners, 11 finished with the maximum four match points and Ja In Kang was the highest in average with 1.935 ahead of Tran Thanh Tu Nguyen with 1.818 and Van Ly Dao with 1.621. Three players enforced their place with 3 match points, two players with 2 points. Rui Costa and Sam van Etten slipped into the next round as the last two.
For 2 of the 5 Dutchmen in these preliminary rounds, there were tickets for the next round on Wednesday evening. Jeffrey Jorissen, with 3 match points, was even the third player in average of the whole field. He almost missed qualification at the expense of Korean Wan Young Choi, st with whom Jorissen played a draw. The two players finished with the same average, 1.666, but Choi had a better run with 9 than Jorissen with 6. The other Dutchman, Sam van Etten, had a touch of luck and Jeffrey Jorissen, as first reserve, survived the day, which saw five Dutchmen in action. Sam van Etten had a fluke as his Vietnamese rival stumbled on 1 point against Portuguese Suarez. That more or less lucky score of 30-29 was just enough for the North Holland player to finish as winner of his group.
To his great joy, Jorissen was told that he went through to the final qualification day as first reserve together with Spaniard Raul Cuenca, because Swede Michael Nilsson and Vietnamese Tran Luc had cancelled. ''I am extremely happy about it,'' reacted Jorissen, who heard the news while having dinner with Harry Mathijssen, the Veghel organizer, who is as a spectator in Seoul.
The most notable group in the final qualifiers on Thursday was that featuring the two brothers Omer Karakurt and Berkay Karakurt. Omer Karakurt was one of the three Turks who became group winners on Wednesday. Turgay Orak and Gökhan Salman also remained unbeaten. Junior champion Burak Hashas was eliminated by Robinson Morales.
Ja In Kang, who moved to Europe in a previous life and played competition in the Netherlands and Germany, is competing for a place in the main tournament with Raul Cuenca, one of the stuntmen in this World Cup. Roland Forthomme will meet an Austrian and a Korean, Peter Ceulemans a Korean and a Vietnamese. Jeffrey Jorissen plays in his group against Van Ly Dao and Gwendal Maréchal, Sam van Etten against Jordanian Mashhour Abu Tayeh among others, Pierre Soumagne against Nikos Polychronopoulos.
The daily rankings on Wednesday:
Ja In Kang 4-1,935-9
TTT Nguyen 4-1,818-7
Van Ly Dao 4-1,621-8
Turgay Orak 4-1,578-9
Jose Juan Garcia 4-1,538-9
Ji Hun Ahn 4-1,538-8
Robinson Morales 4-1,500-11
Su Yeong Park 4-1,363-9
Gökhan Salman 4-1,304-7
Omer Karakurt 4-1,250-11
Sung Il Jeong 4-1,153-5
Wan Young Choi 3-1,666-9
Pierre Soumagne 3-1,621-6
Tatsuo Arai 3-1,395-7
Rui Costa 2-1,225-4
Sam van Etten 2-1,160-13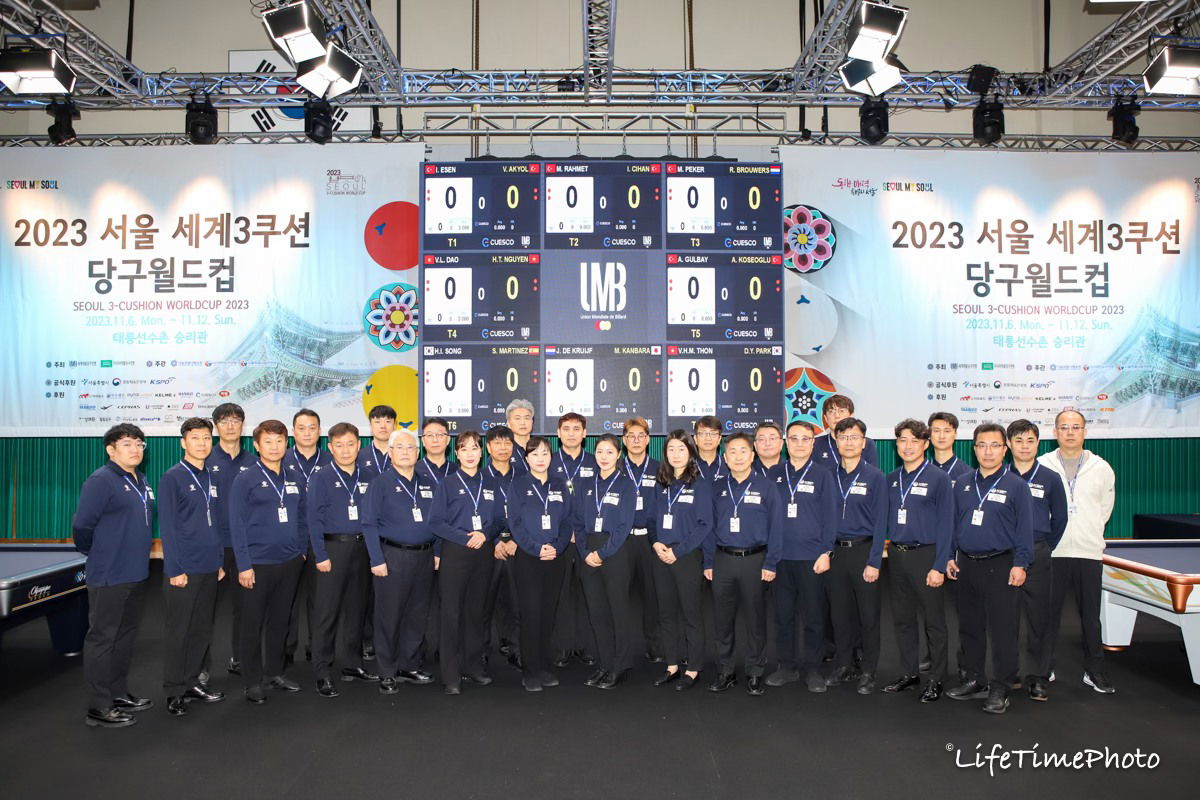 The referees for Seoul World Cup
The twelve groups for the last qualifications on Thursday (group winners and three best runners up to the main draw)
Poule A: Pierre Soumagne, Nikos Polychronopoulos, Wan Young Choi
Poule B: Tatsuo Arai, Myeong Jong Cha, Sung Il Jeong
Poule C: Omer Karakurt, Berkay Karakurt, Rui Costa
Poule D: Sam van Etten, Gökhan Salman, Mashhour Abu Tayeh
Poule E: Roland Forthomme, Arnim Kahofer, Su Yeong Park
Poule F: Javier Vera, Robinson Morales, Chang Hoon Seo
Poule G: Ruben Legazpi, Ji Hun Ahn, Huberney Cataño
Poule H: Gerhard Kostistansky, Jose Juan Garcia, Hugo Patiño
Poule I: Riad Nady, Turgay Orak, Hong Chiem Thai
Poule J: Jeffrey Jorissen, Van Ly Dao, Gwendal Maréchal
Poule K: Peter Ceulemans, Bong Joo Hwang, TTT Nguyen
Poule L: Raul Cuenca, Tolgahan Kiraz, Ja In Kang.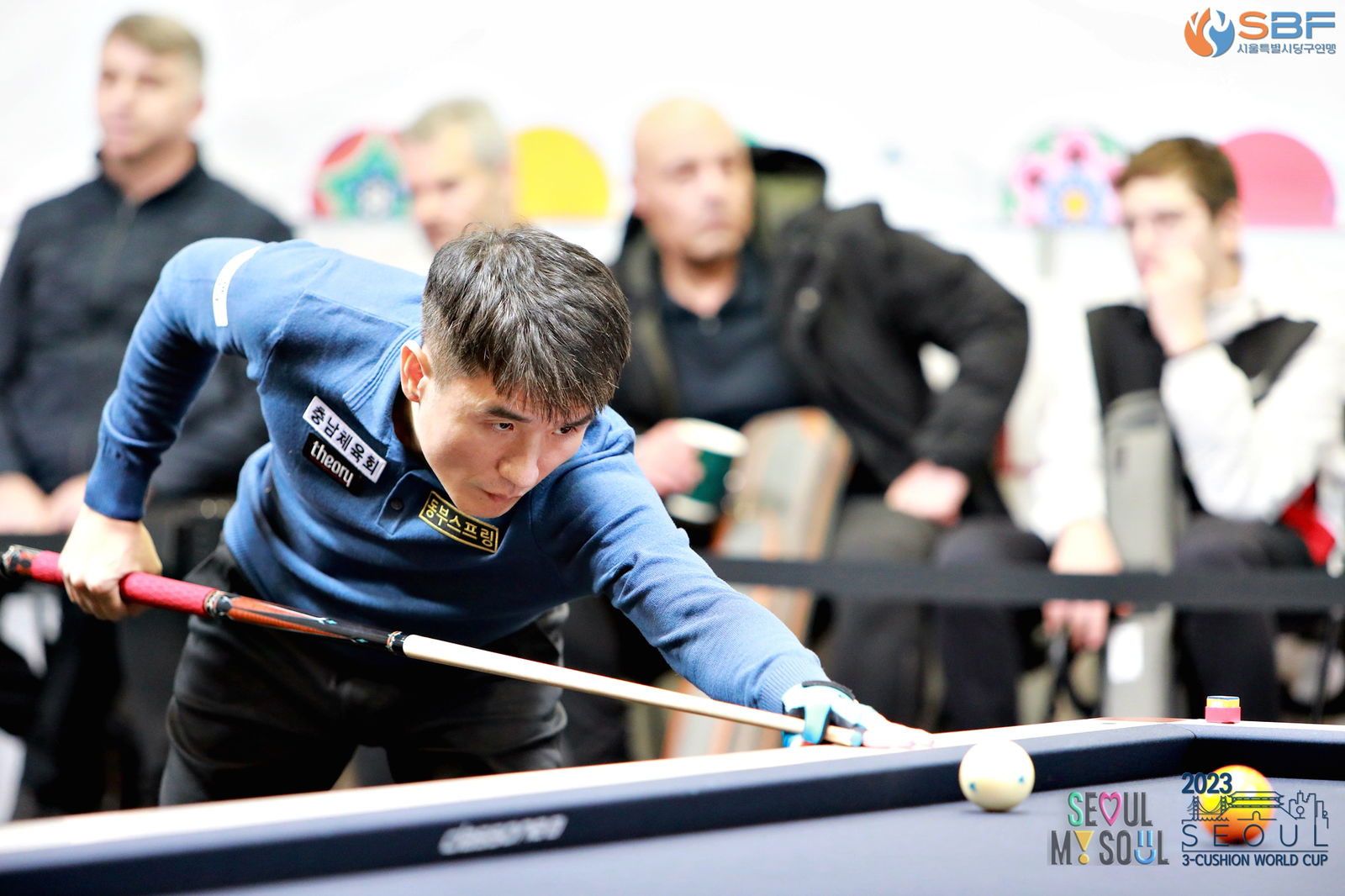 Ja In Kang (SBF)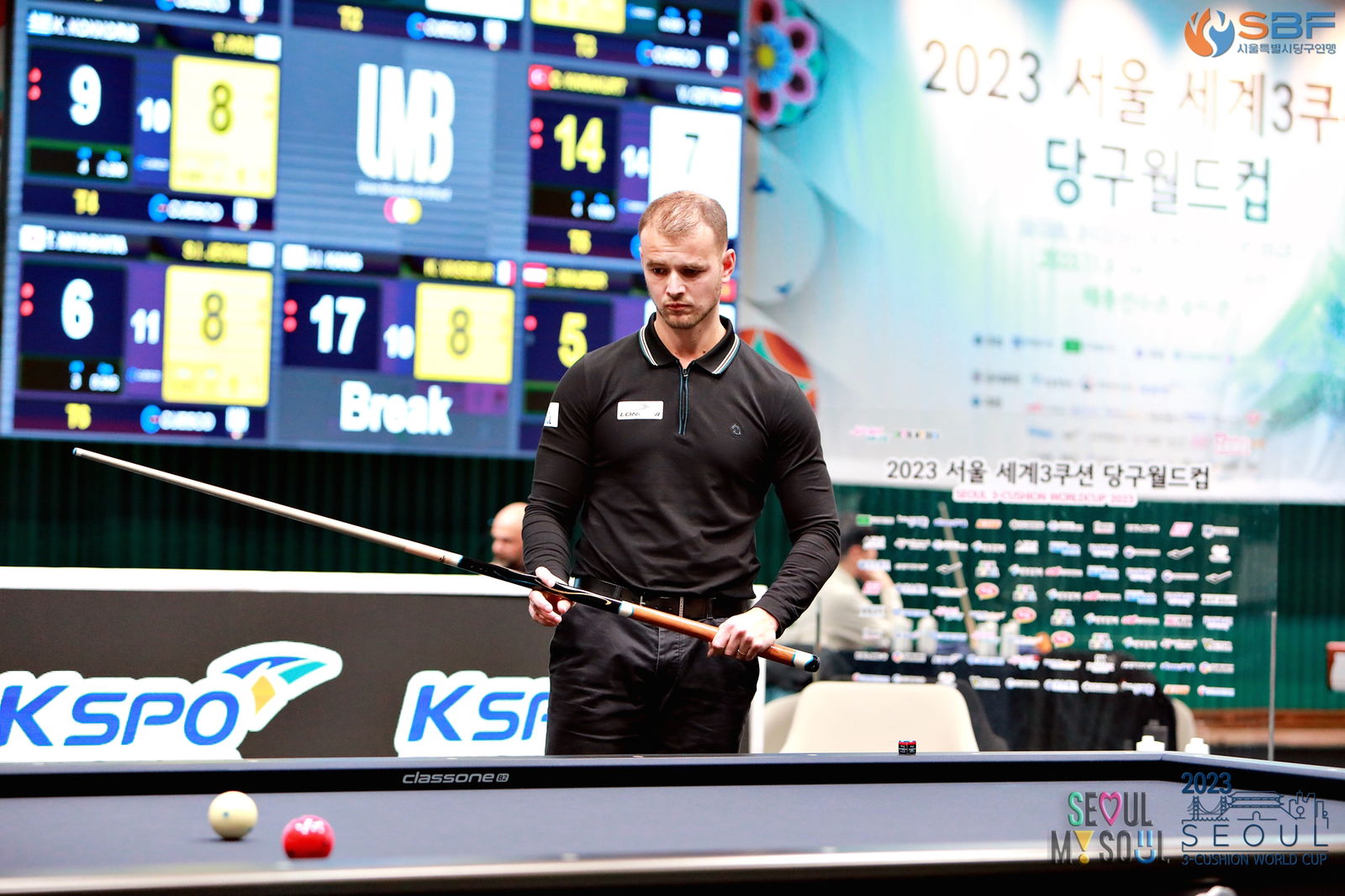 Pierre Soumagne (SBF)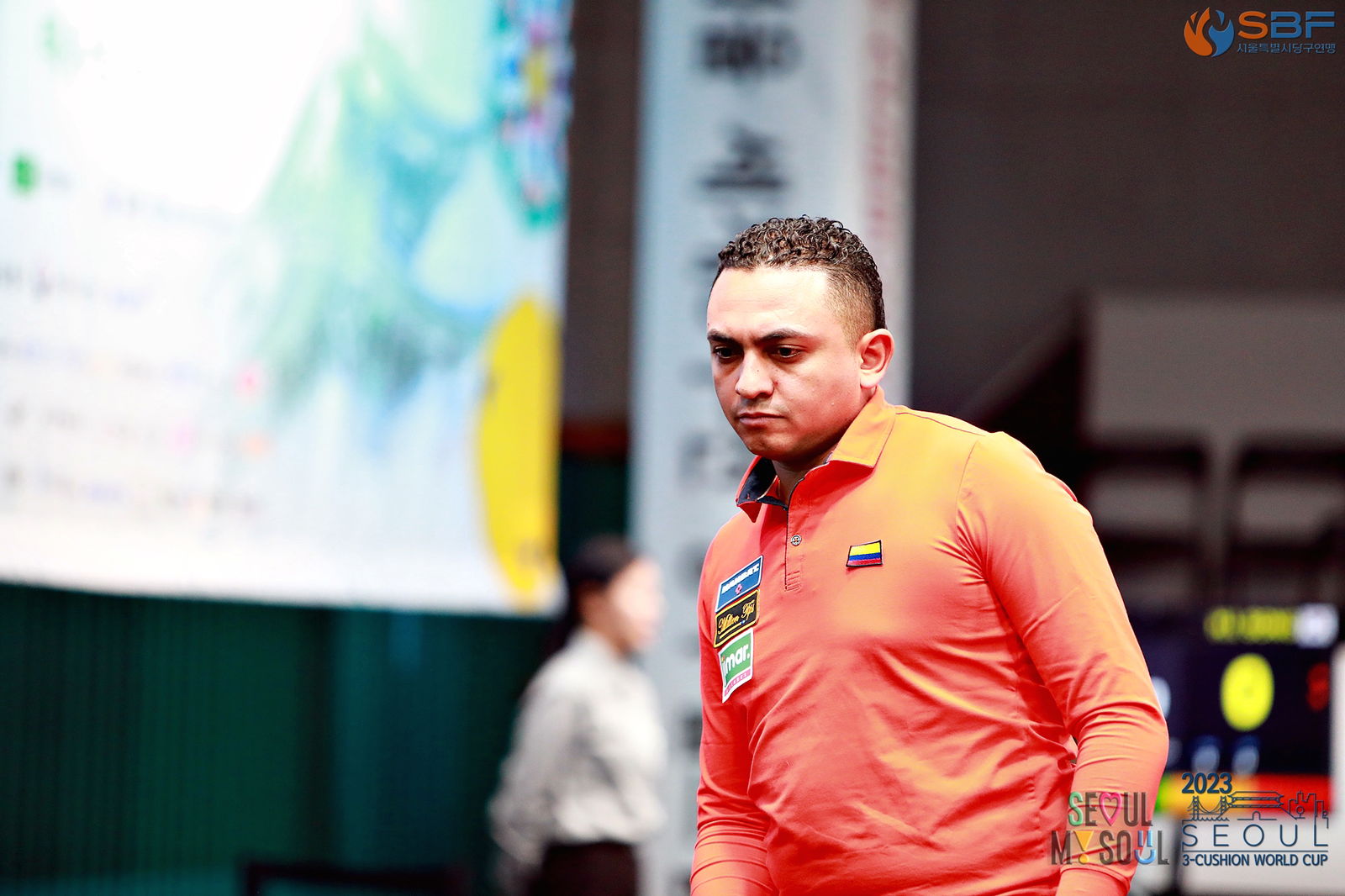 JJ Garcia (SBF)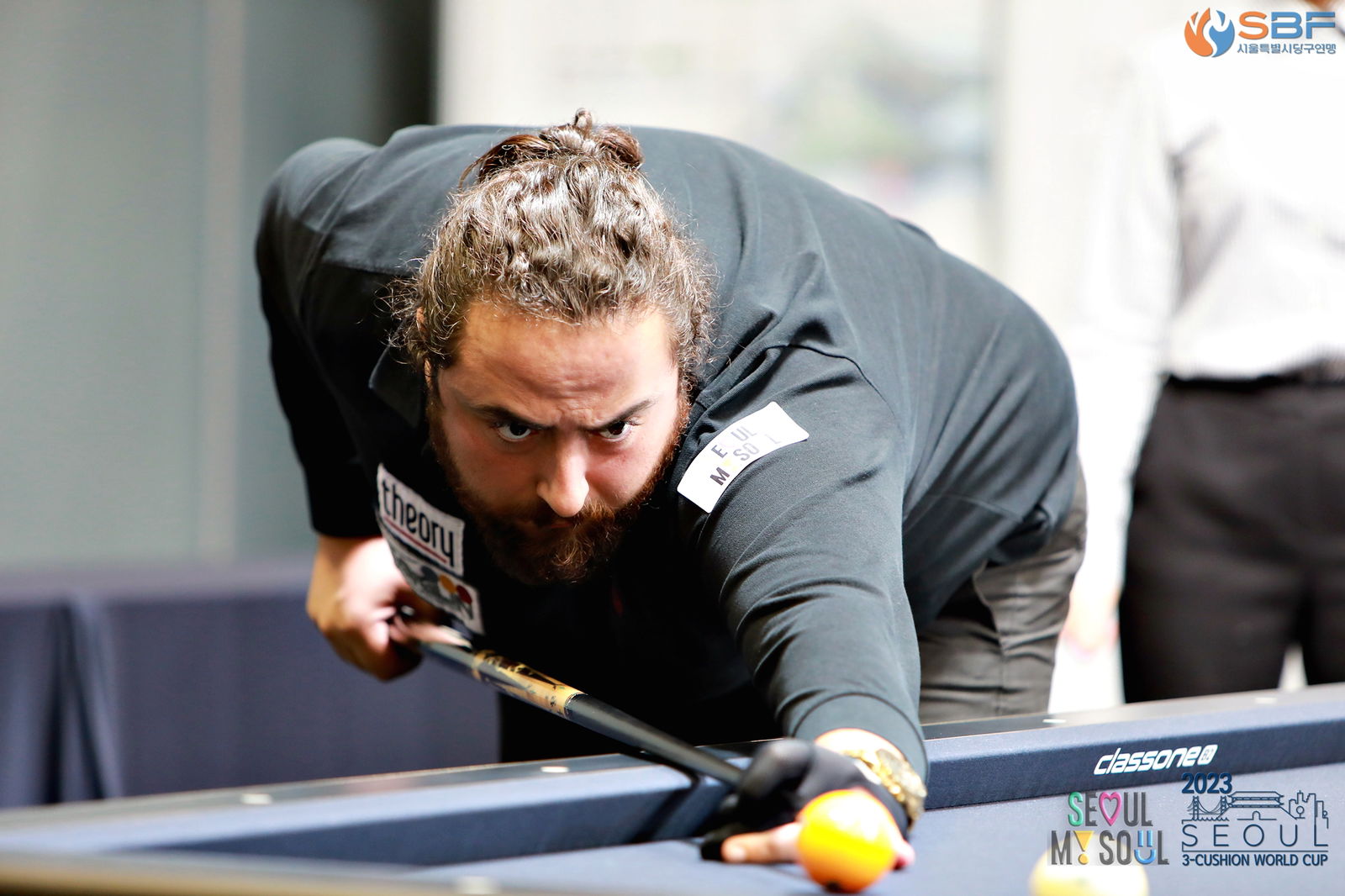 Omer Karakurt (SBF)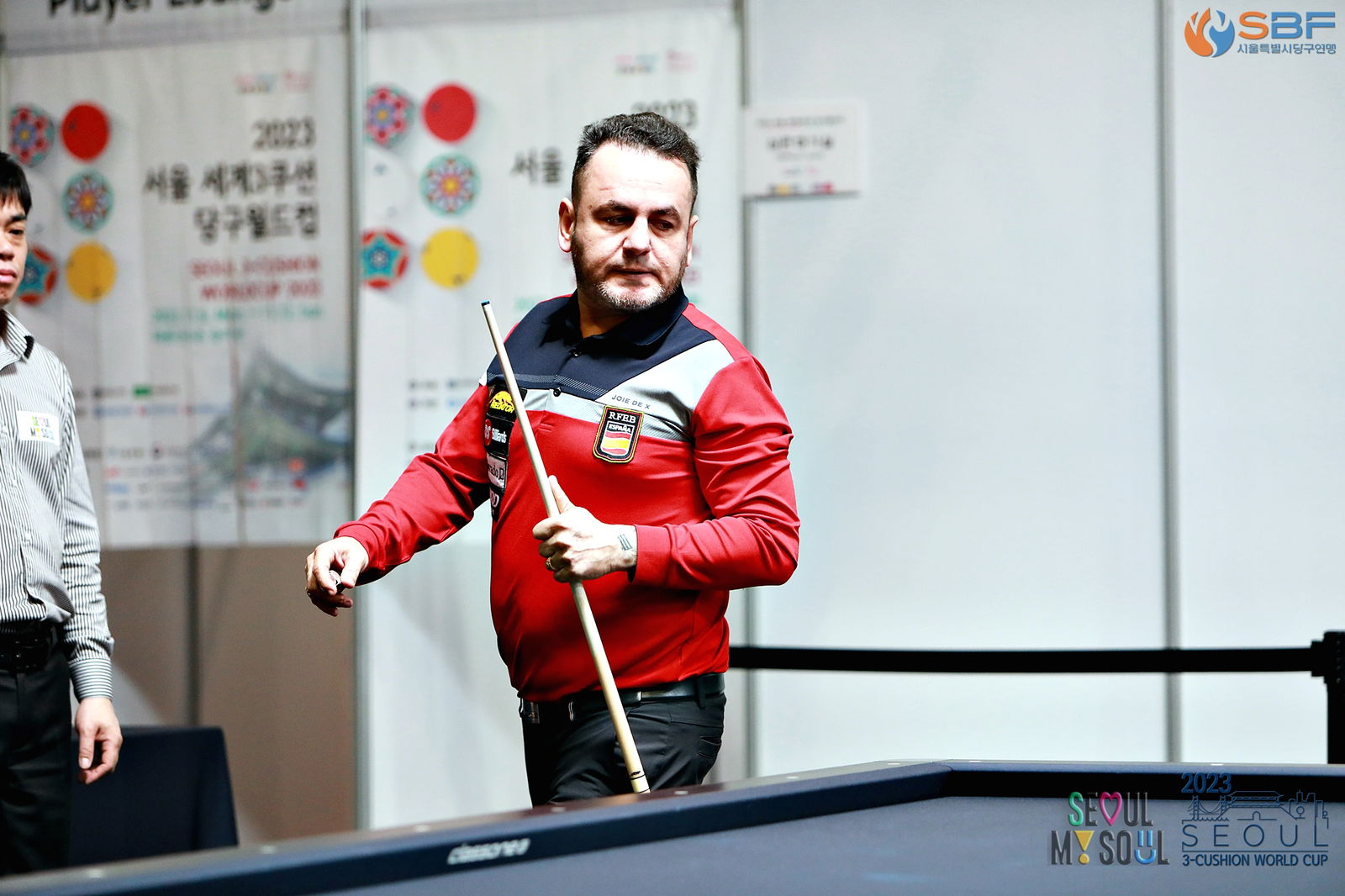 Robinson Morales (SBF)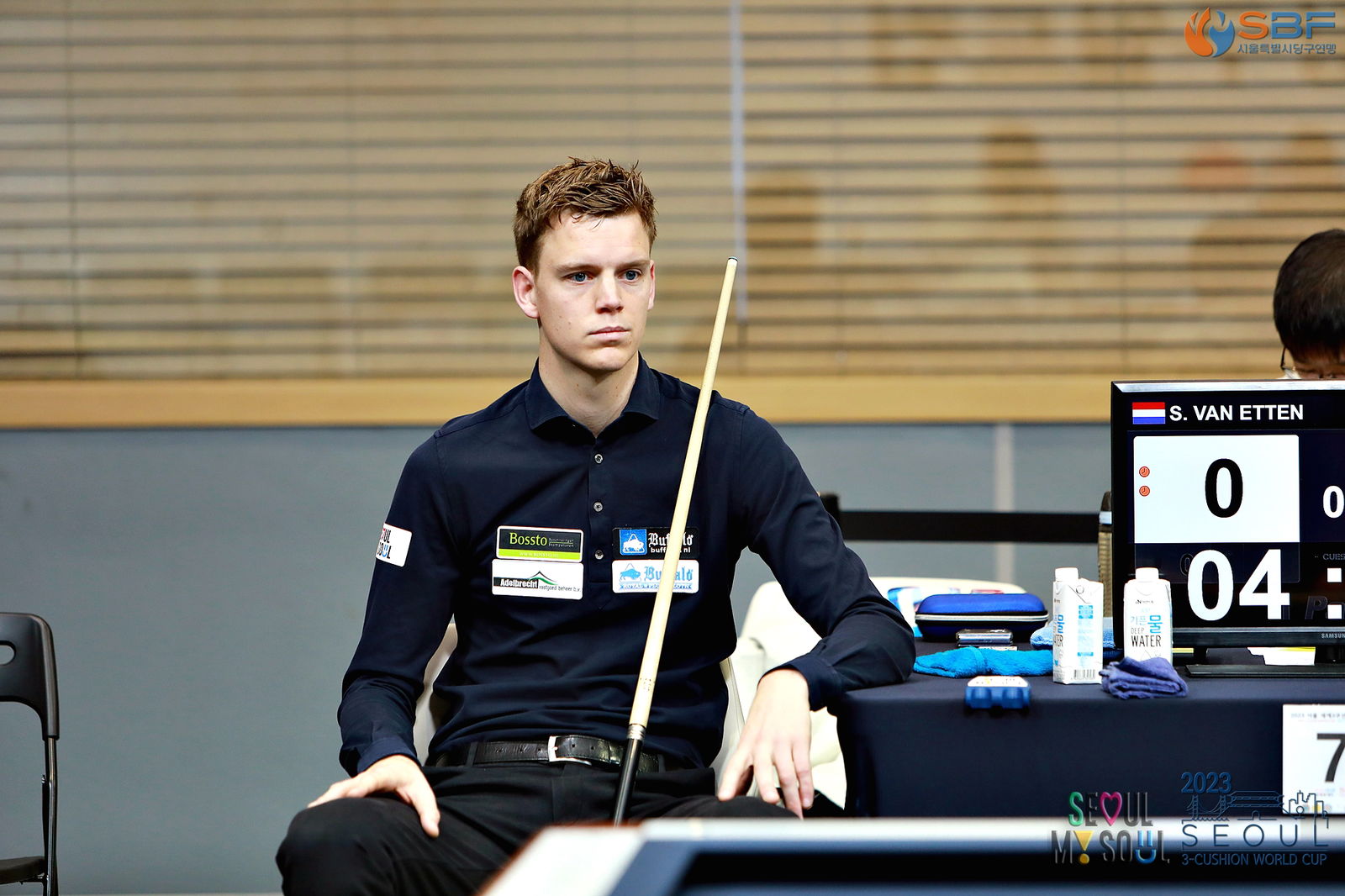 Sam van Etten (SBF)