ZUNDERT/UDEN - The top trio of the Dutch premier league, the Kozoom league, has been reduced to two leaders on the second day of the double weekend. The top match between Team Eekhoorn and Zundert, played at Den Hoek in Zundert, yielded a precious win for the Oosterhout camping team (2-6), which now leads together with SIS Schoonmaak after seven rounds of play: both teams with 12 match points. Nikos Polychronopoulos from Greece and Frans van Kuyk from Sint Willebrord were strong winners in 18 innings, Peter Ceulemans taking the other winning points.
SIS Schoonmaak was able to escape in the closing stages of the home match against Burgmans Biljarts thanks to Raimond Burgman. The Dutchman eventually was the better of Bart Ceulemans, who had a good lead, but was beaten in the final sprint. As a result, SIS Schoonmaak maintained its lead, which the team shares with Team Eekhoorn.
The other teams slide closer together in the rankings. Cues&Darts had to concede a 4-4 against Dekker Sprundel, Bousema did the same against Team Nachtwacht, J&F Auto's lost to DKM Tools 5-3 and Burgmans against SIS Schoonmaak 6-2. Dallinga climbed a little further out of the danger zone with an 8-0 home win against Aartsbouw.
The top match between Nikos Polychronopoulos and Sergio Jimenez was a match to look forward in the match in Zundert. The Spaniard, however, who was still playing competition at home on Saturday, proved not fit enough to withstand the excelling Greek. Polychronopoulos won 40-17 in 18 innings. Frans van Kuyk also needed only 18 innings against Francis Forton (40-23) and then only Peter Ceulemans had to win the match with Thorsten Frings. That happened by a generous score: 40-28 in 29. Kurt Ceulemans, on the position where Jerry Hermans had a day off, lost on one carom to Rik van Beers in a moderate game in 41 innings.
Raimond Burgman's ultimate win, against Bart Ceulemans, was needed for SIS because Raymund Swertz fell one carom short against Marco Janssen (40-39 in 28) despite a run of 12. Burgman finished with seven against Ceulemans when trailing 37-33. Jean van Erp (against De Kleine 40-23 in 22) and Martien van der Spoel (against Roijers 40-33 in 28) had given SIS a 4-0 lead before the break.
At Dekker/AP against Cues&Darts, the Dutch clash between Dave Christiani and Glenn Hofman was to decide the final score. After a strong match on Saturday, the Hague frontman from Cues&Darts could not impress so much against Christiani, who finished the match flawlessly 40-33 in 22. Jef Philipoom and Pierre Soumagne were the two foreign winners for Cues&Darts with a small margin. Philipoom in 20 against Barry van Beers (40-37), Soumagne in 30 against Valentine (48-38) came to victories for the Tilburg team. Blauwblomme beat Wilkowski by 40-29 in 34.
At Bousema, Jeffrey Jorissen, shortly before leaving for Korea, suffered his second loss of the weekend: on Saturday against Merckx, on Sunday against Karakurt 40-31 in 23. Loncelle and Salman were winners for Bousema in 32 and 29 innings. DKM Tools regained momentum with a win over J&F Auto's. In the home match, the score was 5-3 for DKM Tools. Uymaz won against Gökmen (40-28 in 20), Uijtdewillegen against Klompenhouwer (40-29 in 44), Jack Wijnen caught up with Herman van Daalen in the closing stages (40-40). Kay de Zwart was a great winner for the Hague side with 40-20 in 23 against Davy van Havere.
In stormy Zeeland, Dallinga was superior against Aartsbouw with an 8-0 victory. Jean Paul de Bruijn, not in his best period for the team, showed himself a true leader with a win over Ronny Brants, who shone against Polychronopoulos on Saturday. Van Acker, De Backer and Berry Dallinga won in 25, 27 and 34 innings against Vandendriessche, Persyn and Broeders. It was the second consecutive home victory for Dallinga, which has found its way up after a very mediocre start to the Kozoom league.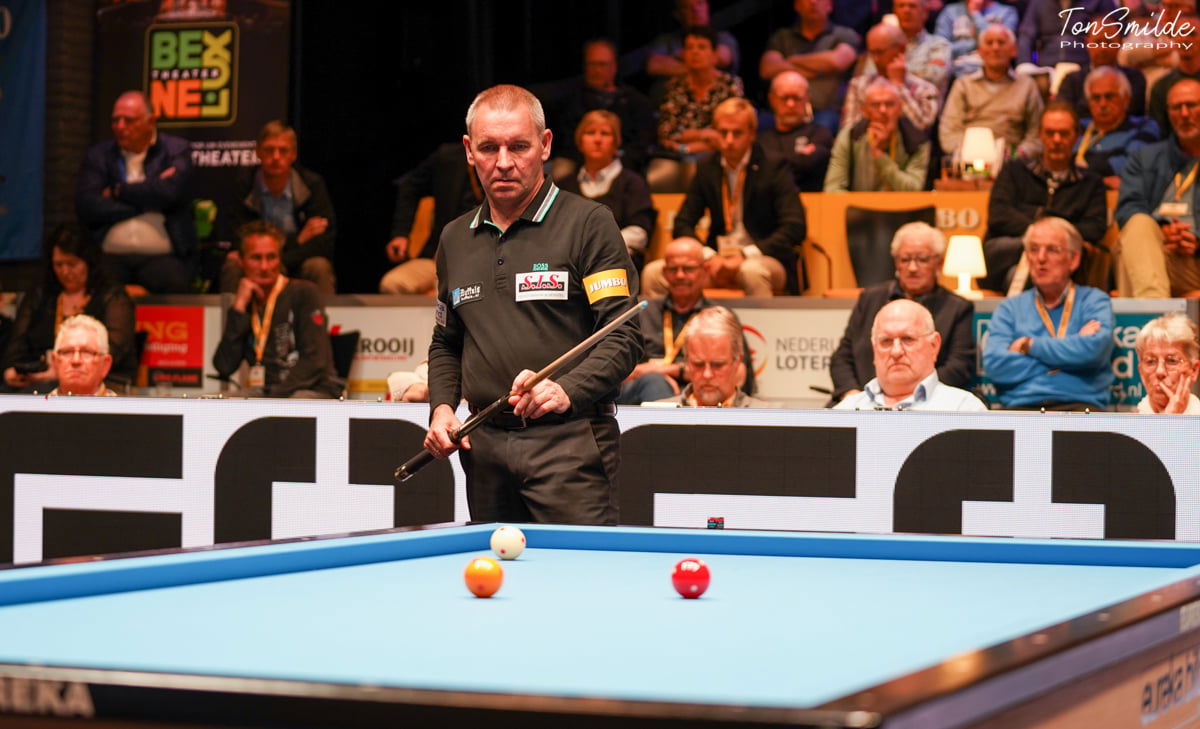 Raimond Burgman finally took the win for his team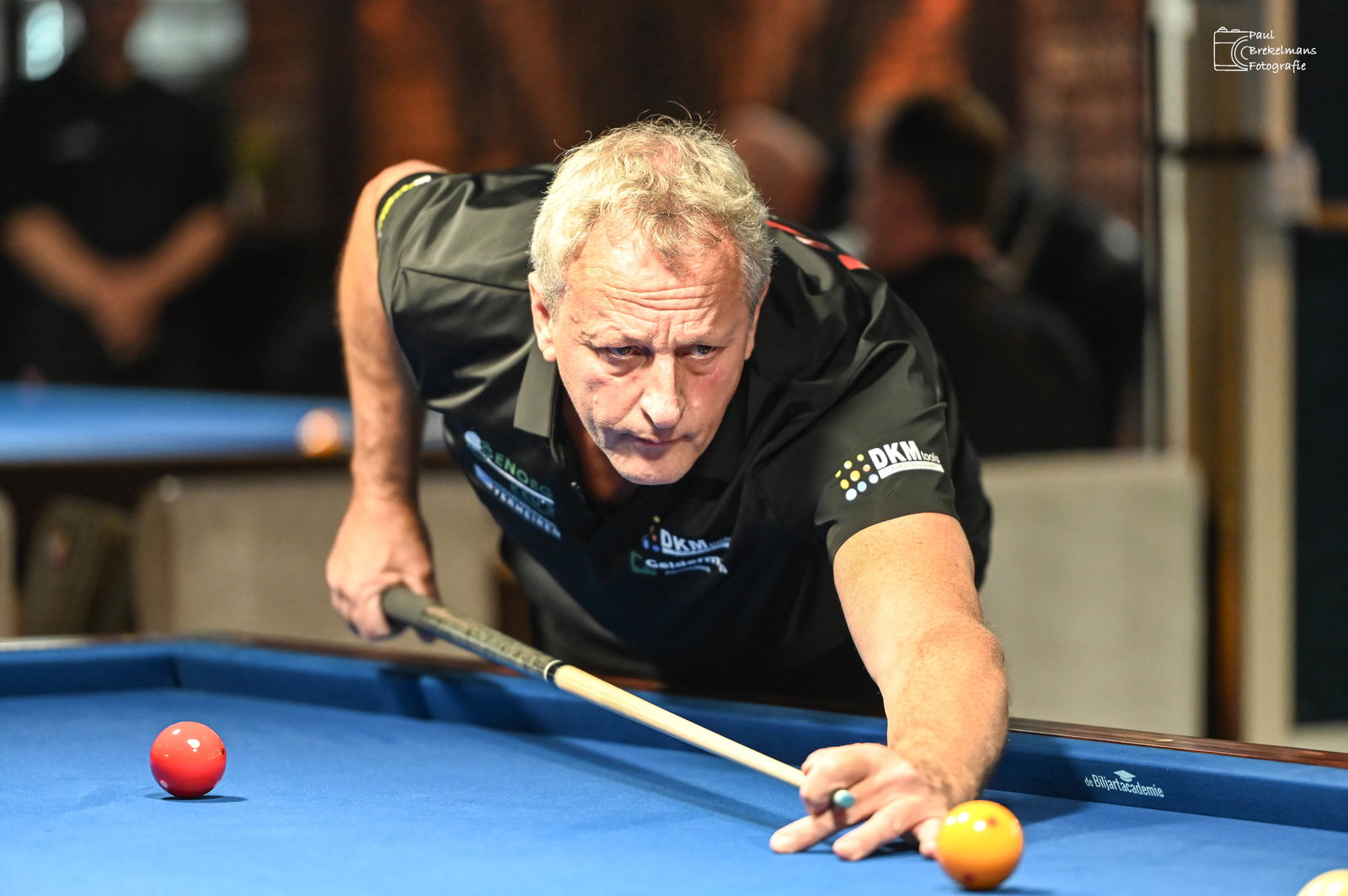 Jack Wijnen, strong final sprint for his team that won against J&F Auto's